Yesterday's FOMC statement was resolutely hawkish. So much so that it sent Gold (NYSEARCA:GLD) into a complete tailspin. Between the FOMC's unanimity about a June rate hike and seasonal factors Gold and Silver (NYSEARCA:SLV) plunged through support levels and now look poised for much lower prices in the coming weeks.
I've been worried about just such a wash out in the metals for weeks now and have said so in a number of recent articles. The key to the problem in the metals is Silver. The refusal of bulls to take Silver through overhead resistance at $18.54 per ounce, the February high, kept a lid on any potential rally in Gold.
Once Gold approached the important psychological level of $1300 the bears piled in on Silver's non-confirmation of a larger secular uptrend and that, as they say, was that.
Where is Gold Now?
Gold is in a bad position technically and it will need to rebound to close this week above $1248 to avoid a re-test of $1197, the March low (see chart).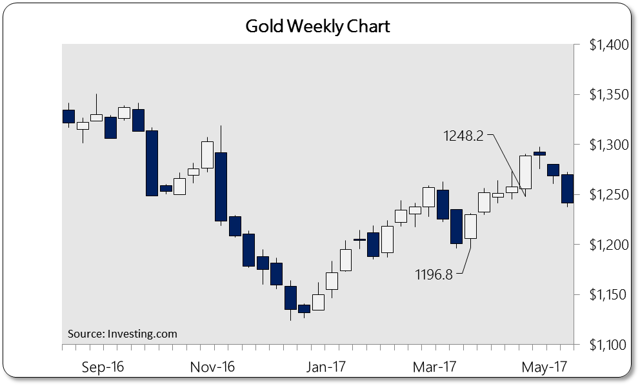 There is weak support at around $1229, but with Silver in serious trouble as well and the Fed firm in its plan to raise rates soon, likely June, I don't see that level providing anything other than a temporary respite on the way to $1200.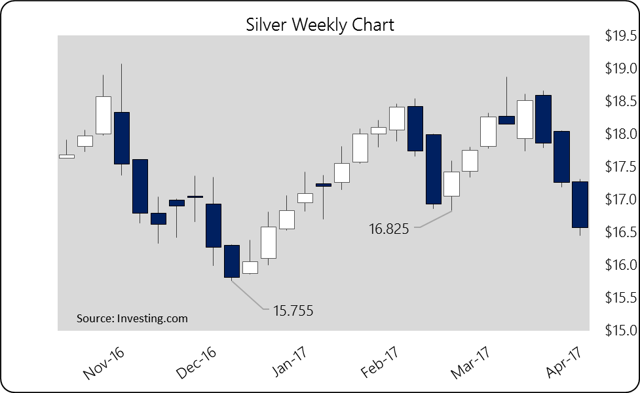 I said Silver was in trouble and I meant it. Yesterday saw Silver crash right through the March low at $16.825 and keep right on going to $16.50. Again, like for Gold, that March low is key on a weekly closing basis.
Silver will need to close above $16.82 or so this week to avoid a further push back to the 2016 low made in the last week of the year at $15.78 in May. A move that far would not be excessive monthly volatility for Silver.
On average, the difference between monthly closing prices in Silver is $1.30 (N=60). April closed at $17.26. It is quite probable then that Silver could close may below $16.00 on a historical basis.
Gold is in a similar position. The average monthly closing difference in price is $42.77 (N=60). April closed at $1269.7. That puts support at $1196 in range for May and certainly by June.
What's the Problem?
The problem is that dollar liquidity is drying up. I don't subscribe to conventional wisdom about gold and interest rates. Gold responds, mostly to two things. In the short term, it is most sensitive to changes in dollar liquidity. Gold is an easy sell if one needs to raise dollars to cover short-term funding needs.
When there is stress in the repo or Eurodollar markets, gold is a liquid source of cash. And that's why it's so sensitive to marginal changes in dollar liquidity on a day-to-day basis.
In the long run, it is a hedge against government incompetence and the worry about sovereign debt default. This is the stuff secular bull markets in Gold are made of. And with the market's reaction to the FOMC statement today we have further confirmation that we are nowhere close to a new secular bull market in Gold.
That said, however, it is becoming clearer that there are serious dollar funding issues going on now that the Fed is set on raising rates.
I did a little digging through the Fed's weekly balance sheet statement, the H.4.1 Report. And I found a couple of things that make it easy to understand this relationship for those of us who don't have access to a Bloomberg Terminal.
Each week the Fed reports the breakdown of the reserves of the banking system. For over a year now, there have times when reserves absorbed have been greater than the total reserves of the banking system.
And when that happens you can safely say that access to credit is low since the banks need all of their cash to fulfill other requirements. By using the more than $2 trillion in excess reserves as a slush fund and the Fed's Reverse Repo window banks can shore up their capital ratio by obtaining cash and/or securities on an as-needed basis.
Before Brexit, there wasn't any correlation between gold and the level of excess reserves held at the Fed.
But since the Brexit vote, there has been a strong correlation (R 2= 0.633). See the chart below for details.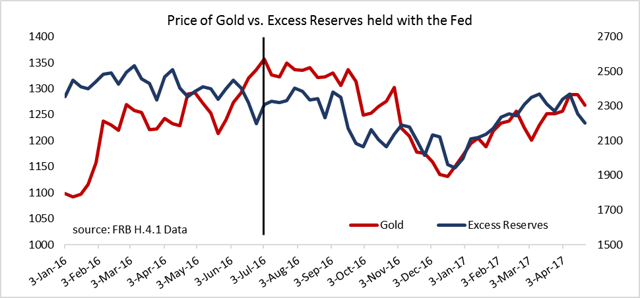 That correlation says a couple of things to me. The first is that Brexit broke something. And the need on a week-to-week basis to shuffle a lot more money around through the banking system to keep things running rose through the end of the year.
The second is that the trend in excess reserve balances is a proxy for short-term dollar liquidity needs. And that the knock-on effect is that by paying higher interest rates on excess reserves credit market volatility was tamped down for a time.
But, with Gold and excess reserve levels dropping -- more than $166 billion was withdrawn in the last two weeks of April (latest data)-- that implies a potentially serious stressor out there.
Canada's Home Capital Group is in the midst of a bank run and there are reports of it having spread to the Equitable Group. Or is the market gearing up for a Marine Le Pen win in this weekend's French Presidential election?
But, for now, unlike the highly correlated relationship between the euro (NYSEARCA:FXE) and Gold that I talked about in March, this link between excess reserves and gold continues to strengthen.
For now, Gold and Silver are weak and staring at a difficult Q2, especially in the lead up to a rate hike in June. If this rate hike cannot entice the banks to park cash back with the Fed between now and the June FOMC meeting it's telling us there is a big problem on the horizon.
Disclosure: I/we have no positions in any stocks mentioned, and no plans to initiate any positions within the next 72 hours.
I wrote this article myself, and it expresses my own opinions. I am not receiving compensation for it (other than from Seeking Alpha). I have no business relationship with any company whose stock is mentioned in this article.
Additional disclosure: I own some gold and silver, a few guitars, and a lot of goats