Earnings per Share
MetLife (NYSE:MET) reported financial results on Wednesday, May 3, for the quarter ended March 2017. The Non-GAAP EPS of $1.41 was the highest since the QE June 2015 ($1.56), has been positive for many years, and has a 4 quarter average of $1.20.
The GAAP EPS of $0.75 is the highest since the QE March 2016 ($1.98). GAAP EPS has been more volatile than Non-GAAP EPS and has a negative four quarter average of -$0.16 entirely due to the loss of -$1.96 last quarter.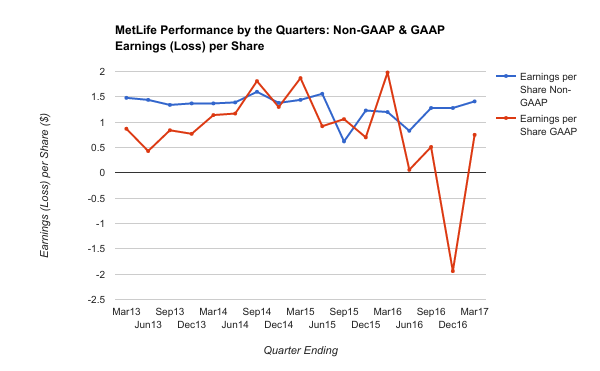 Earnings per Share Year Over Year Growth Rate (%)
First, the GAAP EPS YoY Growth Rate is so extremely volatile that it renders the chart below unreadable if overlayed with Non-GAAP YoY Growth Rate. Therefore I have excluded this data.
The Non-GAAP EPS for the QE 3-31-17 of $1.41 was an encouraging +17.5% increase year over year. This is the third consecutive YoY EPS increase for Non-GAAP, after four consecutive decreases. The most recent four quarters now average an encouraging +20.3%.
For GAAP EPS, even after the return to a positive $0.75, this is a YoY decrease of -62.1% from the lofty $1.98 for the prior year quarter 3-31-16. GAAP financial performance still needs improvement.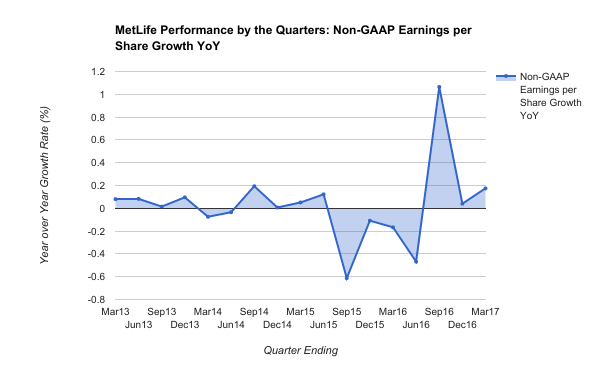 Revenues Year Over Year Growth Rate (%)
Non-GAAP operating revenues were $16.9 billion for the quarter ending March 2017 and is the lowest in recent years. MetLife will need to post higher numbers plus continue reducing expenses as noted by CEO Steven Kandarian as "continued expense discipline". These revenues have ranged from $16.6 billion to $18.3 billion per quarter in the past 17 quarters. Net revenues for March QE's are consistently lower than December QE's. Therefore, this QoQ decrease of -1.9% in operating revenues was expected and not that bad. The YoY was an increase of +1.6%.
GAAP net revenues were $16.3 billion for the quarter ending March 2017, a vast improvement of +34.8% over the prior quarter's disastrously low $12.1 billion. However, compared to the $18.4 billion in the prior year quarter ending March 2016, this was a decrease of -11.7%. GAAP net revenues YoY growth has been negative for 7 consecutive quarters!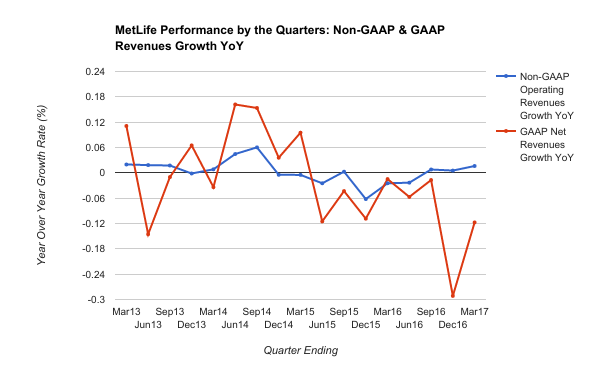 Return on Assets
A review of Non-GAAP and GAAP return on assets shows a tale of two companies - one a steady but unexciting history and one that clearly reveals diminishing returns.
The notable GAAP ROA peak on the chart below (in red) was in the QE 3-31-15 at 0.79%. The large GAAP loss for the QE 12-31-16 has now resulted in a negative ROA of -0.06%.
Non-GAAP ROA has trended downward some and has been less than 0.20% for the past 7 quarters. The current ROA of 0.17% is also the 17 quarter average. Therefore, there has not been an improvement in the earnings maximization of assets.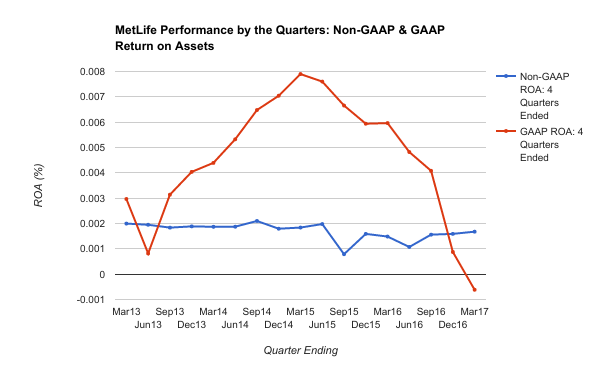 Asset Mix
Asset mix has improved slightly, showing a recent uptrend in investments, the earning assets. The multi-year peak for investments was this past QE September 2016 at $548.8 million. This was 57.6% of total assets, which is below the 60.0% threshold that MetLife consistently exceeded prior to 2014. While the recent trend is rebounding, this is still below historical standards.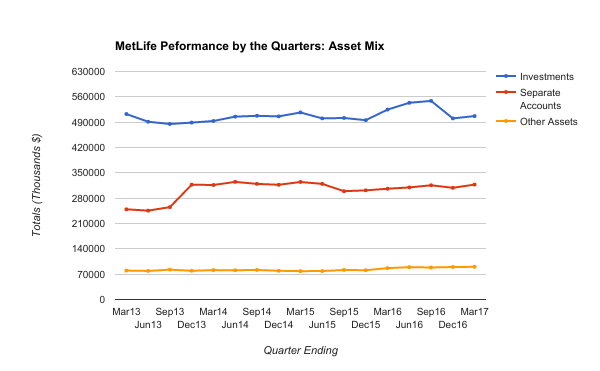 Conclusion
Non-GAAP financial performance has improved and earnings per share has shown hope. GAAP financial performance has been volatile and we await yet another quarter to prove some consistency. A continued growth in revenues would also be encouraging. Financial position is adequate with a capital to assets ratio of 7.45%, which is less than the 17 quarter average of 7.78%.
MetLife declared a dividend ($0.40) on April 25, which was a 3.1% annualized yield. Net stock repurchases for the quarter were a huge 14.2 million shares, but this is more an annual event at best. This was the largest net repurchase since 16.8 million shares for the quarter ending December 2015. Stock repurchases in interim quarters have been none to minimal.
MET stock reached a recent closing high of $57.39 on December 9, 2016, has declined almost 10% subsequently, and is negative for 2017. MET is also down almost 5% since the February 1 prior earnings report for the QE December 2016. The stock has been in an overall downward trend and struggled since the December peak. The bottom may be in with this most recent earnings report, but the upward trend may be slow.
With a stock beta of 1.44, an inordinate rip or dip is possible which makes this a stock interesting for shorter-term fast traders. As an intermediate-term to long-term investor, I consider MET stock to be a Hold at best and a Sell at worst. At this point, I'm changing my view on MET stock from negative to neutral, compared to positive. There are better financial performances to invest in for stock profits. For me, MetLife is a stock waiting for another improved quarter to attract more buyers in and ensure a sustained upward stock price trend.
MetLife Summary:
Chief Financial Officer John Hele said headwinds were a strong dollar and low interest rates.
"MetLife had strong first quarter operating earnings, driven by volume growth, continued expense discipline and higher fees from improved equity markets," said Steven A. Kandarian, chairman, president and CEO, MetLife, Inc. "Our sales for the quarter were up 21 percent on a post-separation basis, led by our largest segments, the U.S. and Asia. We continue to execute on our refreshed enterprise strategy to deliver enhanced products, services and experiences for our customers and drive long-term shareholder value creation."
(Graphs created by author using data from MetLife)
Disclosure: I/we have no positions in any stocks mentioned, and no plans to initiate any positions within the next 72 hours.
I wrote this article myself, and it expresses my own opinions. I am not receiving compensation for it (other than from Seeking Alpha). I have no business relationship with any company whose stock is mentioned in this article.