Coke (NYSE:KO) has been dead money for quite a while with most of the return coming primarily from dividend. With declining earnings per share and a P/E ratio of over 30 (forward P/E ratio of 23), the stock does not appear its going anywhere but down.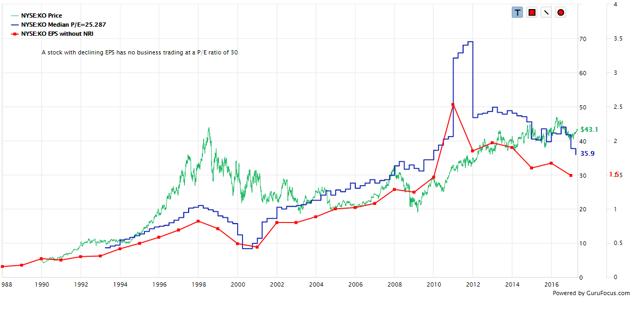 In fact, as illustrated in the chart below over the last 20 years - an investor's entire return and more came from dividends. Unless of course you are like Warren Buffett who bought KO in 1987 with a split adjusted cost basis of below $3.50. Not the KO can comfortably pay more dividends. In fact last year KO pretty much paid its entire earnings in 2016 out as dividends.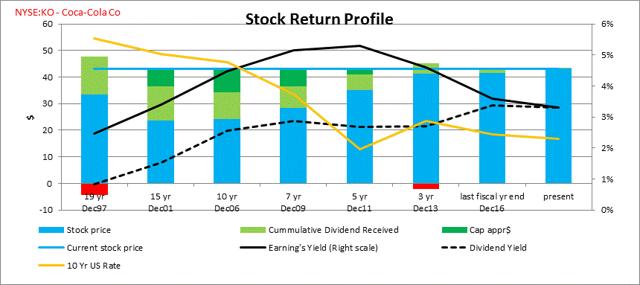 Coke is a mature company, which has conquered the world (with #2, Pepsi) but run into the limits of growth for its tremendously profitable carbonated drinks franchise. One way of increasing EPS and share price is to reduce the number of shares outstanding. To be fair KO is already doing it as illustrated by the blue line in the following chart. Number of shares outstanding has been continuously in decline over the last 15 years. It just needs to accelerate that, by taking on more debt and buying back more.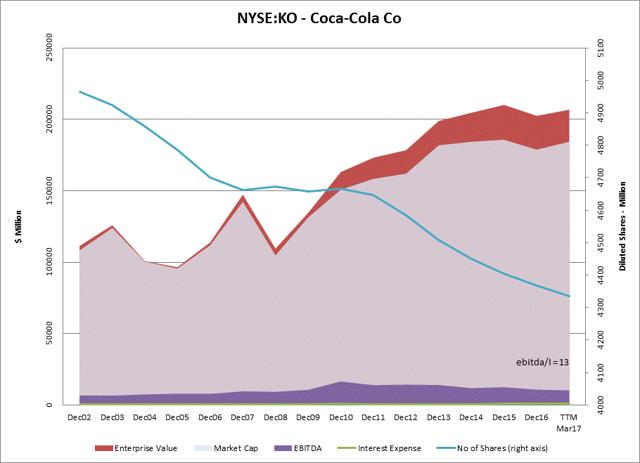 But wait, you say. Isn't debt bad? No. It's like saying, Isn't equity good. You have to look at it logically. What is the cost of debt for KO and what is the cost of equity? The cost of equity for Coke can be estimated by various models, i.e by using a somewhat complicated formula such as used in calculating weighted average cost of capital WACC (risk free rate + equity premium) or by taking the dividend yield or the earnings yield (reverse of P/E).
| | | | |
| --- | --- | --- | --- |
| KO | Risk Free Rate + Equity premium | Dividend Yield | Earnings Yield |
| Cost of Equity | 6.26% | 3.3% | 3.3 |
The cost of debt can be estimated by dividing interest expense divided by the long term debt + current portion of long term. My calculations put this at 1.68%.
Obviously bond holders and banks are willing to lend to KO at very low interest rates. It is interesting that investors think KO is considered much more credit worthy the US of A. KO's EBITDA to Interest coverage is a solid 13 times. KO can easily take on 50% more debt without much difference in credit ratings. Taking on more debt in the low interest environment makes sense. Debt is one of the few free lunches available to corporations as interest is deductible. KO can take on more debt and buy back shares. Not only does that return money to shareholders, it will drive up the share price and replace expensive equity with cheap debt. Debt can be astutely laddered so the company will be unlikely to be exposed to liquidity risk.
Rival Pepsico (NYSE:PEP) is already doing that. It has taken advantage of cheap debt much faster than KO and has consequently delivered much better and more consistent shareholder returns. KO should take a leaf out of PEP's strategy and do the same.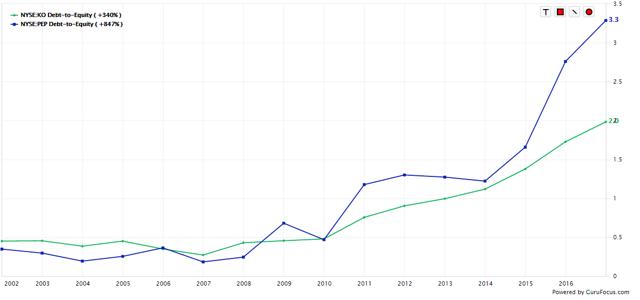 Pepsico's stock return profile is much more impressive than Coke's and its stock has performed better. I believe this because of Pepsi's optimal capital structure.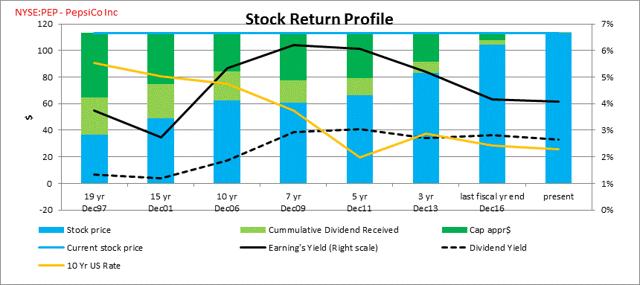 Disclosure: I am/we are long KO, PEP.
I wrote this article myself, and it expresses my own opinions. I am not receiving compensation for it (other than from Seeking Alpha). I have no business relationship with any company whose stock is mentioned in this article.