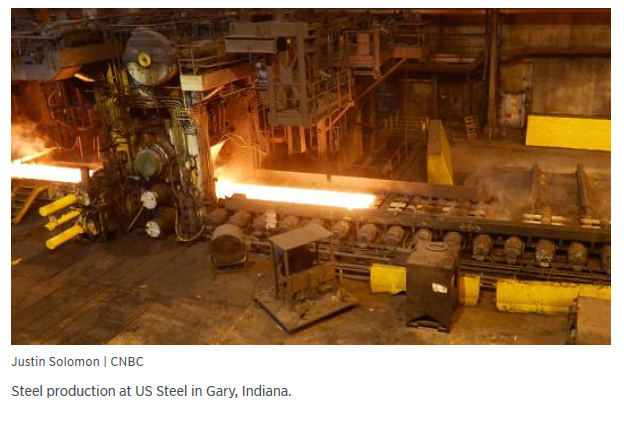 Steel Shares Fall Sharply
Many analysts were surprised last week as American steel prices continued their collapse in spite of President Trump's promise to rebuild that industry. Subsequent to the election, and after the president said he would address cheaper foreign imports that hurt U.S. pricing, substantial gains were noted in the sector. But recently, weak earnings reports particularly including examples like U.S. Steel (NYSE:X) and AK Steel (NYSE:AKS) have shaken up the industry and depressed share values further.
US Steel plunged 25%
AK Steel fell by 10%
U.S. Steel Earnings reported on Wednesday, April 25, "missed on every metric across the board." Furthermore, the company cut guidance for the remainder of the year by half.
US Steel
Subsequent to a sharp post-election rise in share price, U.S. Steel peaked at a high of 41.83. Since then it has fallen to a low of 21.62 at the time of this writing on May 2. This represents a decline of 49% from the previous highest value. The slow stochastic at the bottom of the chart shows the share price is deep in oversold territory.
AK Steel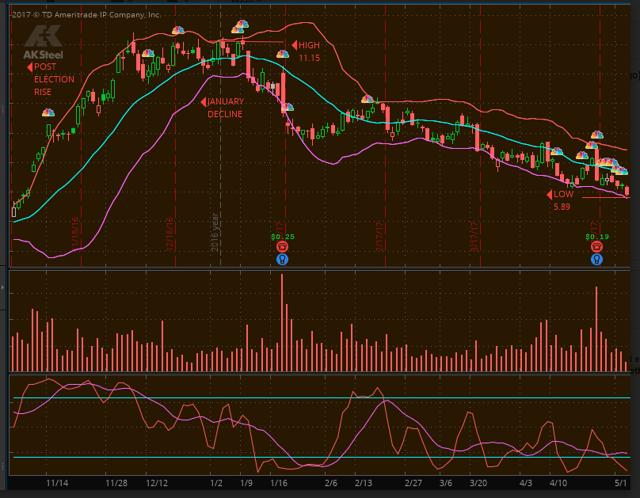 Subsequent to a post-election rise in shareprice, AK Steel peaked at a high of 11.15. Since then it has fallen to a low of 5.89 at the time of this writing on May 3. This represents a decline of 47% from the previous highest value. Like U.S. Steel, AK Steel is also deeply oversold.
The Game is Rigged
The underlying cause is global overcapacity in a game that is rigged against American steel producers. It boils down to an "unprecedented surge in unfairly traded imports with record amounts of foreign-produced steel flooding into the United States."
The Organization for Economic Co-operation and Development estimates that there are currently about 700 million metric tons of excess global steel capacity.
For example, in 2015, approximately one in three tons of steel sold in the U.S. was produced offshore. Simply stated, most steel is no longer produced in the U.S.
Much of the problem can be attributed to China's 500 percent over-production of steel while U.S. production decreased. Reforms promised by the Chinese government that would reduce production by 150 million tons over five years have not materialized. Like crude, the global glut of manufactured steel has damaged American producer profits.
Supply is a global issue because it has reduced demand and price while dumping cheaper steel into U.S markets. The over-supply screams for reforms that would enable enterprises to better manage production issues and reduce the size and scope of current financial losses.
Steel Industry Crisis
Hundreds of thousands of jobs are supported by steel; the backbone of American manufacturing. Not only is steel essential for the world's food and water supply, but it is critical for our national defense. Military use includes: aircraft carriers, nuclear submarines, missiles, armor plate for tanks, and military aircraft. Clearly, relying on steel imports is self destructive to this industry making the U.S. extremely vulnerable, and most importantly, dependent on the whims of outside sourcing.
Balancing Steel Supply
If the U.S. steel industry is to survive, the U.S. must act to reduce global overcapacity.
Investors look to Section 232 investigation Black Swan event that will "remove steel supply from the market and tip the balance of supply/demand in favor of domestic steel mills, thus pushing prices up to levels not seen since 2008."
Under Section 232, Trump has requested the Secretary of Commerce to initiate an investigation of the effects of imported steel on national security.
Additionally, the U.S. Commerce Department may enforce ruling Section 337 which could initiate future "antidumping and countervailing duties" on imports. A further Section 201 circumvention ruling is also pending.
U.S. Steel has already filed a Section 337 complaint against foreign companies engaged in price fixing and the control of output and export volumes.
Possible outcomes include new tariffs and quotas limiting importation of certain steel. If President Trump decides to seek negotiations to limit or restrict imports deemed to threaten national security, an effective agreement must be reached within 180 days. Otherwise, the president may take any such other actions he deems necessary to adjust imports.
These "shock and awe" rulings regarding imported steel constitute powerful responses to unfair trade practices and must be considered viable possibilities if something is to be done.
The Trump administration has shown a willingness to address unfair trade policies as evidence by the very recently imposed 24% duties imposed on Canadian imported lumber to correct trade imbalances.
Cowen and Company's, Cowen Washington Research Group, report that buyers and sellers of steel need to appreciate the ability of the Trump Administration to drive up steel prices by controlling foreign supply.

There should be no doubt that the make-up of the Trump Administration, coupled with the legal abilities assigned to the Executive Branch as it relates to trade, mean change is probable, and it can impact the steel and manufacturing industries. As always in the markets, speculation springs eternal.
Steel Market Update
As of April 29, most steel buyers are being supportive of spot prices which are at the bottom of the market. Prices have remained steady for the last two weeks.
There is an expectation of further price reductions by mills for the coming summer and fall, 2017. However, the situation is fluid pending future government actions.
Take Away
American steel companies belong on your watch list and live charts.
U.S. Steel and A.K. Steel have been severely beaten down.
Maintain a close watch on U.S. Commerce Department actions particularly Sections: 232, 337, and 201.
Steel share price reversals may anticipate U.S. Government trade rulings.
Further possible share price pull backs through the summer and fall may present excellent buy points.
Note: Thank you for reading and commenting. You can follow my articles on SA by clicking the follow button after my name.
Disclosure: I/we have no positions in any stocks mentioned, and no plans to initiate any positions within the next 72 hours.
I wrote this article myself, and it expresses my own opinions. I am not receiving compensation for it (other than from Seeking Alpha). I have no business relationship with any company whose stock is mentioned in this article.
Additional disclosure: The information and data that comprise this article came from external sources that I consider reliable, but they were not independently verified for accuracy. Points of view expressed are my reasoned opinions and not intended to be investment advice. I bear no responsibility for any investment decisions you undertake.