Overview
Every Wednesday, the EIA releases inventory figures for crude oil (NYSE: USO) and petroleum products. Inventory figures are closely monitored to assess the state of current demand. Typically, markets view inventory draws as being bullish while inventory builds are often regarded as bearish though outcomes are not always black and white.
By the Numbers
Yesterday we released an article mentioning why we expect to see potential crude inventory builds following 2 weeks of growing gasoline stocks.
"We believe that crude oil inventories may in fact rise despite today's API estimates as refiners cut back on production to tame the rise in gasoline inventories. Demand throughout the inventory supply chain must rebalance ahead of summer to stabilize crude oil prices as bloated gasoline inventories will force cuts to refiner utilization rates impacting crude oil demand. "
While crude inventories didn't rise, the -900 tb/d missed the expected -3.0 mmb/d. Gasoline inventories perked up modestly rising 200 tb/d vs. 1.0 mmb/d expected while distillates fell -562 tb/d vs. expected 2.0 mmb/d build. Through weeks 2 & 3, gasoline stocks rose nearly 5 mmb/d (5.1 mmb/d after week 4). Refineries returned from the maintenance season looking to boost output resulting in bloated gasoline inventories.
In order to avert further product builds, refiners are cutting back processing less crude oil.
Refinery utilization slipped 0.8% along with inputs, which fell 108 tb/d. Inputs remain up in the last two years.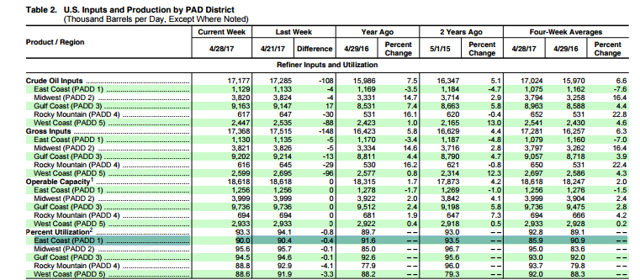 Source: EIA
This trend will likely accelerate through May given the lack of synchrony in crude and petroleum product draws, which has greatly pressured crude markets.
Production Activity
Crude oil throughput volumes appear to be falling, most notably on the import side.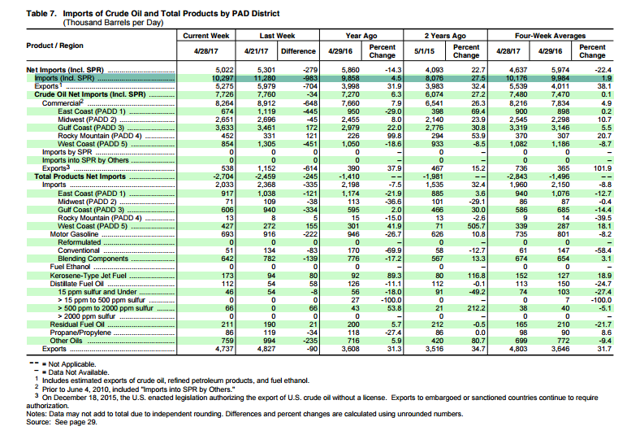 Source: EIA
Overall imports dropped nearly 1 mmb/d coinciding with falling utilization rates. The United States relies on imports of heavy crude, which is often sourced through international producers. The drop in import volumes should follow with falling utilization rates and weaker crude demand this month.
On the end market, production was down relative to last weak despite increases in gasoline production.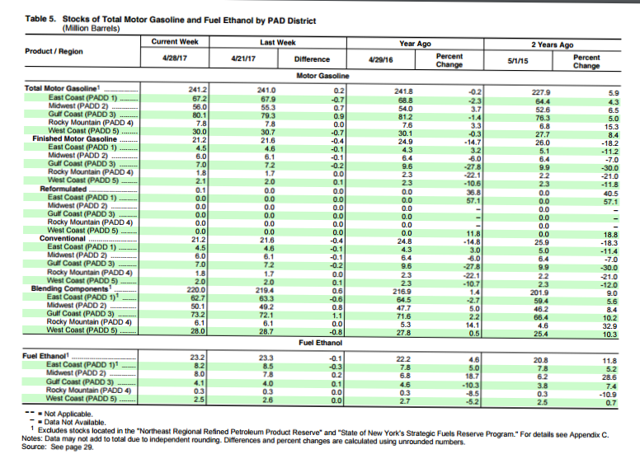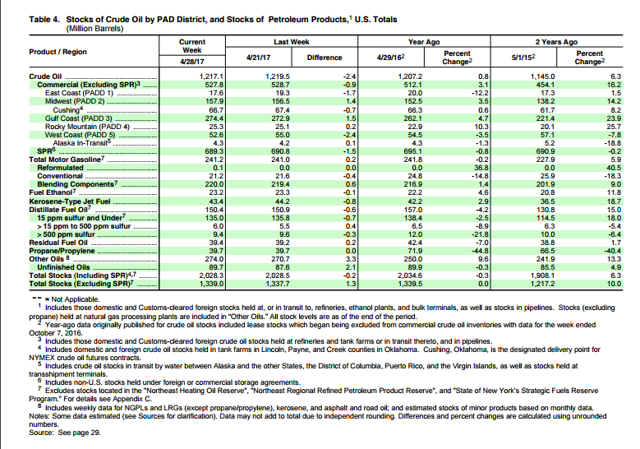 Source: EIA
Drops in production volumes aided drawdowns in petroleum products.
What to Expect?
Crude product markets appear to be oversaturated at the moment and will need to come down to ensure stronger margins into the summer driving season. Refiners will look to cut back on output so expect to see a disconnect between crude and product draws.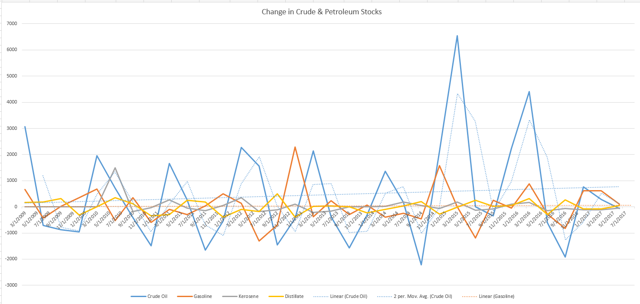 Source: BlackVault Investments Research
More importantly; however, is the broader trend. The large builds experienced in 2015 and 2016 appear to have peaked out allowing for mean reversion.
We ran a linear regression model that looks to examine the relationship between crude and product inventory changes. We then looked to forecast changes in product inventories utilizing average quarterly crude oil inventory changes.
Throughout the current cycle, crude inventory changes have averaged a net draw of ~-1.3 mmb/d.

Based on our models, a net draw of -1.3 mmb/d will equate to ~1.1mmb/d in total product inventories.
Overall, we are expecting short-term pressure to impact crude prices enabling a reach of our downside target of ~$45 while moving higher in 2H 2017.
Disclosure
This article contains the opinions of BlackVault Investments and in no way is acting as an offering and/or solicitation of securities or investment advice.
If you have any questions, feel free to leave them in the comment section or message me directly. Thank you for reading and good luck to all.
Disclosure: I/we have no positions in any stocks mentioned, and no plans to initiate any positions within the next 72 hours.
I wrote this article myself, and it expresses my own opinions. I am not receiving compensation for it (other than from Seeking Alpha). I have no business relationship with any company whose stock is mentioned in this article.