Anadarko's (NYSE:APC) shares took a beating today following their 1Q 2017 earnings release. Investors ran from APC after a litany of quarter miscues and the unfortunate Colorado pipeline blast accident. The Colorado gas pipeline blast is a tragic accident, but it is a public relations nightmare.
What Went Wrong in the 1Q 2017?
APC missed earnings expectations by $0.35/share, when its quarterly loss came in higher than expected. Higher operating expenses than expected year-over-year (YoY) jumped 53% to $3.9 billion - B. Within operating expenses, exploration or dry hole expenses soared nearly nine times to roughly $1.1 B. Impairments rocketed to $373 M from prior quarter of $16 M.
U.S. natural gas production dropped 19% YoY due to asset divestitures in unconventional shale basins. The Eagle Ford asset divestiture totaled 155,000 net acres primarily located in Dimmit and Webb counties with production of 45,000 b/d in liquids and roughly 131 Mcf/d of natural gas from the basin.
The Marcellus asset sale totaled 195,000 net acres and 470 Mcf/d of natural gas.
All told, the natural gas asset sales were roughly 26% of full year U.S. gas production.
Capital spending - capex soared 40% on the quarter YoY. Higher capex tipped net operating cash flow after spending (NOCF) into a deficit of ($132 M). Return on sales - ROS remained a negative at (8.4%). Debt leverage remains exceptionally high at 50%. Regarding the Colorado accident, recent reports state that the Governor of Colorado has ordered a review of natural gas wells in the state that could in the end require remediation per well. APC has 3,000 producing vertical wells of the same vintage in the state and remediation costs could possibly reach $100,000 per well. The regulatory risk for APC's shares are high and a serious concern for investors.
What Went Right in 1Q 2017?
Revenue grew to $3.8 B YoY or 125% beating expectations by $1.1 B. International and U.S. oil production increased 17% and 8%, respectively. Operating cash flow (OCF) swung from a prior quarter deficit of ($137 M) to a surplus of $1.1 B., assisted by a tailwind of higher oil prices. NOCF deficit was reduced 87% YoY, from a deficit of ($1.0 B) in 1Q 2016 to ($132 M) in 1Q 2017. Debt leverage did not increase, but remained unchanged at 50% from year-end 2016. Net proceeds from asset divestitures total $3.0 B. Company has $5.8 B of cash on the balance sheet.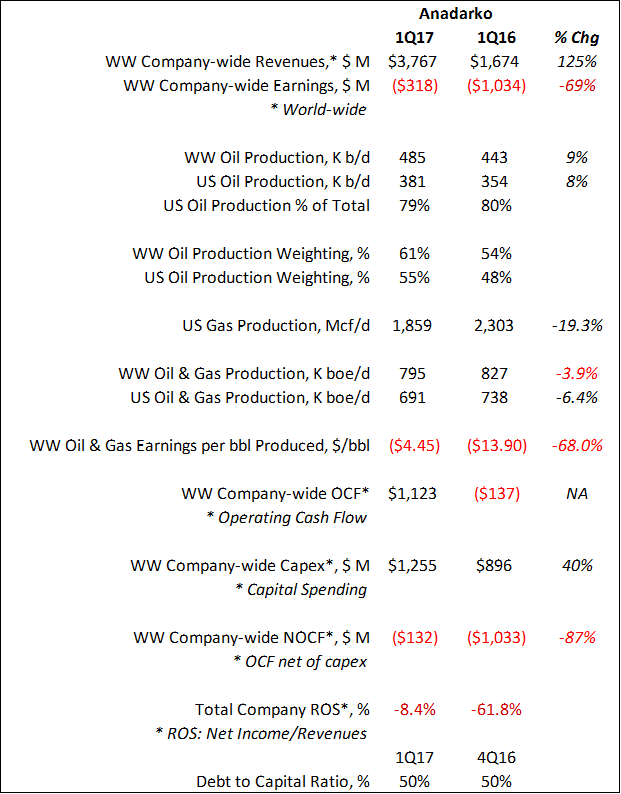 Source: APC 1Q 2017 Earnings Report
Moving Forward
Company is re-balancing or high grading its production portfolio targeting three core areas, the U.S. deep-water GoM, the Delaware Basin in West Texas, and the Denver - Julesburg or DJ Basin in Colorado. Woven into this portfolio strategy is its belief that the longer term outlook for oil prices is in a range from $50 to $60/bbl. In a lower for longer oil price environment, APC is leaning less to Greenfield projects particularly in high cost areas as the U.S. GoM. Rather the Company is focusing more on U.S. onshore shorter term cycle projects and lower cost tieback development projects in the U.S. GoM. APC forecasts that by streamlining its portfolio, total sales volume may average 626K-648K boe/day during Q2 and 644K-655K for FY 2017; leading to a 15% per annum oil production growth rate over the next five years.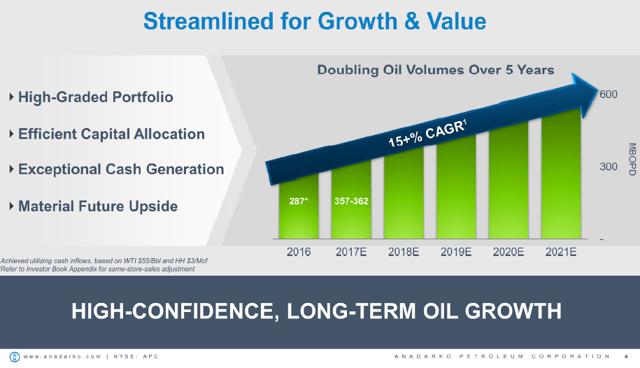 Source: APC 1Q 2017 Presentation
Conclusion:
Credibility is at the heart of Anadarko's investor flight. Company has an uphill battle to overcome the bad publicity and ensuing cost of the Colorado incident, not to mention the exposure to greater regulatory risk. One has to question whether APC can grow oil production by 15% per annum to 2021; whether APC by year-end can swing NOCF from deficits into surpluses, and whether APC can control operating expenses?
The 1Q 2017 results spooked investors and rightfully so, the results were disappointing. APC has to re-claim credibility from investors by generating cash flow surpluses and growing production.
Year to date, APC's equity shares are down roughly 25%. Currently, its shares have broken below its weighted moving average, and underperformed the broader energy index the XLE. Momentum indicators as the relative strength index (RSI) and price to volume (PVT) have capitulated to the downside. These are negative trends for APC's shares. Chart below, APC is orange line, XLE is blue line, and weighted average is green line.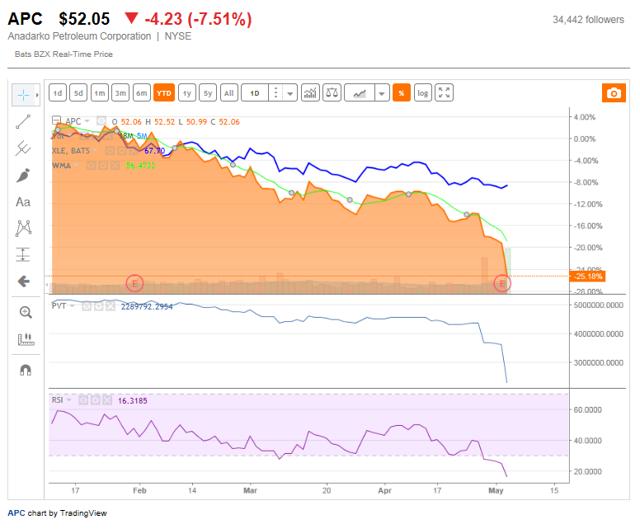 Note from author: Thank you for reading. If you like this article, then please follow me by clicking the "Follow" button at the top of this page.
Disclaimer: Please do your own research on the company's SEC filings, press releases and any relevant information to determine whether this company is suitable for your investment risk profile. The reader should contact a qualified investment advisor. I am not a registered investment advisor, and this article is not an advice to buy or sell stock in any company. I am not responsible for investment decisions you make.
Disclosure: I/we have no positions in any stocks mentioned, and no plans to initiate any positions within the next 72 hours.
I wrote this article myself, and it expresses my own opinions. I am not receiving compensation for it (other than from Seeking Alpha). I have no business relationship with any company whose stock is mentioned in this article.