Long term shareholders of Royal Dutch Shell (NYSE:RDS.A) (NYSE:RDS.B) enjoy an amazing dividend yield of over 7%. There are investors who believe that this high yield is unsustainable and a dividend cut will happen in the near future, but I already explained in my previous article why I think that there is no reason to really worry about this. Royal Dutch Shell's dividends are sustainable, and in this article I will show what this means for the patient long term investor.
Investor's concerns with Royal Dutch Shell
The main concern investors have with Royal Dutch Shell is about a potential dividend cut. The company has had a difficult time for a while with generating enough FCF to cover its dividends. Investors are afraid if the balance sheet's health will deteriorate because of this, since the company would have to take on more debt just to pay dividends.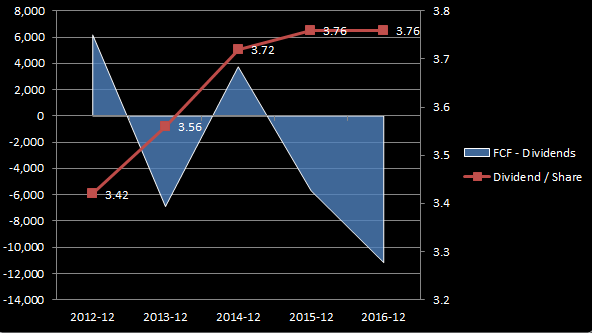 While this had been the case for a while, the company has actually seen sufficient FCF to cover its dividends and then some for the past two quarters. This is the result of a combination of successful cost and expenses reduction, investing in growth opportunities, an improving energy market, and an increasing production. Last quarter the company saw its production rate grow 28% yoy to 3.9 mln with more to come. I talked about this more extensively in my previous article.
Debt
As mentioned, a lot of investors fear an increasing debt position on Royal Dutch Shell's balance sheet. It is definitely true that this has become a risk for the company as the debt position has more than doubled in the last four years: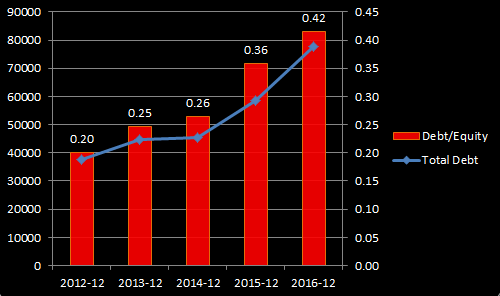 This raises the interest payments. But in terms of Debt/Equity the ratio of 0.42 is still around the industry average despite doubling. Also, it looks like the company has recently stepped up its efforts in order to tackle this growing debt. The company currently focuses on increasing its cash flows, which it then expects to use to pay off debt.

Source: Q4 presentation
As you can see, management makes it a priority to lower its debt with the excess cash it will produce these next few years. Management itself remains optimistic about lowering its debt before 2020:
By around the end of the decade, we expect to have reduced debt. Hence the free cash flow that you see on the chart here should be part of the dividend and buyback program of the company. Cash engines will have stabilized the portfolios."
Discounted dividend model
As mentioned in this and my previous article about this company, I expect that FCF after dividends will only increase these next few years. This excess cash will then be used to lower debt before a decision will be made on an increase of dividends.
I will now show you just how much value this stock can return to shareholders over the years by building a discounted dividend model. The discount that I will use in the discounted dividend model is 8.5%. In my first model I will assume that management decides these next three years to use its excess cash flows to only lower its outstanding debt. After that I will slowly increase the dividend growth to 3%, which is closer to the average dividend growth rate of the past 9 years (3.3%). For the terminal value I will use a growth rate of 2% to mimic inflation.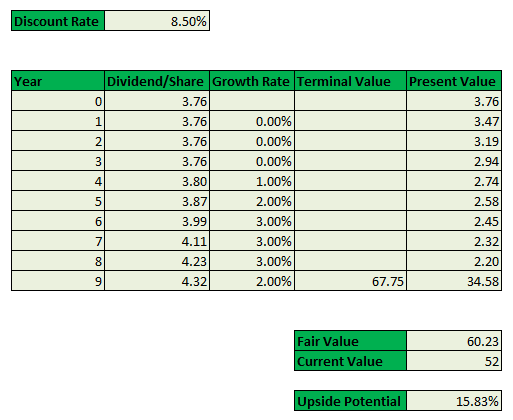 As you can see this model indicates an upside potential of 15.83%. And this is with quite conservative growth rates.
Conclusion
As mentioned earlier, I believe that the current dividend yield is safe. In quite conservative scenario this will result in an upside of almost 16% according to my discounted dividend model.
Disclosure: I/we have no positions in any stocks mentioned, and no plans to initiate any positions within the next 72 hours.
I wrote this article myself, and it expresses my own opinions. I am not receiving compensation for it (other than from Seeking Alpha). I have no business relationship with any company whose stock is mentioned in this article.