Non-farm payrolls (NFPs) report tomorrow and should be a good number. What's a little worrisome is the last two NFPs were a little weaker than they should have been. Jobless claims today and ADP yesterday gives us some hope. As long as earnings and jobs are ok, the market (NYSEARCA:SPY) should continue with support and move up.
Jobless Claims Good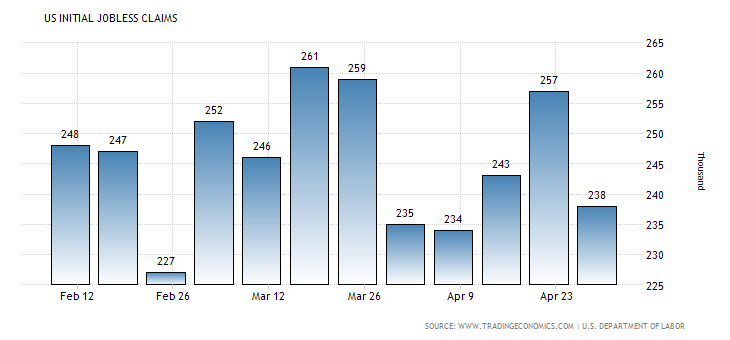 Source: Trading Economics
Today's jobless claims dropped again which is a bullish sign for the economy and market.
Jobless Claims Predict NFP
Above you have the monthly average of jobless claims. The month-to-month change inversely predicts NFP. Of the recent past, the only time it did not predict NFP's month-to-month direction was February.
That concerns us a little. February disappointed and really March did too. Jobless claims predicted the NFP's direction last month but was way off in the degree. NFP missed expectations big last month.
So we're shaking a little bit going into tomorrow's number. After two months where NFP underperformed, we worry a little that it could do so once again in tomorrow's report.
Why Might NFP Underperform?
The two series, jobless claims and NFP are inversely related. Jobless claims is an exclusionary statistic and NFP is inclusionary. Sounds fancy, but it's simple. Jobless claims includes people looking for work. If someone is out of the workers pool or gave up jobless claims excludes them.
If many people dropped out of the workers pool, then theoretically you have less people working but a strong jobless claims number because its lower. That's why the NFP number is more important. NFP measures those working not those "officially" not working.
As people give up looking for work, get old or drop out of the workers pool, jobless claims look better (less jobless claims) but NFP drops (less workers). That could be what happened the last couple of months. That also makes sense that you have strong jobless claims but a weak GDP report.
Market Needs A Good NFP
Expectations are for 200,000 new non-farm payrolls for tomorrow. ADP came out yesterday at 177,000. That's still good but lower than 200,000. Anywhere close to the 200,000 is very bullish for the stock market and economy. Lower than ADP would again be worrisome that something is not quite right similar to last month.
The Fed
We wrote yesterday ahead of the Fed decision that after Monday's negative PCE Price report we thought the Fed would make no changes. They made no changes which was a dovish surprise to many. Some expected the Fed to hint to a June hike and some expected hints to taper. There was neither.
Last month's very low NFP, negative PCE price, negative CPI, and a decimal point for GDP held them off. If tomorrow's NFP number disappoints again that will make two months in a row of disappointment. We'd guess the CME's 70%+ chance for a June hike would drop which would give the Fed room to hold off.
If NFP is strong, then a June hike is still on.
Conclusion
Jobless claims were strong again today. That should mean we get a good NFP tomorrow. We said "should" because the last two NFPs underperformed what weekly jobless claims predicted. If NFPs are anywhere close to street expectations you have up markets and a likely rate hike.
Click here to learn more about Elazar's Pro Trader.
Disclaimer: Securities reported by Elazar Advisors, LLC are guided by our daily, weekly and monthly methodologies. We have a daily overlay which changes more frequently which is reported to our premium members and could differ from the above report. Portions of this report may have been issued in advance to subscribers or clients. All investments have many risks and can lose principal in the short and long term. This article is for information purposes only. By reading this you agree, understand and accept that you take upon yourself all responsibility for all of your investment decisions and to do your own work and hold Elazar Advisors, LLC and their related parties harmless. Any trading strategy can lose money and any investor should understand the risks.
Disclosure: I/we have no positions in any stocks mentioned, and no plans to initiate any positions within the next 72 hours.
I wrote this article myself, and it expresses my own opinions. I am not receiving compensation for it (other than from Seeking Alpha). I have no business relationship with any company whose stock is mentioned in this article.