Valeant (NYSE:VRX) CEO Joe Papa and CFO Paul Herendeen continue to provide hints at future guidance and strategy for those investors who are willing to read between the lines.
In this article I will look at quotes provided by the CEO and CFO and relate them to what happened afterwards.
First we will look at the Q3 2016 earnings call on November 8, 2016. This was CFO Herendeen's first call - he was new to the business, however brought forward his ideology. A key quote from early on in this call:
First of all, I think of our guidance as a commitment. I had a pretty good track record with guidance at Warner Chilcott and at Zoetis, that said, Valeant is a company in transition.
In this call the CFO refers to his excellent track record of beating/meeting guidance and how he views guidance as a commitment. Later in the call the guidance for Q4 is revised (which we now know was beat during the Q4 results call beat $1.21 estimate with $1.26 result).
Further in the call, the CFO mentions:
If you ask me how I feel about the quality of our revised guidance, I'll tell you that I feel good about it, not the level certainly, but the quality of the estimate. But I'll have more confidence when we put out our 2017 guidance and more confidence at the end of Q1 2017, and so on.
This suggests as time goes on he is more and more comfortable with his "guidance as a commitment" number.
It is mentioned in this call that 2017 estimates are likely to be lower than 2016, with growth returning in 2018. As we look back the 2017 guidance numbers caused a sell off in the stock, even though management indicated this in advance.
Moving on to the February 28, 2017 conference call for Q4 results and 2017 guidance, management indicated that their EBITDA estimate for 2017 would be $3.55B to $3.70B there is a key quote that a Valeant investor needs to note.
When asked by an analyst about the $3.55B to $3.70B guidance number for 2017 taking into account a very high LOE (loss of exclusivity) revenue estimate. The response is as follows:
I want to be super clear here. We hope, because it would be more cash to us, that we are being overly conservative here. I don't believe we're being overly conservative, but we are being conservative here with respect to the impact on 2017 from that basket of assets. When providing guidance - and I say this a lot. We think of guidance as a commitment. When providing guidance, us assuming good things with respect to that portfolio would feel better at the time of the provision of guidance, but would be not well received if it turned out that it played out in a more conservative or in a more deleterious manner with respect to our products.

So, is it conservative? Yes, it's skewed toward the conservative side. We provided everybody with the information (1:10:26) where you can sit down and look and say, based on our assumed date of entry, if you have information or you believe you have information that's better than our market intel or different than our market intel, everybody can come to a point of view. But here comes the important point. That bucket or basket of LOE assets is viewed by us as a potential basket of future cash flows. We hope it's as big as it can possibly be. But from an earnings perspective, if our earnings from that LOE bucket turn out to be better in 2017, that will be great because of the cash it will generate, which we'll use to reduce debt.
This statement by the CFO is very important - as they are viewing any "extra" cash from the LOE products as a bonus and not as a requirement to keep the lights on. He explicitly states that any extra cash will go towards paying down debt.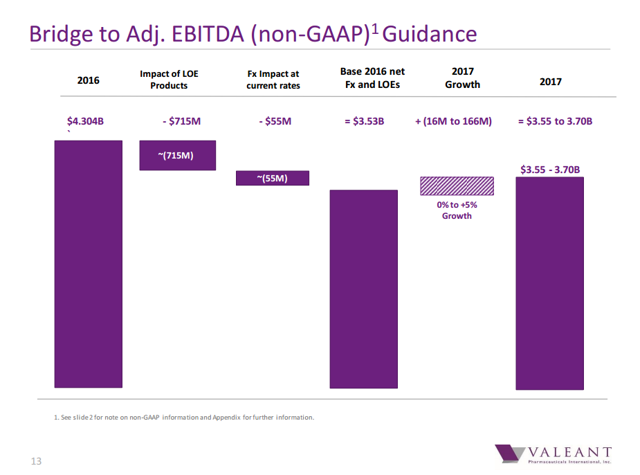 In the same call another analyst asks a question in regards to debt refinancing the response is:
I think, in my prepared remarks, what I said is we look at the situation in the financial markets, in the debt markets every day and with great urgency.
We know that a few weeks after the call Valeant refinanced its debt removing covenants and extending maturities.
Lastly, looking at yesterday's conference call (annual meeting of shareholders).
CEO Papa talked about delivering on commitments and "the new Valeant"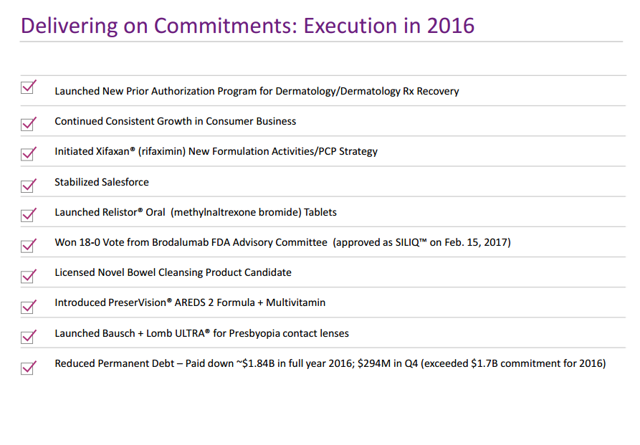 In the slides (taken from Valeant IR) CEO Joe Papa commented on the delivery of commitments and execution by management in 2016.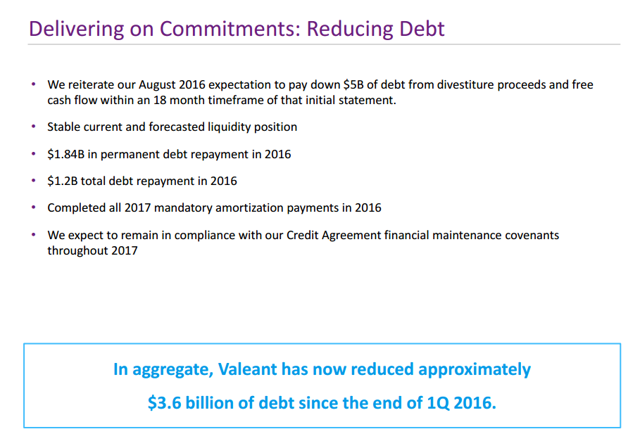 At this meeting the CEO, again, reiterated their commitment to pay down $5B of debt within 18 months of August 2016. Based on the delivery of past promises coupled with cash flow and asset sales Valeant should be able to hit the target number within the timeframe mentioned. Just this week Valeant paid down an additional $220 million in unscheduled payments.
For those that actually listened/attended the CEO made a significant statement multiple times. "Today is officially the beginning of Valeant's turnaround".
Looking at management's short, yet effective history in meeting commitments. I take this to believe that Q1 results will show Valeant's turnaround in the sense of the days of missing and lowering guidance are behind them.
If Valeant is able to meet the criteria promised under management's turnaround plan and grow the core business in eye care, dermatology, and GI markets the EBITDA/DEBT ratio should increase substantially.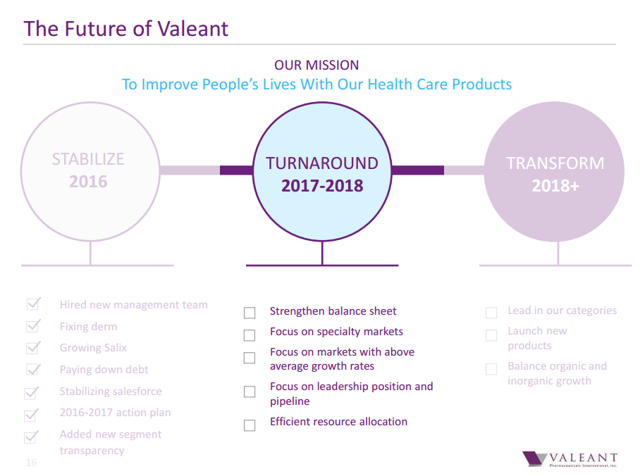 Conclusion: Valeant's CEO and CFO have provided signals for those who were willing to listen in regards to the direction of the business. So far these signals have been an effective way to gauge the short term future. If you believe in Valeant's management's ability to meet/beat their commitments you may agree that the signs around beating 2017 guidance and Valeant being in it's "turnaround" are telling a story.
Shareholders willing to believe in management should reap rewards that are multiples of today's share price. At least one major investor, Bill Miller, believes so, as discussed in his latest interview.
Disclosure: I am/we are long VRX.
I wrote this article myself, and it expresses my own opinions. I am not receiving compensation for it (other than from Seeking Alpha). I have no business relationship with any company whose stock is mentioned in this article.