Why We Are Likely Witnessing The End Of 'Chavismo'
By John Greenwood, Chief Economist. Posted on Expert Investment Views: Invesco US Blog.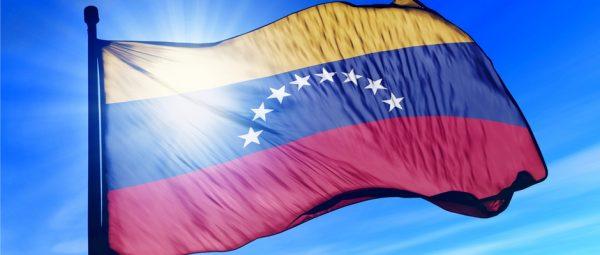 We've all seen the news reports - lines for food and basic staples that stretch for blocks, increasing violent crime, kidnappings, and corruption are making day-to-day life in Venezuela a real struggle. It wasn't always like this, but in the past 20 years, Venezuela has gone from one of the richest countries in South America to one of the poorest. To make matters worse, the country is now in the throes of near hyperinflation reminiscent of post-WW1 Weimar Germany or Zimbabwe in the years before dollarization in 2009.
How could a country blessed with abundant natural resources, tropical weather, and nearly 1,800 miles of Caribbean coastline descend into chaos so quickly? And, what will the future hold for Venezuela?
The answer to the first question is nearly two decades of "Chavismo," the left-wing political ideology extolled by Hugo Chavez, the autocratic ruler of Venezuela from 1999 until his death in 2013, and continued by his successor, Nicolas Maduro. The answer to the second question remains to be seen, but it appears that hyperinflation and regime change could be on the horizon.
The implementation of 'Chavismo'
Under Chavez, virtually all industry was nationalized, government welfare programs were dramatically expanded, and price controls were widely imposed. This combination of policies undermined the viability of most non-oil businesses, accelerated the collapse of other domestic industries, and caused a shift to almost total reliance on oil exports. An unintended (but not surprising) result of these actions was that Venezuela became desperately dependent on imports for virtually all staples. At the same time, mismanagement and underinvestment, combined with persistently low oil prices, crippled the national oil and gas company, PDVSA, which currently accounts for almost 95% of foreign currency earnings.
The problems for the country's oil giant began with the election of Hugo Chavez in 1999. PDVSA had been managed by industry veteran Luis Giusti for the previous five years, and under his leadership, the company was well run, and its oil production soared. After Chavez took charge, production faltered and then plunged in the year following an unsuccessful April 2002 coup. In the aftermath, Chavez purged the national oil company of its professional management and, without regard for industry experience, installed his own loyalists. Output slowly recovered for a time, but when Chavez died in 2013 and was replaced by Maduro, production took another dive and is currently 20% less than it was in 1999, including a 10% drop just last year.
PDVSA can't pay its bills
The company is also cash flow negative and building up excessive debt. In 2017, PDVSA faces substantial debt repayments, but with government assistance, it succeeded in repaying $2.2 billion of these liabilities in mid-April. However, an additional $3.5 billion falls due in October and November, when once again it is likely to need to rely on the government's reserves. Adding to its woes, global oil and natural gas prices have been significantly depressed since late 2014, slashing the company's revenue at the exact time when it is most needed.
Plunge in oil revenue drags economy down
As noted above, oil revenue accounts for almost 95% of Venezuela's foreign currency earnings. Part of this revenue is redistributed to the country's poor in the form of ambitious education and "health and poverty eradication" programs. The government also uses oil to expand the country's influence by doling it out free to friendly countries in the region (such as Cuba) in amounts equivalent to $8 billion annually. These commitments became even more problematic after the global financial crisis of 2008, when over the following three years, the Chavez government effectively doubled public spending on social programs, construction, and subsidies for state enterprises.
International Monetary Fund estimates indicate that Venezuela's broad fiscal deficit had widened to 10% of gross domestic product (GDP) by 2009. Despite a quick and vibrant recovery in crude markets from 2009 through 2011, the deficit continued to deteriorate, reaching 15% of GDP in 2013.
The 2014 collapse in oil prices then decimated the economy. The Venezuelan government owes $13 billion in debt repayments this year, but holds international reserves of less than $11 billion, predominantly in gold.
Venezuela's economy is rapidly contracting under centralized controls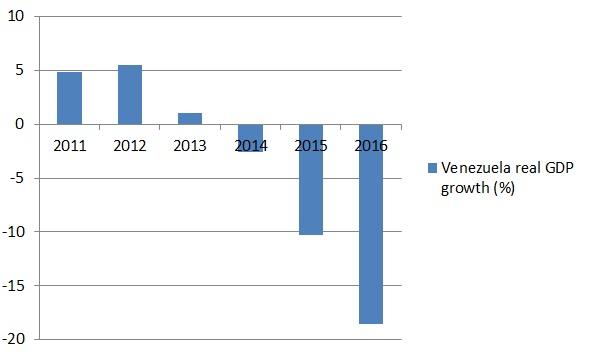 Source for 2011-2015: Macrobond. Source for 2016: Leaked report from Venezuelan central bank
Venezuelan real economic output shrank 10% in 2015 year on year, the latest official figure available, as the Venezuelan central bank has stopped publishing data. A leaked report from the central bank indicates that the economy contracted by an additional 18.6% in 2016.
Another striking example of the economy's complete collapse is the implosion of auto sales. Sales peaked at 52,658 in November 2007. Almost a decade later in January 2017, only 157 cars were sold or registered in the entire country, representing a peak-to-trough fall of 99.7%. Domestic car production ceased as of December 2016 when Ford (NYSE:F) suspended operations.
Next stop - hyperinflation?
The regime's imposition of price controls on basic goods and foreign exchange has caused shortages, rationing, and rampant inflation. Venezuelan broad money supply, as measured by M2, was growing at 175% year on year in January 2017. This absurdly high money growth is the result of the government printing money to pay for unsustainable welfare spending. Since Chavez came to power in 1999, M2 growth has averaged 47% annually, creating the perfect inflationary environment.
Official CPI figure (160%) probably understates true inflation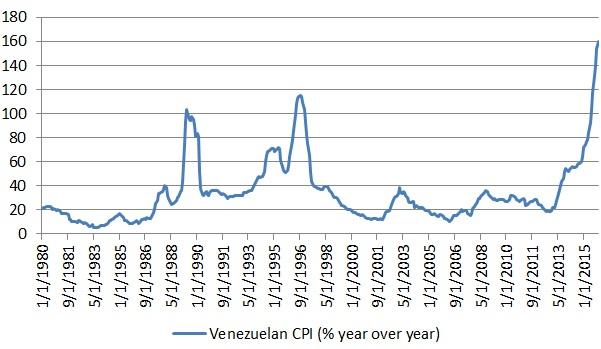 Source: Macrobond. CPI stands for consumer price index. Data from January 1, 1980, through December 1, 2015.
While current conditions in Venezuela may not meet the academic definition of hyperinflation, price rises are clearly out of control. Venezuela's last officially published CPI inflation rate was 160% in December 2015. Even though the authorities have stopped publishing data, private estimates suggest that CPI inflation is now at 800%. The visible signs of hyperinflation are everywhere: shopkeepers weighing money, shortages of basic staples such as food and drugs, and food distribution turned over to the army. Under government price controls, no matter what retailers pay for food and staples, they must sell to customers at the low, officially controlled prices. For non-staples, there are anecdotal reports of shops changing prices daily and long lines at Caracas ATMs as citizens struggle to get enough cash, often visiting multiple ATMs each day.
How could the inflation rate possibly reach 800%? This is obviously the result of years of massive deficits funded by printing money, but M2 growth was still "only" 160% in December 2015. The real answer lies in the quantity theory of money. The theory states that inflation is the result of three interacting forces: (1) a huge increase in M2, (2) a collapse of production, and (3) a dramatic increase in velocity, something that is common in all severe episodes of inflation. Velocity surges because people try to unload money as quickly as possible, knowing it will rapidly diminish in value.
What's next for Venezuela
The country's leadership has laid the blame for Venezuela's current malaise at the feet of (among others) "right-wing forces," the Colombian "mafia," and/or profiteers. My analysis points to the nationalization of virtually all industries, the imposition of domestic price controls, and the constant printing of money to fund the "Chavismo" agenda.
With conditions already terrible and getting worse, I would not be surprised to see some kind of regime change. The opposition won control of parliament in December 2015, but, by prohibiting a referendum on his rule, President Maduro has refused to relinquish power. There are ongoing negotiations brokered by Pope Francis and UNASUR (Union of South American Nations), but there has been little progress to date. Even though President Maduro recently began slowly lifting some price controls in border regions, many believe he will have to step down or be removed for Venezuela to have any hope of recovery.
Important information
Blog header image: Jiri Flogel/Shutterstock.com
M2 is a measure of the money supply that includes cash and checking deposits as well as savings deposits, money market securities, mutual funds and other time deposits.
The risks of investing in securities of foreign issuers, including emerging market issuers, can include fluctuations in foreign currencies, political and economic instability, and foreign taxation issues.
The performance of an investment concentrated in issuers of a certain region or country is expected to be closely tied to conditions within that region and to be more volatile than more geographically diversified investments.
Commodities such and oil and gas may subject an investor to greater volatility than traditional securities such as stocks and bonds and can fluctuate significantly based on weather, political, tax, and other regulatory and market developments.
Where John Greenwood has expressed opinions, they are based on current market conditions as of May 1, 2017, and are subject to change without notice. These opinions may differ from those of other Invesco investment professionals. Unless otherwise specified, data was supplied by Mr. Greenwood. Past performance is not a guarantee of future returns. An investment cannot be made in an index.
The information provided is for educational purposes only and does not constitute a recommendation of the suitability of any investment strategy for a particular investor. Invesco does not provide tax advice. The tax information contained herein is general and is not exhaustive by nature. Federal and state tax laws are complex and constantly changing. Investors should always consult their own legal or tax professional for information concerning their individual situation. The opinions expressed are those of the authors, are based on current market conditions and are subject to change without notice. These opinions may differ from those of other Invesco investment professionals.
| | | |
| --- | --- | --- |
| NOT FDIC INSURED | MAY LOSE VALUE | NO BANK GUARANTEE |
All data provided by Invesco unless otherwise noted.
Invesco Distributors, Inc. is the US distributor for Invesco Ltd.'s retail products and collective trust funds. Invesco Advisers, Inc. and other affiliated investment advisers mentioned provide investment advisory services and do not sell securities. Invesco Unit Investment Trusts are distributed by the sponsor, Invesco Capital Markets, Inc., and broker-dealers including Invesco Distributors, Inc. Each entity is an indirect, wholly owned subsidiary of Invesco Ltd. PowerShares® is a registered trademark of Invesco Ltd., used by the investment adviser, Invesco PowerShares Capital Management LLC (PowerShares) under license. PowerShares and Invesco Distributors, Inc., ETF distributor, are indirect, wholly owned subsidiaries of Invesco Ltd.
©2017 Invesco Ltd. All rights reserved.
Could hyperinflation be next for Venezuela? by Invesco US Blog