The price of gold (NYSEARCA:GLD) - blue line - has been almost perfectly negatively correlated with the cross rate between the euro (NYSEARCA:FXE) and Japanese yen (NYSEARCA:FXY). Specifically, a stronger euro versus the yen has negatively affected the price of gold over the last 12 months. Here is the chart: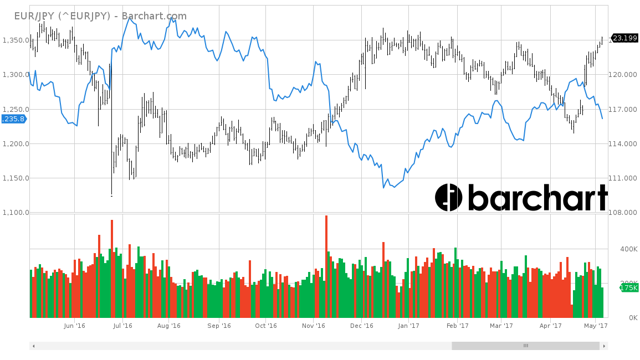 In this article, I will specifically try to explain the most recent relationship between Gold and EURJPY, along with implications for the price of gold near term.
So, the starting point of the analysis is the hypothesis that both the euro and the yen should be rising versus the US dollar (NYSEARCA:UUP), based on Trump's statement that the dollar is too strong and the apparent embrace of "the weak dollar policy."
These are the key points:
The yen has been rising as expected, but the euro was held by the risks related to the French elections. As a result, the yen strengthen vs. the euro (as well as the US dollar). Gold was rising along with the

yen.

However, after the first round of French elections, the euro-specific risk decreased, which caused the "catch up" trade versus the US dollar. Since the yen already appreciated versus the dollar, the rising

euro was most evident in the EURJPY cross rate.

Given almost a perfectly negative correlation between Gold and EURJPY over the last 12 months, the price of gold sold off.
Near-term implications (days)
The euro is likely to further strengthen in the aftermath of the second round of French elections - versus the yen and the US

dollar.

This is likely to cause more selling in gold in the near term.
Longer-term implications (weeks-months)
The euro will eventually re-price the redenomination risks, and the EURJPY cross rate will stabilize.
At this point, both the euro and the yen, should continue to rise versus the US dollar, which is bullish for Gold, Silver (NYSEARCA:SLV), as well as the Gold miners (NYSEARCA:GDX) (NYSEARCA:NUGT).
Thus, the current selloff in gold is just a correction. Longer term, gold will be affected by the anticipated US

dollar depreciation versus the basket of currencies.
Note, gold investors should also monitor to yield on 10-Year T-Note (NYSEARCA:TLT), which directly affects the value of the US dollar, as thus, the price of gold, as previously explained.
Disclosure: I/we have no positions in any stocks mentioned, and no plans to initiate any positions within the next 72 hours.
I wrote this article myself, and it expresses my own opinions. I am not receiving compensation for it (other than from Seeking Alpha). I have no business relationship with any company whose stock is mentioned in this article.