Ford (NYSE:F) has had a rough go at it for a number of years as automotive manufacturers (other than Tesla (NASDAQ:TSLA)) have been underperforming the broad market.

On the positive side, Ford reported adjusted pretax profit of $2.2 billion in 1Q17 and executives expect total company adjusted pretax profit to be $9 billion for the fiscal year (FY). They also have $28 billion in liquid cash, which could be used for acquisitions. Capital spending of $1.7B for the quarter and $7 billion for the FY is occurring as planned. Payments into the pension will approximate $1 billion for the FY and is on track with previous guidance.
Sales
While they have introduced some great styles in their Mustang and F-150 lineups, they appear to be robbing the future to bolster today's bottom line. Unfortunately, automobiles are not selling and it's not just a problem for Ford whose April sales tanked by over 7%. Meanwhile, industry inventories have been climbing from an average of 55 days to now over 70 days.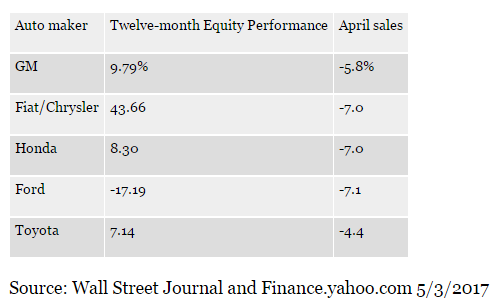 Sales crashed after months of very generous incentives and very low financing offers; this does not bode well for future sales. The big drop in April sales could be a sign of an impending collapse, which could parallel that of 2008.
2008 Repeat
It appears that we are setting us up for a 2008 collapse in US auto sales. Consumers have taken on too much debt - over-extended themselves - to buy the best and shiny now rather than waiting to purchase when they could afford something.
Simply put - Americans have too much debt. As regular readers of my work will see again and again, freedom - true financial freedom - does not come from having debt. The message is and always will be: pay cash for depreciating assets.
The Federal Reserve Bank of New York, Center for Microeconomic Data's recent report - Quarterly Report on Household Debt and Credit - reveals that 'total household debt increased by 1.8% in the fourth quarter of 2016, rising $226 billion to reach $12.58 trillion, only 99 billion shy of its 2008 third quarter peak. Balances increased across all debt products, with a 1.6% increase in mortgage balances, a 1.9% increase in auto loan balances, a 4.3% increase in credit card balances, and a 2.4% increase in student loan balances this quarter.'
Simply put, we, collectively, we are living beyond our means. This very well could mean that our debt levels will crush and will force us to delay buying new cars.
This doesn't bode well for the car industry that needs a constant hit of new sales. This will also have a longer-term drag on companies like US Steel (NYSE: X) even though they might see a small bounce due to a Fibonacci retracement.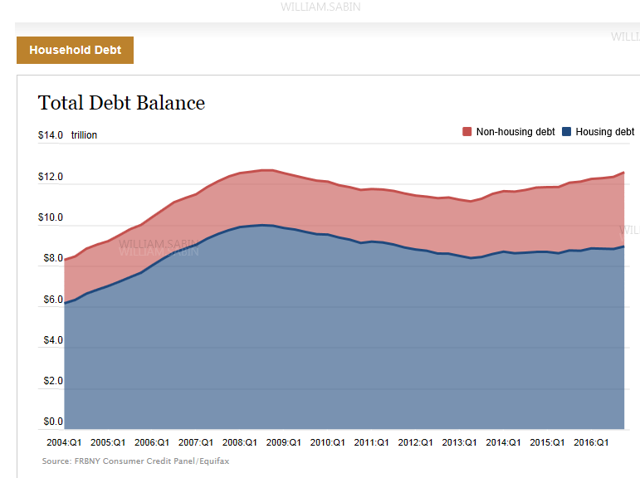 Technical analysis
We have not seen Ford closing prices this low since 2012. A key support of 11 was pierced and the stock is trading well below is 20-day moving average. The RSI is also trending lower pointing to continued weakness in the stock.

Source: Yahoo stock charts
Ford has also underperformed General Motors (NYSE: GM). GM is yielding 4.58% while Ford has a dividend of 0.60 or 5.49%.

Ford's yield is very tempting and I don't believe there is a risk of Ford cutting their dividend anytime soon. If you are chasing yield and are a long-term investor, Ford might be a decent company to own. However, given the overall industry weakness, the high levels of consumer debt, as well as the breakdown in the technical patterns, it appears one would want to be prudent and wait to invest in Ford.
With its high yield, it is expensive to short. The stock options spreads are not advantageous, in my opinion, as one might be right on the bearish play but wrong on the timing, and with options, you need to be directionally right as well as hit the timing correctly.
I am waiting for a test of the 9.24 level (or lower) before committing any funds to this stock, which would make the dividend even juicier at 6.5%.
Disclosure: I am/we are long X.
I wrote this article myself, and it expresses my own opinions. I am not receiving compensation for it (other than from Seeking Alpha). I have no business relationship with any company whose stock is mentioned in this article.