Welcome to the market forces edition of Oil Markets Daily!
Oil prices are dropping like stones today with Brent falling below $50 for the first time this year. We are just 21 days away from the OPEC producer meeting, and the sentiment among OPEC members is that they will likely extend the production cut.
Some media commentators have already called the OPEC deal a failure with some bearish traders calling the latest cuts a mirage. Sentiment in the oil markets, if not already terrible, is progressively worsening.
What's going to happen?
If OPEC was to extend the production cut agreement, will traders and investors believe them this time? Did OPEC actually reduce production?
To answer the first question, traders and investors will take the "prove it to me first" route. Although global storage data continue to point to the cuts being meaningful and resulting in offshore barrels depleting and global storage declining, traders and analysts that are experiencing availability bias will hawk US crude storage data for any real-time updates on the global storage situation. This is obviously the incorrect way to judge the impact of the OPEC cut, but the market is going to be the market for the time being.
The second question is more meaningful and more important in our opinion. OPEC did actually reduce production, but exports weren't impacted the same.
Why?
Last year before the November OPEC meeting, we said that Saudi Arabia was going to decrease oil production regardless if it entered into a production agreement or not. The reasoning is because lower domestic demand results in less refinery demand which results in Saudi Arabia usually paring back production. Seasonally, Saudi's production could vary 700k b/d from the low point of the year to the high point of the year. Reducing production during refinery maintenance season won't impact exports much.
If market participants understand this point, then what you will have concluded by now is that OPEC did indeed cut production, but the impact on exports were lower. Energy Aspects estimated that exports only dropped 800k b/d, and if we include exports from Iran's offshore storage, exports only dropped 500k b/d.
However, with Iran's floating storage mostly depleted by now, OPEC's overall export levels will drop more from here as domestic refinery demand kicks in: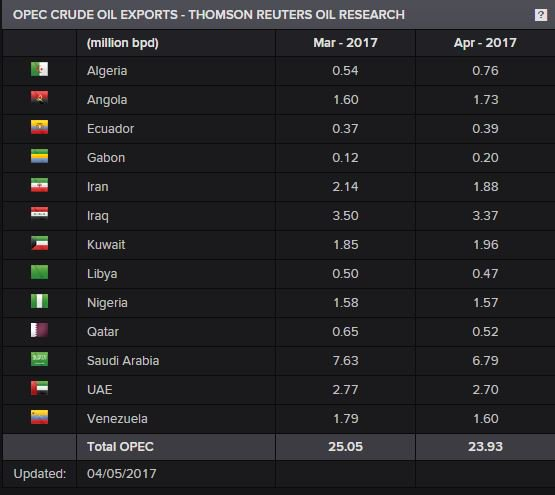 As you can see, the latest reading from Thomson Reuters Energy shows OPEC exports falling 1.12 million b/d month over month. The exports will get reflected into global storage data in June and July due to the timing of the vessels reaching onshore storage.
What should you really focus on then?
Production cuts are real, and don't let most media outlets fool you that it's not. Exports out of OPEC already are showing signs of fatigue in using excess barrels to prop up exports. May should reflect even lower exports, and as a result, global crude storage in July and August will get heavily impacted.
If OPEC extends the production cut for another six months, the cuts will come at a time when the members' domestic demand rebounds. This will eat more into the overall export figures and increase global crude draws. This is an important point to understand, because a production cut in the second half of the year is not the same as a production cut in the first half. The cut will come at a time when demand is going to rebound and global refineries are back online. The impact to storage will be much more prevalent, and the sentiment surrounding the oil markets should materially improve.
We remain very bullish on oil prices and view the recent sell-off as an excellent opportunity to tactically add to positions. If you want deeper insights into how we are seeing global crude storage or how we are positioned, you can sign up here.
Disclosure: I/we have no positions in any stocks mentioned, and no plans to initiate any positions within the next 72 hours.
I wrote this article myself, and it expresses my own opinions. I am not receiving compensation for it (other than from Seeking Alpha). I have no business relationship with any company whose stock is mentioned in this article.