Thesis: Tim Cook Answers many questions including Samsung, hiring, the stock price, buybacks, and more. Tim Cook answered more questions on CNBC, than he did on the conference call with analysts. For the shareholder, there is significant information regarding his views on a number of critical issues for the company.
Jobs:
Apple just promised to give US manufacturing a $1 billion boost
"I think that repatriation- actually, I think comprehensive tax reform is so important to this economy.

Tim Cook
Smart move by Apple to placate the President to allow the repatriation of it's cash. Clearly, a public relations event, since this occurred within hours of the quarterly conference call. A business event, that has political ramifications.
Of course it's a small commitment of only $1B for a company with $256B in cash. But it's a smart move. It was a smart, coordinated event that was heard by a larger audience and was well executed. Apple (NASDAQ:AAPL) deserves credit for taking the steps to make sure the repatriation goes smoothly.
Tim Cook on Buybacks:
"You know, for us, we look at that and we say, you know, we can invest in our company and invest in our stock and we do believe it's undervalued. And so we're buying it back, and so from that point of view there's an opportunity in that as well.
Tim Cook may prefer buybacks, but there could be a shift in the preference of buybacks by Corporate Boards.
The risk: Potential shift in buyback policy.
the "infatuation with buybacks has ended for both companies and investors". (Goldman Sachs research note)

Goldman notes that the median S&P 500 stock trades in the 98th percentile of the historical valuation range.
On Earnings:
"Yeah. I look at that, honestly, and we had a great quarter.
Tim Cook is always overly upbeat on Apple. And as a CEO it might be better for him to be more objective. He needs to be trustworthy to analysts on what he sees. China sales falling 14% and iPad sales falling double digits are concerns. In every quarter, there should be strong areas and room for improvement.
On iPhone competition:
"I think the iPhone is the best consumer product ever.
Again, I think it benefits shareholders to have a CEO always looking to improve and worried about the competition.
On Samsung competition:
"No, we don't see much of that. We don't want to see any of that, and we try really hard to retain people by giving them an experience that they really love.
Since Apple has copied some of the design from Samsung, to dismiss the threat of a strong competitor is a strange position for a CEO to take. This speaks to a complacency at Apple that is a risk for shareholders.
Apple's next iPhone could copy one of the Samsung Galaxy S8's signature features, according to a new report.
Complacency vs Paranoia:
Apple Brand
Google Tops Apple As World's Top Brand (via Fortune)
Google is now the world's most valuable brand, snagging the No.1 spot from Apple which has been the incumbent since 2011.

"Apple has failed to maintain its technological advantage and has repeatedly disillusioned its advocates with tweaks when material changes were expected,"

Apple has "over-exploited the goodwill" of its customers, namely because of its failure to generate significant revenues from products like the Apple Watch, and its inability to "demonstrate that genuinely innovative technologies desired by consumers are in the pipeline."

Only the paranoid survive in tech: Andy Grove
Steve Jobs, when he was considering returning to be Apple's CEO, called Grove, who was someone he "idolized," for his personal advice. Again, I prefer to see a CEO who is always hungry for improvement.
Tim Cook On Trump:
You know, again, I think with each administration in every country in the world, there are things you disagree and things you agree, and you look to find common ground
Again, a very smart move by Apple to work with the Administration on this. Cook deserves credit.
Innovate or Die:
Is Apple still getting the best people?:
there's no bigger privilege in the world than to work at this company at this moment in time. And to be able to work with all the great people I get to work with every day.
I will let the reader determine if Tim Cook answered the question. As a company that lives and dies on innovation, Apple needs to have great people to continue to innovate and create great products.
Apple Stock Valuation:
You know, for us, we look at that and we say, you know, we can invest in our company and invest in our stock and we do believe it's undervalued.
It's hard to argue that Apple is undervalued based on the valuation metrics of price-to-earnings ratio and growth rate.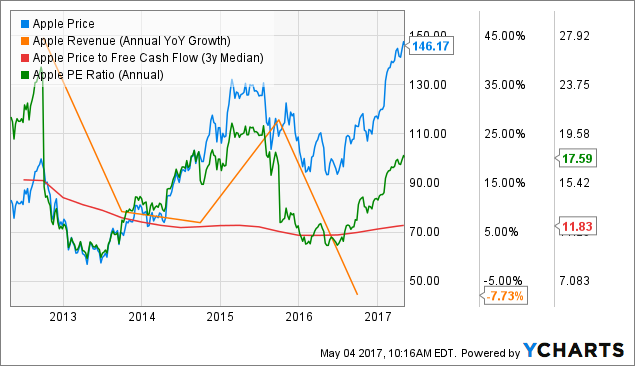 As compared to the S&P 500, (NYSEARCA:SPY) the shares have had outstanding performance. The issue is whether the valuation justifies ever larger buybacks.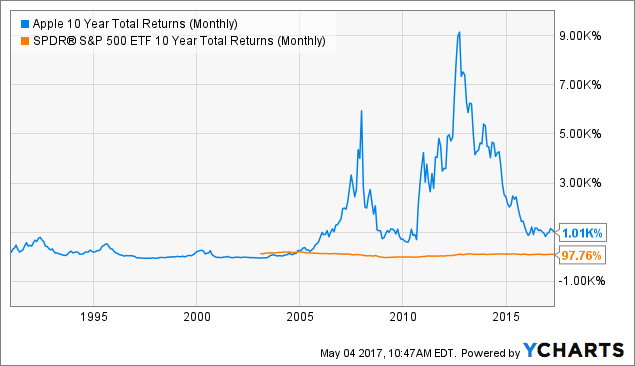 AAPL 10 Year Total Returns (Monthly) data by YCharts
The bigger picture:
Apple is part of the entire stock market valuation, which, as we see, is expensive based on historical standards.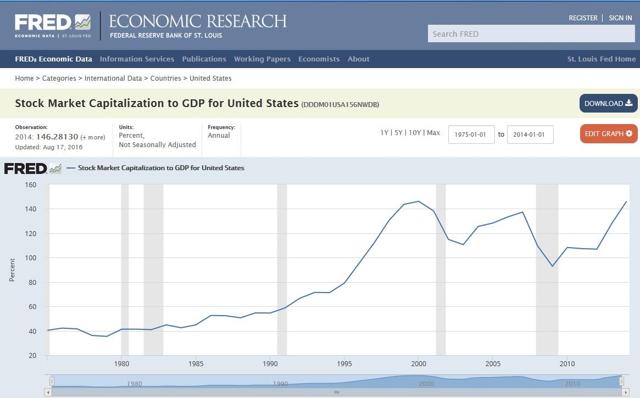 Relationship with Wall Street:
Part of the job of a CEO is to cultivate a good relationship with Wall Street analysts. Analysts on the Apple conference call were asked to limit their questions to one question. Tim Cook decided to give an exclusive, lengthy interview with CNBC and Jim Cramer. It is worth wondering how analysts feel about having such limited access and a then being challenged that, "Apple had a great quarter."
Conclusion:
I think that this decision by Apple to offer a jobs program was a very positive and savvy event by Apple. CEO Tim Cook offered his views on a number of important issues. It is up to the shareholder to determine if the answers were satisfactory.
Follow for more analysis and investment ideas.
Disclosure: I/we have no positions in any stocks mentioned, and no plans to initiate any positions within the next 72 hours.
I wrote this article myself, and it expresses my own opinions. I am not receiving compensation for it (other than from Seeking Alpha). I have no business relationship with any company whose stock is mentioned in this article.