Whether you are a first time ETF investor, or a seasoned shareholder, buying high yield dividend income funds can be especially challenging. Recently the market exploded from only a few contenders to hundreds, some very similar with only a few differing factors, making it difficult to make a good choice of investment.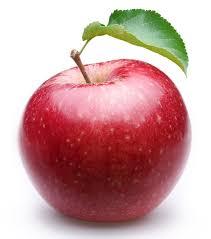 High yield funds are a bit like buying apples. You need to inspect every single apple to make sure that their is no mold or bruising. If you are not diligent in its inspection, then you may end up stuck with a bad apple. When buying stocks or funds, especially high yield ETFs, you need to inspect them with care. Funds with the highest yield may not always be the best, as they may consist of unsustainable stocks that will not be able to keep their high dividend yield. Don't get stuck with a bad apple.
The best funds should offer a safe and reliable yield, while having the ability to grow in value and return. Below are some of the best high yield (but safe) dividend funds.
This list consists of five normal ETFs and two preferred stock ETFs. A normal ETF is a collection of managed (actively/managed) securities, mainly stocks. ETFs invest primarily in common shares, but allow for high yield and growth. A CEF has a fixed number of shares and trade in tight ranges. The two listed invest primarily in preferred shares. They allow for above-average yields, in a low interest rate environment with low expense ratios. Owners of preferred shares receive dividends before shareholders of common shares.
Dividend Yields (Compared)
These funds exist to provide investors with high yield dividends, and are great for retirement or income funds. Below are the 7 funds compared based on yield: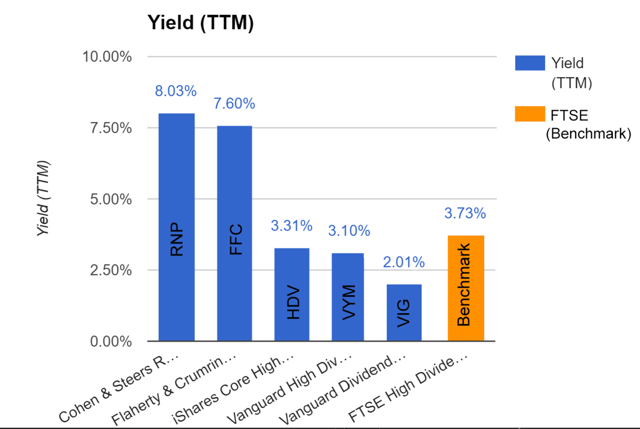 The two highest dividends come from the Cohen & Steers REIT & Preferred Income fund and the Flaherty & Crumrine Preferred Securities Income Fund. Both of these funds differ from the others because they invest primarily in real estate investment trusts and preferred stocks. They are a bit more volatile than the other funds. The "normal" fund with the highest yield goes to iShares Core High Yield which invests mainly in blue-chip stocks and has a diversified portfolio.
(The FTSE benchmark tracks common stocks of U.S. companies that have paid above-average dividends for the previous 12 months, excluding REITs.)
Expense Ratio (Compared)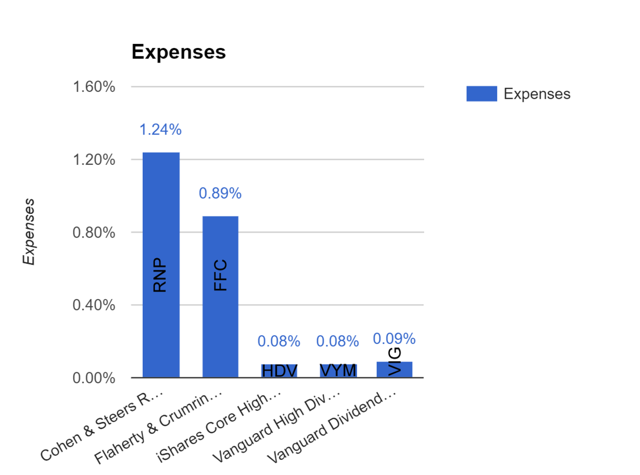 As expected, the two highest yielding funds also have the highest expense ratio, because they are actively managed to damper risks. The lowest expenses is yet again awarded to HDV, which is tied with Vanguard High Dividend Yield. Any expense ratio below 0.30% is great for a frugal investor, but keep in mind that to achieve this ratio, funds are not actively managed.
Visual Comparison of Funds

Funds 1-5
RNP
Cohen & Steers REIT and Preferred Income Fund, Inc. is a diversified, closed-end management investment fund. The fund's investment objective is high current income through investment in real estate and diversified preferred securities. The secondary investment objective is capital appreciation.
RNP invests in just two things: real estate investment trusts, and preferred stocks, that are fundamentally sound and stable. This allows for a high but dependable yield of 8%. Other similar funds, such as SPFF stretch for a higher yield by buying unsustainable stocks with payout ratios upwards of 150%. In addition to quality stocks, RNP is incredibly diverse, with its top holding only amounting for 3.51%.

It's top holdings include Simon Property Group Inc (NYSE:SPG), Prologis Inc (NYSE:PLD) and Equinix Inc (NASDAQ:EQIX), all high value REITs, with decent payout ratios (when compared to other REITs). SPG, the funds top has a very nice payout ratio of 116.07%, and a yield of about 4%.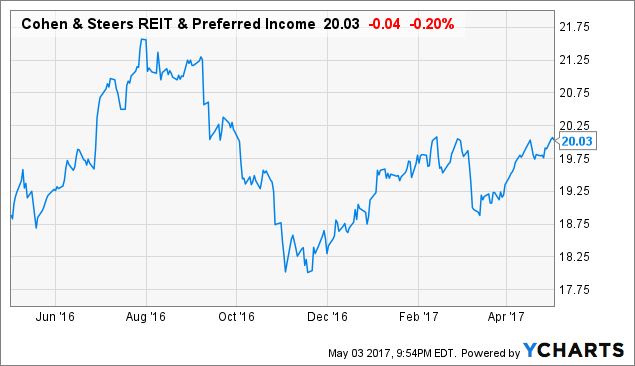 RNP has total returns at 77% from 2012, well over the 49% return of the FTSE High Dividend Yield Index benchmark, and currently yields around 8%. Expenses are 1.24% annually, and the fund trades at a discount to NAV of 12%. This is a great fund for extremely high yield dividends, but it involves risks such as higher volatility because it is comprised of mainly REITs.
Takeaway: This is the highest yielding fund on the list, but also the most volatile.
2) FFC
Flaherty & Crumrine Preferred Securities Income Fund is another CEF with a high dividend yield of 7.6%. The fund's investment objective is to provide its common shareholders with high current income consistent with the preservation of capital. FFC differs from RNP in that it invests mainly in preferred shares, not REITs, making it less volatile. In normal trading conditions the fund is comprised of 80% preferred shares, and 25% of FFC's shares are invested in the financial sector.

Preferred stock shareholders have greater claim on earnings and assets than common stock shareholders. Normally, the company must pay dividends to preferred stock shareholders, however these shares do not have voting rights.
Being a CEF, the fund is able to use leverage and achieve a yield similar to RNP, while not investing in volatile REITs. Its top holdings include PNC Financial Services Group Inc (NYSE:PNC), Fifth Third Bancorp (NASDAQ:FITB) and JPMorgan Chase & Co. (NYSE:JPM), all stable companies in the financial sector.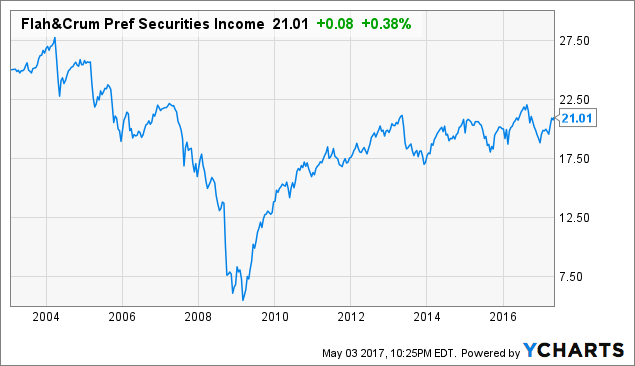 FFC has seen amazing growth of 72% since 2012, well over the 49% return of the FTSE High Dividend Yield Index benchmark, and currently yields around 7.6%. Expenses are a very low 0.89% for such a high yield.
Takeaway: This CEF has a high yield and invests in preferred stock. It has a high risk- reward.
3) iShares Core High Dividend ETF
HDV is the first non CEF on this list. iShares Core High Dividend ETF is a well known fund by dividend growth investors, because it experienced great growth and is recession resistant. The ETF follows the Morningstar® Dividend Yield Focus Index. The funds investment objective is to track the investment results of an index composed of relatively high dividend paying U.S. equities. HDV consists of 99.84% U.S. stock, with holdings mainly in the consumer staples sector.

The majority of HDV consists of well known blue chip consumer stocks, with the top three holdings being Exxon Mobil Corp (NYSE:XOM), AT&T Inc (NYSE:T) and Verizon Communications (NYSE:VZ). These three stocks are staples in the blue chip world, are extremely and consistently raise dividends.
This fund is highly regarded as one of the highest yielding, least risky fund out their because of their strategy: Invest in healthy U.S. stocks. Many investor use HDV at the core of their portfolios for a strong, growing dividend yield.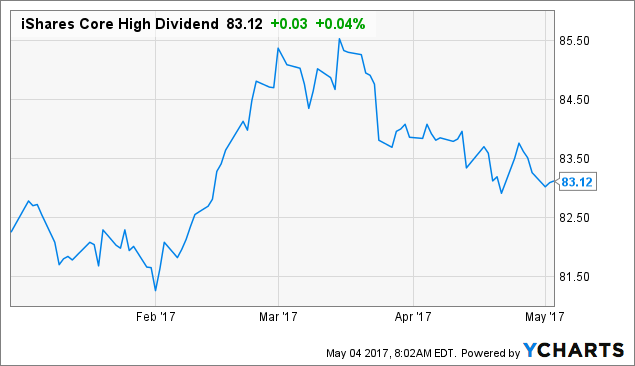 HDV has seen growth of 74.43% since 2012, over the 49% growth of the FTSE High Dividend Yield Index benchmark and currently yields around (a growing) 3.31%. It is tied for expenses with VYM, both at a very low 0.08%.
Takeaway: HDV is an investor favorite with strong growth.
4) VYM
Vanguard High Dividend Yield ETF is another well respected ETF. The fund seeks to track the performance of the FTSE High Dividend Yield Index. Like HDV, it mainly (98.85%) consists of relatively high dividend paying U.S. equities. However, it differs from HDV in that it is a much broader fund with large holdings in technology, consumer goods, finance and industrial.

VYM's top three holdings are Microsoft Corp. (NASDAQ:MSFT), Exxon Mobil Corp. (NYSE:XON) and Johnson & Johnson (NYSE:JNJ), each blue-chip company in a different sector. These are mature companies and while offering low dividend growth, they have a high existing yield and are extremely stable.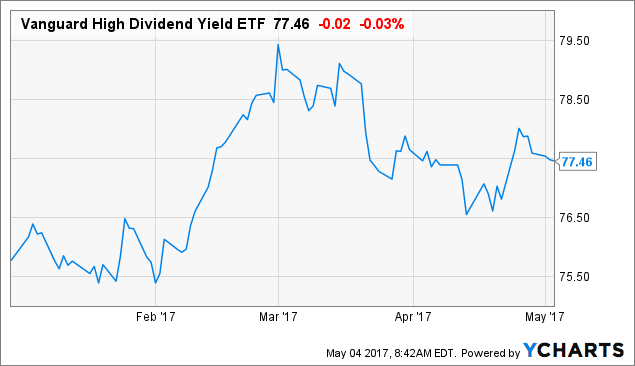 VYM is the best diversified ETF in this list covering a broad range of sectors and offers less risk than other funds. VYM has seen growth of 62.22% since 2012, over the 49% growth of the FTSE High Dividend Yield Index benchmark and currently yields around 3.1%. It is tied for expenses with HEV, at a very low 0.08%.
Takeaway: VYM is the most diversified fund in this list.
5) VIG
Vanguard Dividend Appreciation ETF is similar to VYM in that it covers a broad range of sectors, has low volatility and high returns. It focuses on capital appreciation. The fund seeks to track the performance of the NASDAQ US Dividend Achievers Select Index, and is passively managed. VIG differs from the previous Vanguard fund in that it is designed for dividend growth. While it might have a lower yield of 2.01% now, in the future this yield will grow.

VIG, like VYM has a portfolio consisting mainly of blue-chip US stocks. However, it differs in that it invests in stocks with consistent dividend growth. Its top three holdings are Microsoft Corp. , Johnson and Johnson and PepsiCo (NYSE:PEP), three high value, high yield stocks in different sectors. They all have a history of dividend growth.
VIG invests mainly in the dividend-growth-heavy industrials sector, with around 30% of its holdings consisting of industrial companies, but is very diversified. It also is the largest dividend ETF in the US with over $22.5B of assets.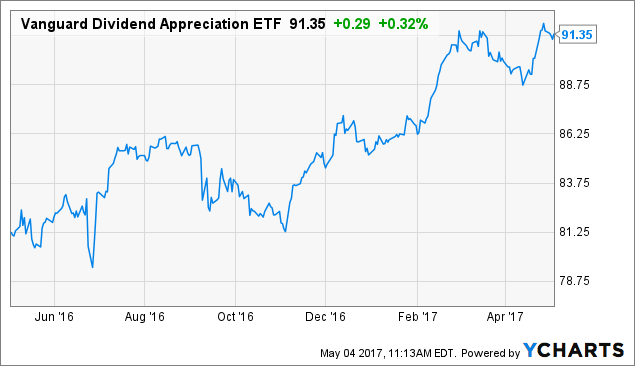 VIG is a highly diversified ETF focusing on capital appreciation. VIG has seen growth of 59.02% since 2012, over the 49% growth of the FTSE High Dividend Yield Index benchmark and currently yields around 2.01%, that is guaranteed to grow. It is only .01% higher then the lowest operating expense ratio on the list.
Takeaway: Investors looking for capital growth should consider VIG.
Risks
As with all investing, their are risks involved - especially with high yield dividend funds. Some finds saturate their holdings with unsustainable companies so they can have a high dividend yield. The two CTFs listed consist of REITs and preferred stocks. Before you decide to invest in these types of high yield funds, analyze them and make a good decision. Pick a good apple.
As with the other three ETFs, they have a medium risk. No matter how diverse, how well rated they are, these kinds of investments are risky. But also realize that with this risk comes great reward. Invest $10,000 in one of these funds seven years ago, and you would have $20-30,000 now.
Which one is the best?
Every ETF is made for different investors, but the best overall would have to go to VYM. HDV is the most stable, offers the highest yield of the non CTFs and has holdings in sectors known for strong dividends. It also is the most diverse, protecting it from high volatility.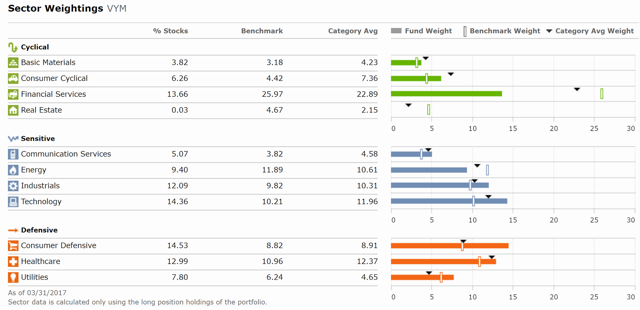 It has a strong growth of 62.22% in the past 5 years.
VYM has one of the lowest expense ratios in the industry, 0.08%, and a high yield of 3.1%. It is rated by Morningstar as High in the Return Vs Category section, and Average in the Risk vs. Category section.
Disclosure: I am/we are long VYM.
I wrote this article myself, and it expresses my own opinions. I am not receiving compensation for it (other than from Seeking Alpha). I have no business relationship with any company whose stock is mentioned in this article.