Since 2005, after Verizon's (NYSE:VZ) dividend was frozen at $1.54 from 1999-2004, dividend growth has been slow and steady for the company. Since 2005 dividend growth has been averaging 3.3%. Surprising, the highest dividend growth of 6.4% and 6.0% occurred during the Great Recession in 2008 and 2009, respectively. The five year (2012-2016) dividend growth has averaged 3.0%.
Going forward we expect dividend growth will be in the 2%-3.5% range. Verizon looks ready to make a big acquisition at anytime now and we believe that like AT&T (NYSE:T), Verizon won't cut the dividend while working in a major acquisition. The acquisition will be made to bolster growth and the dividend. Verizon's GO90 video service hasn't been as big of a hit as hoped.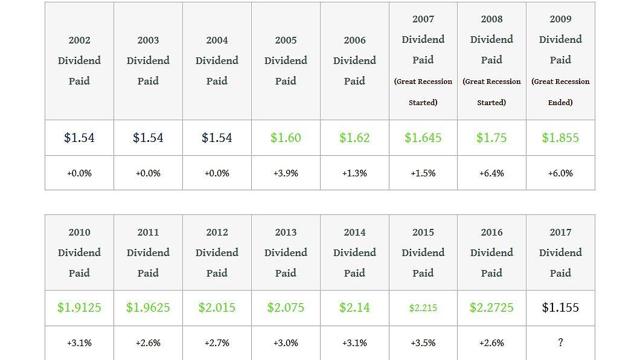 Source(Dividend Risk Metrics)
2017 1st quarter earnings were weak, but not dividend deadly.
Verizon's 2017 1st quarter GAAP diluted EPS of $0.84 that was released on April 20th was not impressive at all, down 20.8% year over year and down 17.6% from 2015 1st quarter GAAP diluted earnings. It's Verizon's second lowest quarterly earnings over the past two years. Even with the lower earnings, the dividend paid of $0.5775 for the first quarter was well covered.
Some of Verizon's lower 2017 1st quarter diluted earnings could be attributed to revenue that declined by $2,357 billion or 7.3% year over year. That is lost revenue that could have helped increase the bottom line. Early debt redemption cost Verizon $0.13 earnings per share. Verizon was able to lower total operating expenses to $22,633 billion from $24,229 or 6.6% to help offset the lower revenue.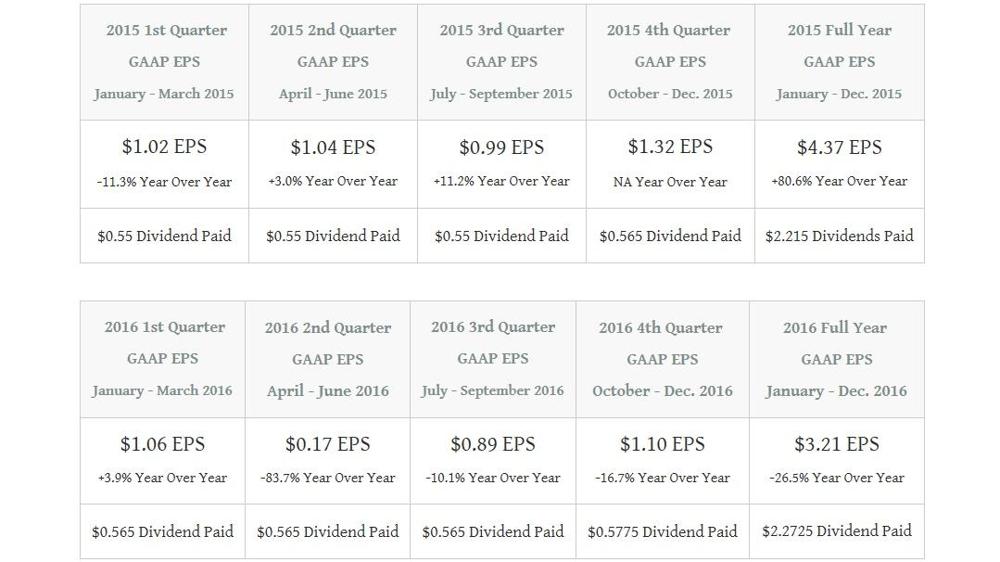 Source (Dividend Risk Metrics)
The dividend payout ratio is not overly high
Since 2015, Verizon's GAAP diluted EPS dividend payout ratio has increased from the mid-50s to almost 70%. For Verizon this is still a very safe dividend payout ratio. Around 90% payout ratio would be a cause for alarm.
The increase in the GAAP diluted EPS dividend payout ratio has been the result of three things. First, the number of shares outstanding has been increasing slowly. Dividends have been costing the company more. Second, over the past 5 years the dividend has been increased by a average of 3% per year. Third, GAAP diluted EPS for quarterly and full year 2016 and the 2017 1st quarter declined causing a higher dividend payout ratio. If Verizon can start resuming EPS growth the dividend payout ratio would fall to a very low level.
The upcoming trial launches of 5G service to select homes in a few selected cities is a positive development for Verizon. If you can download a movie in just a few seconds, you'll probably need a bigger data package. Also 5G will allow for many more IOTs to be connected to the internet over the next couple of years.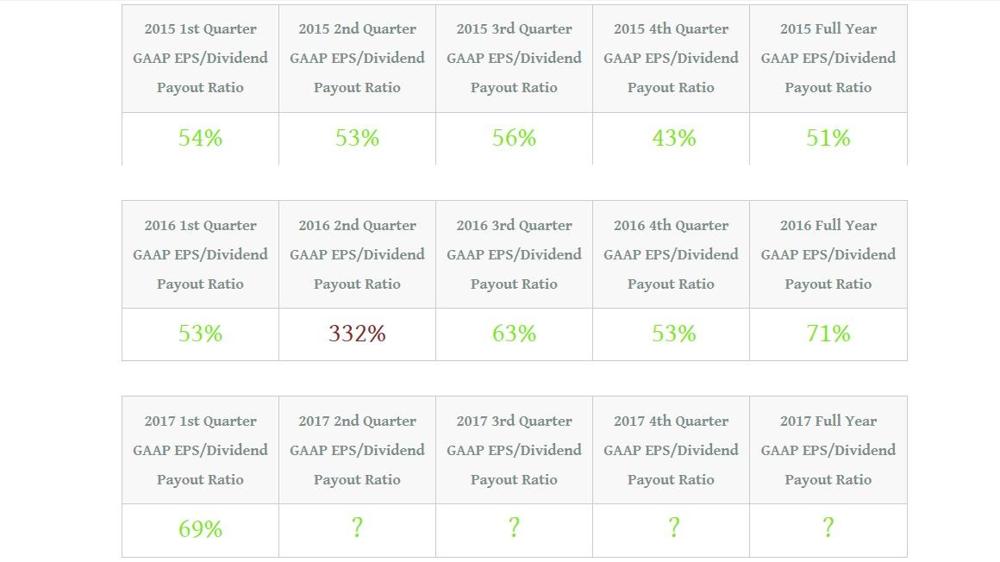 Source (Dividend Risk Metrics)
Net Income more than covers the dividend payments.
Since 2015, only the 2016 2nd quarter net income was lower than the dividend paid. Net income was $831 million and total dividends paid was $2,303 billion. Net income fell 26% from fiscal year 2015 $18,375 billion to fiscal year 2016 $13,608 billion. Verizon still has time to make sure net income don't fall for this year. Overall the growing dividend has been well covered. What Verizon will do to address the falling net income has yet to be seen.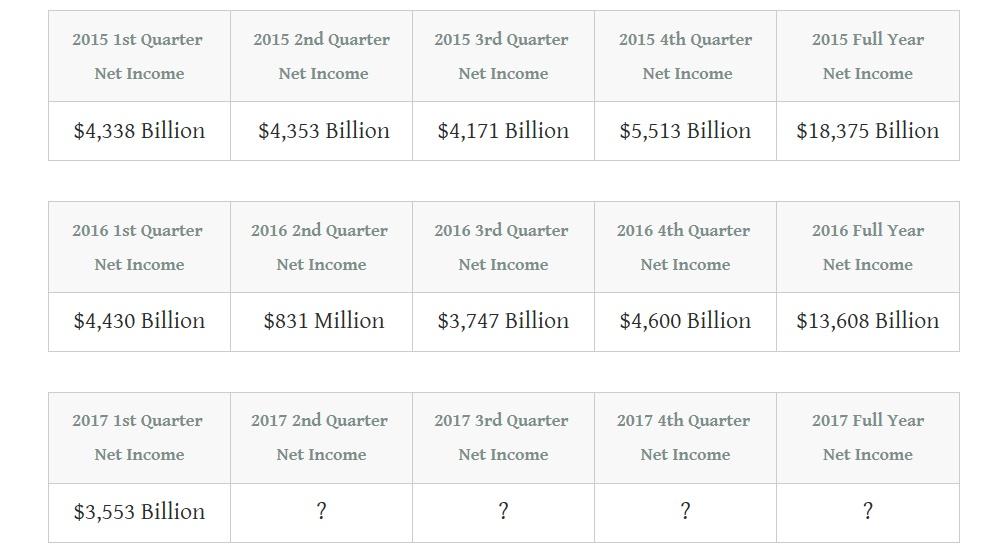 Source (Dividend Risk Metrics)
The most underrated dividend metric
One of the most underrated dividend metrics is the number of shares outstanding. It's a very important metric because the fewer the shares a company has outstanding, the more a company can afford to keep increasing the dividend. Share buybacks combined with dividend growth are a fantastic combination. Verizon has not been able to reduce their share count. Verizon's diluted share count in fiscal year 2015 1st quarter was 4,121 billion and now stands at 4,087 billion. The share count has not been reduced since 2015 2nd quarter from 4,121 billion to 4,085 billion.
The dividend has been costing Verizon more each passing year. Full year 2015 dividend cost was $8,538 billion, full year 2016 dividend cost was $9,262, and full year 2017 dividend cost will be even higher. Even though with dividend cost going higher, the dividend is well covered by net income.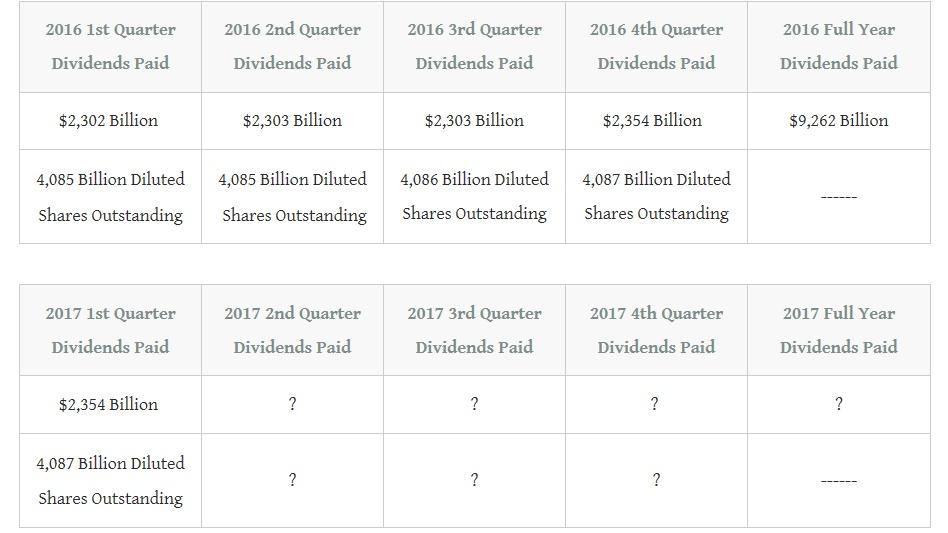 Source (Dividend Risk Metrics)
Consistent profitability
Verizon's profitability is not the highest or the lowest either. Verizon was able to keep a profit of $0.12 for every one dollar in revenue in fiscal year 2017 1st quarter. That is still nicely profitable. They can do even better than that though. In 2015 4th quarter Verizon was able to keep $0.16 for every one dollar in revenue. Profitability has been consistent over the past two years.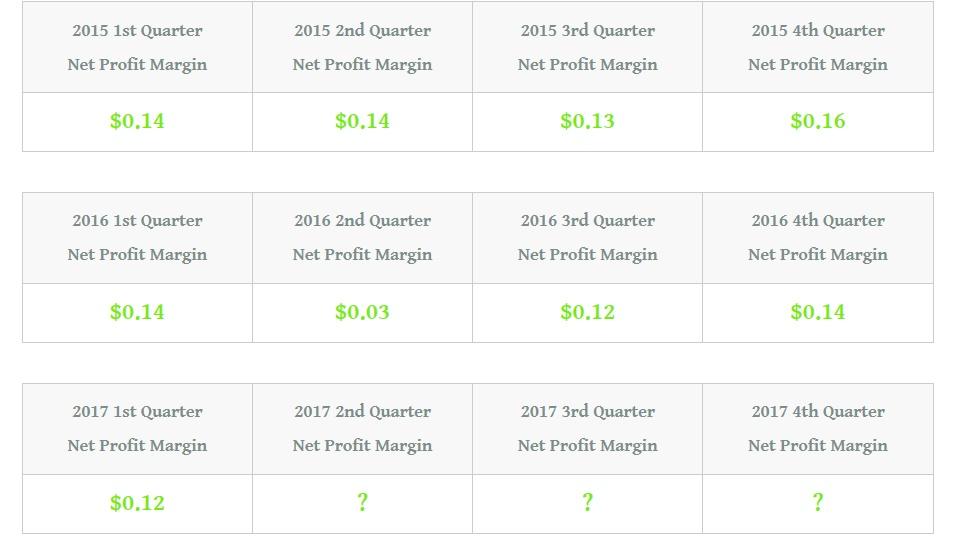 Source (Dividend Risk Metrics)
Risk to Verizon
Verizon could continue to lose postpaid wireless customers which are the most profitable. A large acquisition could fail to achieve desired results. Cost overruns could occur while deploying their new 5G service.
Conclusion
Verizon has plenty of profits to maintain and grow the dividend. A large acquisition to keep its leadership role as an entertainment company could happen any day now. Verizon does need to keep an eye on the share count outstanding. Upcoming deployment of 5G will help drive data revenue growth over the next couple of years.
Note: Click "follow me" on the top of this page if you are interested in receiving more dividend related articles from me. It's my goal to keep investors informed on a company's dividend strength or weakness.
Disclosure: I am/we are long T.
I wrote this article myself, and it expresses my own opinions. I am not receiving compensation for it (other than from Seeking Alpha). I have no business relationship with any company whose stock is mentioned in this article.
Additional disclosure: This article was written for informational purposes only. You must do your own research before buying or selling any stock.