"There's something happening here

what it is ain't exactly clear" - For What It's Worth, Buffalo Springfield, 1967
The U.S. stock market continues to hum along. The S&P 500 Index is within a stone's toss of new all-time highs, and optimism is brewing on Wall Street once again about the revival of pro-growth fiscal policies that appeared dead on arrival only a few days ago. But something is happening beneath the surface of capital markets. And while it isn't exactly clear how events are going to play out associated with this brewing event, it is a development that stock investors should not ignore.
For What It's Worth
The U.S. stock market (NYSEARCA:SPY) has done fabulously well during the post-crisis period. Much better than the rest of the world as a matter of fact. For while developed international (NYSEARCA:EFA) and emerging markets are just now making their latest attempt to cross back over the break-even line on a total returns basis including dividends dating back to the market outbreak of financial crisis back in July 2007, the U.S. stock market is up nearly +90%.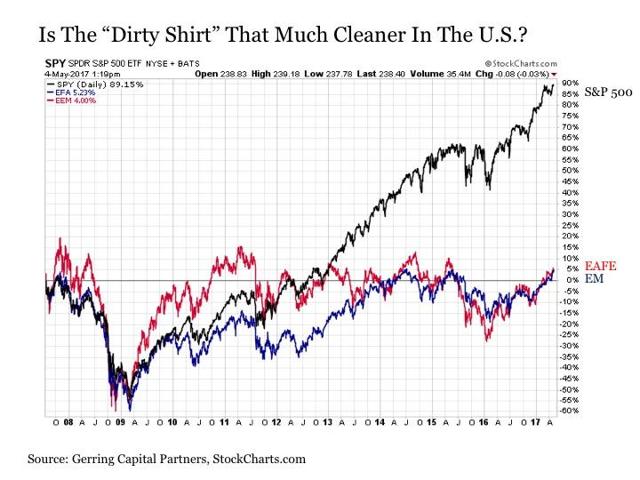 Why has the U.S. stock market done so absolutely and relatively well over this time period?
It certainly has not been thanks to economic growth, which has been uneven and sluggish at best throughout the post-crisis period. In fact, the U.S. economy has been defined by sustained growth expectations that are always supposedly right around the corner "later this year" or "early next year" but never seem to actually materialize, which, of course, is the same song we are hearing yet again today surrounding fiscal policy. Who exactly bears the shame when the market gets fooled by economic expectations over and over and over and over again? I suppose some day we will eventually find out.
It also has not been the growth in corporate earnings. Back in 2007 Q2, GAAP earnings on the S&P 500 Index (NYSEARCA:IVV) came in at $84.92 per share. This translates to $99.37 per share in today's dollars. For the most recently completed quarter in 2016 Q4, S&P 500 Index earnings came in at $94.55, which are roughly -5% lower on an inflation adjusted basis versus the market earnings we had a decade ago. Yet stocks have nearly doubled over this same time period. Unsustainable valuation expansion anyone?
Instead, what has driven U.S. stocks (NASDAQ:QQQ) higher during the post financial crisis period has had little to do with fundamentals. Instead, it has to do with a Fed balance sheet that has quintupled. And it's had to do with bond interest rates falling to historical lows. And it's had to do with artificial and unsustainable investment reassurances like "the cleanest dirty shirt", "TINA - there is no alternative", and "FOMO - the fear of missing out" among others. Fantastic. I'll remember all of this logic the next time I want to buy a television ("it's less worse than other TVs", "if you don't buy this TV what TV will you buy", "everybody is buying this TV so you should too!"). Then again, maybe I'll read a few books instead.
But here is the problem with a market that has been inflated for so many years on artificial stimulus and investment memes instead of rock-solid fundamentals. At some point, the fundamentals need to materialize to support the price gains that have been accumulated for so many years. Otherwise, all the liquidity fueled hopes and fantasies will eventually go the way of the Pets.com sock puppet once these intoxicating forces finally go away. And this time may finally be drawing nigh, as the Fed is not only now raising interest rates, but also actively working toward shrinking its balance sheet. And bond interest rates are supposedly on the rise with the 36-year old bond (NYSEARCA:BND) bull market apparently over according to many Wall Street experts (oh, the figurative bodies littered on the side of the highway including the esteemed Warren Buffett that have declared the bond (NYSEARCA:AGG) bull market over so many times along the way). If bond interest rates are truly on the rise, investors will soon have an alternative to U.S. stocks (NYSEARCA:DIA) that are collectively offering a paltry earnings yield at less than 4%.
But another development is happening now that threatens to put U.S. stocks under heavy pressure if it persists much longer.
Hey HEY Hey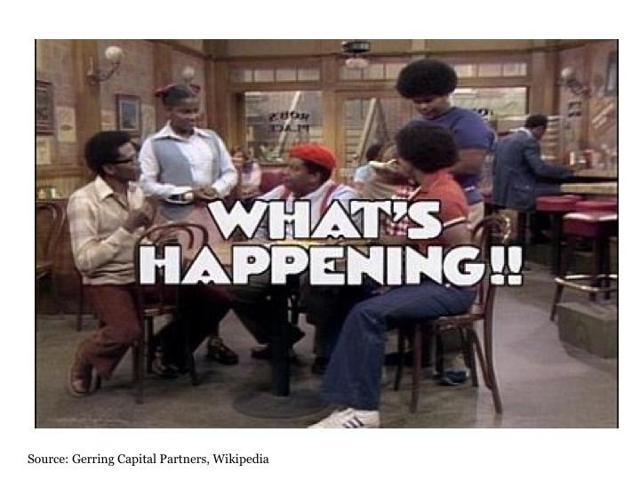 So what exactly is happening today? It's actually been going on for a while now, but the effects are only now starting to be felt across the various market asset classes.
In case you haven't heard, China (NYSEARCA:FXI) has accumulated a wee bit of a speculation problem over the years. Over the years, this has included building cities with living capacities of more than 20 million people with vacancy rates in excess of 70%. It has also included building what was once the largest shopping mall in the world that currently has a 2% store occupancy rate (and this was true before online shopping killed so many of the retail malls here in the U.S.).
Back in 2015, this included the artificial inflation of the China A-Shares (NYSEARCA:ASHR) stock market that escalated so quickly and started running out of control so fast over the course of just a handful of months that it was subsequently burst by Chinese policy makers and has been dormant ever since.
All of these efforts have created an economy China that accumulated total liabilities that are more than 260% of GDP. To put this into perspective, it has been shown by several studies that a debt-to-GDP ratio in excess of 90% starts to put a meaningful drag on growth, and China is currently running at about 3x this key threshold. Nothing to see here. Moving right along.
So what? What's happening in China matters little to investors in the U.S., right? To the contrary, not only does it matter, but also how things unfold in China may ultimately lead to the next bear market in the United States that will invariably leave so many investors wondering what is happening all around them.
The supposed "taper tantrum" from April to June 2013 in the U.S.? This had little to do with Ben Bernanke starting to talk about possibly, maybe scaling back on asset purchases at some date in the distant future. Instead, it had almost everything to do with a major liquidity crunch that was taking place in the Chinese financial system at that very moment in time including a late 2008 style bank lending seizure.
The U.S. stock market correction from July 2015 to February 2016 that included a flash crash in August along the way? This had little do to with anything that suddenly surfaced in the U.S. economy and almost everything to do with the fact that after years of exploding its balance sheet, the People's Bank of China (PBOC) moved to begin shrinking its balance sheet rather dramatically as policy makers moved to prick their stock market bubble.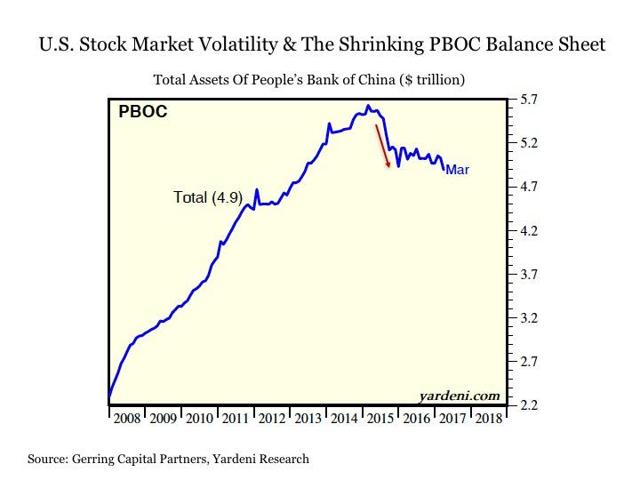 The sharp rise in U.S. Treasury (NYSEARCA:IEF) yields in late 2016? This had little to nothing to do with the outcome of the U.S. presidential election and almost everything to do with China (NYSEARCA:GXC) liquidating its U.S. Treasury (NYSEARCA:TLT) holdings in an urgent need to raise cash to support its banking system that was struggling under the weight of massive capital outflows that were taking place at the time.
At the beginning of the year, I wrote that China was the primary global destination that I would be monitoring for potential downside risks for U.S. capital markets, and this remains just as much if not more so true today. All it may take is one humongous butterfly flapping its wings on the other side of the world to start to blow the steam off of a U.S. stock market that has been running far too hot for far too long.
Nobody's Right If Everybody's Wrong
So what is happening in China today? At the start of February, the PBOC tightened monetary policy in order to clamp down on asset prices and inflation. Perhaps not coincidentally any rise in the China stock market ground to a halt while commodities (NYSEARCA:DJP) prices started falling to the downside.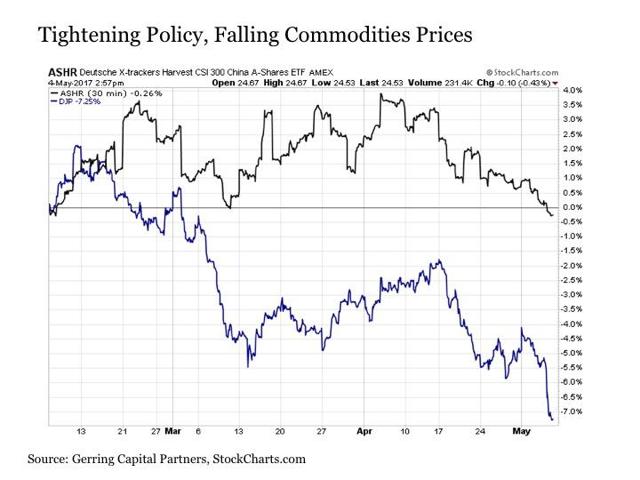 In the months since, China policy makers increasingly turned their attention toward pressing down on burgeoning risks from wealth management products, or WMPs, which are savings vehicles in China that have more than tripled in total assets to roughly $4 trillion, or more than 40% of China's GDP, in just the past three and a half years alone according to Bloomberg. These are products that exist in China's shadow banking system, are held off balance sheet (tech bubble era shudder), have terms of less than a year, are commingled with one another, are sometimes made up of assets and loans that are more illiquid and whose values may be difficult to quantify (financial crisis era shudder), and are perceived to be backed by the Chinese government (another financial crisis era shudder). And it is more than reasonable to assume that at least a good portion of the funds in these WMPs have found their way offshore to markets all around the world including U.S. capital markets all along the way.
While it is unlikely that Chinese policy makers will completely upset the apple cart with a leadership change approaching in the fall, it also shouldn't be assumed that they are going to stand idly by while asset prices continue to inflate the problem careens further out of control either (I remember when it was assumed as given that the leadership change in 2013 was going to be a boon to commodities prices due to an increase in infrastructure spending to help ease the last leadership transition - not so much).
With this in mind, the Chinese government has been increasingly rallying behind moves to curb speculation in Chinese financial markets including the WMPs. And this effort is expected to pick up steam in the coming months. While I enthusiastically applaud any moves by policy makers to rein in asset price speculation, it should not only be anticipated but also expected that when liquidity is being withdrawn from the system and regulations are being increased, that it is bound to come with its share of policy missteps and potential outright accidents along the way. And just as we have seen several times in recent years, it would be misguided to think that these forces will simply bypass U.S. shores as this current effort unfolds in China.
The Bottom Line
Something may not be happening here in the U.S. But something is definitely happening right now over in China's financial system. And while all eyes remain on 2017 Q1 earnings season in the United States, investors would be well served to increasingly monitor what is currently unfolding in China with the curbing of speculation in the financial system and the growing pressure on WMPs. For when the next correction rolls around on the S&P 500 Index and the financial news media is placing the blame on the Fed's fourth interest rate hike or concerns about some legislative idea that may happen two years from now, looking overseas to China may help provide you not only with a much better answer of what is actually pulling markets lower at the moment, but also with the added information to be able to capitalize with greater clarity on any upside opportunities that may present themselves in the midst of any such future pullback.
Disclosure: This article is for information purposes only. There are risks involved with investing including loss of principal. Gerring Capital Partners makes no explicit or implicit guarantee with respect to performance or the outcome of any investment or projections made. There is no guarantee that the goals of the strategies discussed by Gerring Capital Partners will be met.
Disclosure: I am/we are long TLT, IEF.
I wrote this article myself, and it expresses my own opinions. I am not receiving compensation for it (other than from Seeking Alpha). I have no business relationship with any company whose stock is mentioned in this article.
Additional disclosure: I am long selected individual stocks as part of a broadly diversified asset allocation strategy.