Verizon (NYSE: VZ) has had a tough go of it lately. The stock is down nearly 12% since the start of the year.
Current Chart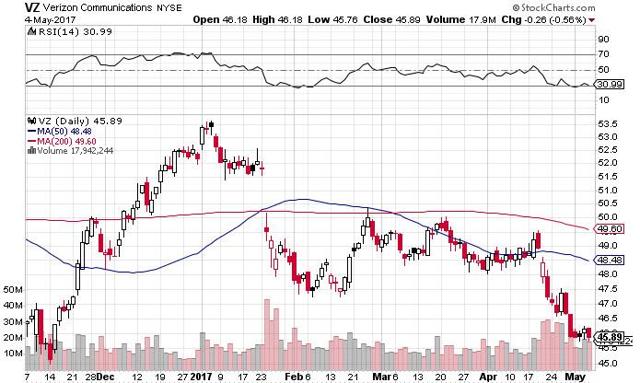 Source: stockcharts.com
In fact, the stock has given back nearly all of its post Trump election pop and is trading just 2% above its 52-week low. On top of all this, Argus recently downgraded the stock from Buy to Hold. And for good reason I might add. Nevertheless, I posit the end of the fall for this knife may be near. In the following piece we make the case this may just be the time to start buying rather than sell out.
The Bad News
Argus downgrade
Argus came out on April 21, 2017 and downgraded the stock from Buy to Sell. The reasoning for the downgrade sounds solid. According to a report by Barron's:
"Argus Research's Joseph Bonner cut his rating on the shares to Hold from Buy, a day after the company's Q1 results disappointed investors on a slowdown in the number of wireless customers it added, writing that the company is losing its Teflon invulnerability."
The reasoning behind the downgrade was Verizon's "Tiffany Network" has been tarnished due to the company being forced to roll in the mud with competition, so to speak. Verizon has had to provide unsubsidized phone and unlimited data plans to keep pace in the fiercely competitive environment. This had pressured both revenue and EPS growth.
Secondly, Bonner points out now that the unlimited wireless wars have begun Verizon's strategy to profit from increasing data usage is now a non-starter. Bonner states:
"Verizon's strategy had been to monetize increasing data usage, an approach that appears unlikely to work in the current 'unlimited' data environment."
Bonner adds:
"The company is also trying to monetize content with its go90 service, its alliances with the NFL and other content providers, its 2015 acquisition of AOL, and its pending purchase of Yahoo (NASDAQ: YHOO). However, it remains unclear how the company will monetize its new services, and how quickly it will be able to generate results. Management's silence about go90 also suggests that this business may be underperforming."
My Take
Most of the time I tend to disagree with analysts. This time believe his assessment seems quite fair. All these things are true. What's more, I pointed all these downside risks out in a previous article, "AT&T Vs. Verizon? It's Not Even Close."
Nevertheless, the question is… is all this bad news been already priced in at this point? Have we reached the point of maximum pessimism as it were? One of my investing role models Sir John Templeton famously stated:
"The time to buy is at the point of maximum pessimism."
Let that sink it a bit. It sounds great on paper, but putting this thesis into practice will surely test your courage and conviction. It is hard to go against the grain, especially when you agree with the headwinds for the stock.
Nonetheless, I am a contrarian at heart. I like to go against the grain. Sir John Templeton's "buy at the point of maximum pessimism" is one of my favorite lines. Mine is "patience equals profits." I take my time and really dig deep into a company prior to determining it is a worthy investment. I think Verizon is at today's price for the following reasons.
How low can they go?
How much lower can Verizon shares really go? History tells us not much. The key factor is the fact the stock now yields 5%. Over the past five years every time the stock starts to yield 5% or greater share are quickly snapped up causing a rise in share price.

Source: dividend.com
I submit this time will be no different. What's more, the stock is trading close to its 52-week low and just above major support at the $45 mark.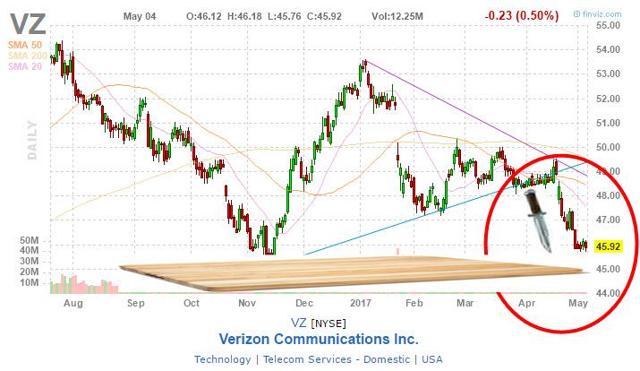 Source: finviz.com
I posit this falling knife is about to stop falling and get stuck in the $45 cutting board. This would put the yield at 5.13%. I like this set up. Moreover, the stock is presently on sale.
Stock is on sale
Verizon is currently trading at bargain-basement prices on a historical and relative basis. The stock is currently oversold and undervalued based on a RSI of 31 and a forward P/E ratio of 12. What's more, came through with strong cash flow for 2016 and the first quarter of 2017.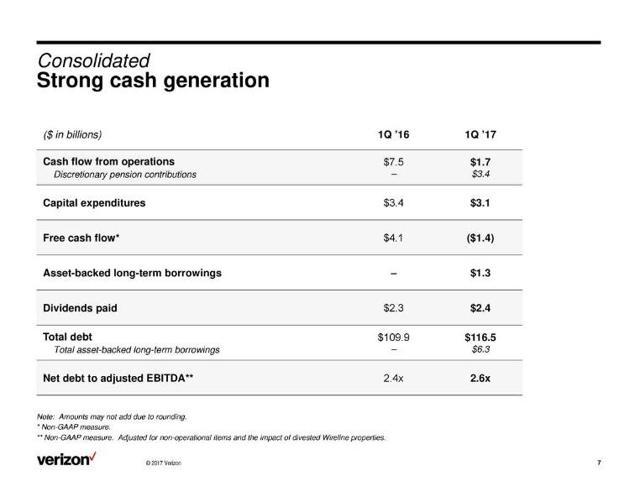 Source: seekingalpha.com
Verizon Executive Vice President and Chief Financial Officer Matt Ellis stated on the conference call:
"We are generating substantial cash flows from our operating segments. Cash flow from operations is $1.7 billion, which included discretionary pension contributions of $3.4 billion. Additionally, our ongoing asset-back securitization program provided $1.3 billion in the quarter, which flows through the financing section of the cash flow statement. The discretionary pension contributions are net present value positive on an asset tax basis given the reduction in our variable rate PBGC premiums and the expected net return on planned assets. As a result of these contributions, our mandatory pension funding through 2020 is expected to be minimal, which will benefit future cash flows and improve the funded status at our qualified pension plan."
This is where the rubber hits the road for me. As a dividend growth and income investor, I love getting a stock with such predictable cash flow for bargain basement prices. The stock is currently trading at a forward P/E of 12. Other stocks with comparably predictable cash flows, and the entire market for that matter, are trading at much higher valuations. Now is exactly the time to buy, not sell. Furthermore, none of president Trump's pro-growth policies are currently priced in.
President Trump's pro-growth policies not priced in
Verizon's stock rallied nearly 10% in short order after Trump was elected. Yet, the stock has given back nearly the entire Trump bump gain in 2017. I warned of this in several previous articles. I knew once Trump got to Washington things would change and the stock would fall.
Nevertheless, I do think Trump will get his pro-growth policies approved eventually. What's more, the lowering the corporate tax rate to 15%, and substantial regulatory relief should do wonders for Verizon's bottom line. But you know what? No one seems to care at this point. That is what I like. I submit the potential positives from these solid tailwinds are not priced into the stock at present. Furthermore, Verizon management has not factored in any of these potential EPS boosters into forward guidance. Plus the company's long-term growth story remains intact.
The Bottom Line
Verizon's long-term growth story remains intact. In fact, I posit some type of major merger news is on the horizon. Couple this with the fact the stock now yields 5% and you have a recipe for great returns. What's more, I have no reservation Verizon will be around to pay dividends for a long time to come.

Source: dividend.com
Fear creates opportunity for savvy income and dividend growth investors to buy stocks when they are on sale, not when they are in demand and priced at a premium. The market is currently trading at all-time highs, and most stocks seem overvalued at present. This makes finding buying opportunities akin to finding a needle in a haystack. I say never look a gift horse in the mouth. Verizon's stock currently presents a golden dividend growth and income investment opportunity. I say $45 looks like the line in the sand. Nonetheless, if you choose to start a position, layer in over time to reduce risk. Those are my thoughts on the matter. I look forward to reading yours.
Your Participation is Required!
The true value of my article is derived from the prescient insights made in the comments section by Seeking Alpha members. Do you think Verizon currently presents a buying opportunity? Why or Why not? Thank you for your participation.
Final Note: If you found this article interesting, please hit the follow button by my name above. It would be greatly appreciated.
Disclosure: I am/we are long VZ.
I wrote this article myself, and it expresses my own opinions. I am not receiving compensation for it (other than from Seeking Alpha). I have no business relationship with any company whose stock is mentioned in this article.