The eCommerce market in India is growing at an astonishing rate with no signs of stopping anytime soon. Not only is it growing a very fast pace right now, but it is expected to be the 2nd most valuable eCommerce market in the whole world. Now a major question that comes along with this remarkable growth: Who will be able to grab this market share? Well, with this question in mind, I'll be breaking down how I think the situation will unfold. I will explain why I believe Amazon (NASDAQ:AMZN) is in a much better position than Flipkart (Private:FPKT).
While there are other players in this race, I believe these are the top two players right now. I will be writing a more in-depth analysis about the other top player, Alibaba (NYSE:BABA), and its position in India.
What Makes Amazon in India So Special?
Amazon knows how big India's market potential is, and it has acted accordingly on that opportunity. In the most recent quarter conference call, the CEO of Amazon, Jeff Bezos, talked about the company's financial results, and it pointed to many great things for Amazon in India.
Amazon has quickly been adding onto its Prime opportunities in India. Since launching the Prime program in India 9 months ago, the team has "increased Prime selection by 75%." This alone is a major step for Amazon, because like any other situation, the consumer is going to choose the service that offers him the most for his money. Thus, Amazon being able to add so many items to Prime selection will only win over customers.
In addition to this, the company has been making many additions to its already attractive Amazon.in website. For example, it added 18 original TV series for the most recent quarter. Personally, I believe no matter how many discounts Flipkart offers (which often loses the company money), it will not be able to keep up with Amazon's ability to provide more than just an online store.
Amazon also recently released a customized Fire TV Stick which was especially made for Indian customers. It included a voice search in English and Hindi. This not only shows Amazon's ability to provide more than just a simple eCommerce platform, but also shows it can innovate and specialize for this specific region of the world. The company can provide what is needed in India.
There is even more reason to have faith in Amazon. All this money into India and all of the new additions to Amazon.in are paying off. Jeff Bezos, in the conference call, also said, "We're grateful customers are responding - Amazon.in is the most visited and the fastest growing market place in India."
The amount of visits per day the site is getting is also exceptional. According to a recent study, Amazon.in receives an average of just over 190 million visits per day. To put this in perspective, Flipkart receives under 110 million visits per day. These totals put Amazon.in at the 7th most visited website in all of India, while Flipkart doesn't even crack the top ten (ranked 11th). Additionally, this does not include the visits to Amazon.com (the U.S. version of Amazon), which is the 30th most visited website in India.
Flipkart
Now, compared to Amazon, I can't say many good things about Flipkart.
When I look at Flipkart myself, all I see is a company in decline that is spending the small amounts of cash it has very fast (compared to Amazon) and not seeing many good results.
Flipkart seems to be trying to take on Amazon in all the wrong ways. An eCommerce expert, K Vaitheeswaran, said:
"My view is that it is no longer possible to out-fund Amazon because it is profitable in other parts of the world. So putting another $5 billion in India is not an issue. So if you can't out-fund you have to out-compete with Amazon to beat it in the e-commerce game."

(Source)
He then said the way Flipkart can out-compete Amazon is through customer service. This would include things such as a great selection of products and better deals. However, it does not seem Flipkart has taken this approach, and even if the company is trying to do this, it is failing, as it was tied in this category with Amazon on the most recent report by RedSeer.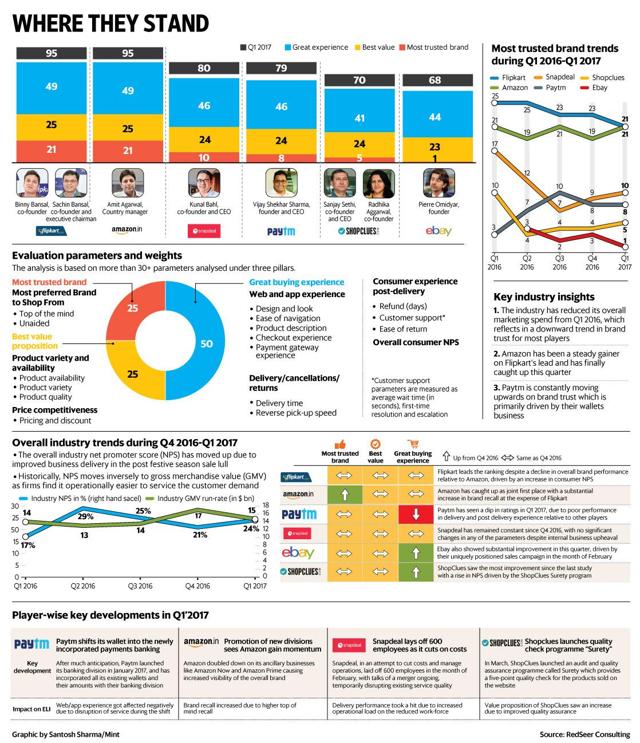 Furthermore, another eCommerce expert compared Flipkart's most recent merger with eBay (NASDAQ:EBAY) to adding another knife to a gun fight. He also brought up key details saying how eBay has not been able to compete against Amazon in India even with its head start. Why would it start now?
Now, I understand the idea. Flipkart thinks if it can combine the market share of multiple platforms, they will all add up, beating Amazon. However, it is hard to conceive how this will work. Amazon has been gaining market share year by year. One of its Indian representatives just recently said, "We continue to see tremendous momentum despite our scale, growing at about 85% in Q1 this year." Thus, adding eBay's market share to Flipkart's own is like dumping a bucket of sand on an eroding beach. Sure, it helps for a little, but unless other action is taken, the beach will continue to pull the sand out to sea. So, instead of adding market share through other companies, Flipkart must start to think how it can keep its customers.
One way to do this would be through customer service and providing a bigger selection. This, however, has not been the case, as shown above.
On the other hand, Flipkart has just finished raising $1.4 billion from big hands like Microsoft (NASDAQ:MSFT) and eBay. Many see this as a big win for the company, and in the short term it is. However, with Amazon still out-funding Flipkart, it really matters how the company spends this money. And for the reasons gone over above, I don't believe Flipkart can use it efficiently enough to distinguish itself from Amazon.
Conclusion
I see many attributes of Amazon that give it a big advantage. The first one being the fact it has a lot more funding than Flipkart. Even with Flipkart's major fundraising of $1.4 billion from big hands like Microsoft, it is still not enough to match Amazon's multi-billion dollar investments.
Amazon has an ace up its sleeve that Flipkart cannot do anything about - Amazon Prime. With great deals and other amazing services from Prime, I can't imagine more and more people not joining as it expands.
Amazon has been growing fast in India, and inch by inch, is scraping away at Flipkart's market share. Failing any big moves by Flipkart soon, it will keep getting kicked around.
Disclosure: I/we have no positions in any stocks mentioned, and no plans to initiate any positions within the next 72 hours.
I wrote this article myself, and it expresses my own opinions. I am not receiving compensation for it (other than from Seeking Alpha). I have no business relationship with any company whose stock is mentioned in this article.