With slowing revenue growth, Toro (NYSE:TTC) may have to turn to acquisitions to diversify its business and grow revenue. The agriculture market may present a long-term growth opportunity for Toro, and it should focus on new product development and acquisitions in that sector.
Toro Starting To Face Headwinds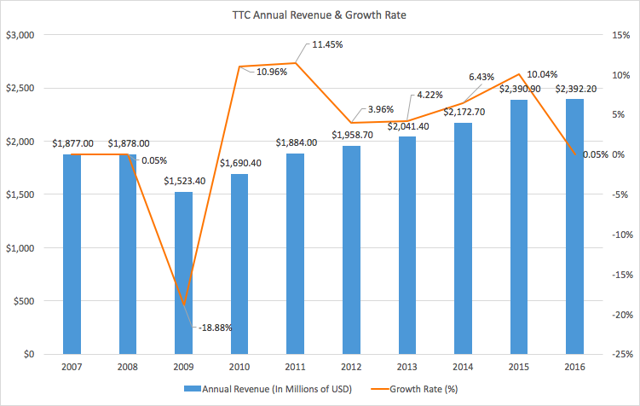 (Source: Company Filings)
Toro has two dominant operating segments - Professional and Residential. The professional segment accounted for 71%, and the residential segment accounted for 28% of the total revenue in the fiscal year 2016. In the fiscal year 2016, the U.S accounted for nearly 76% of the total revenue.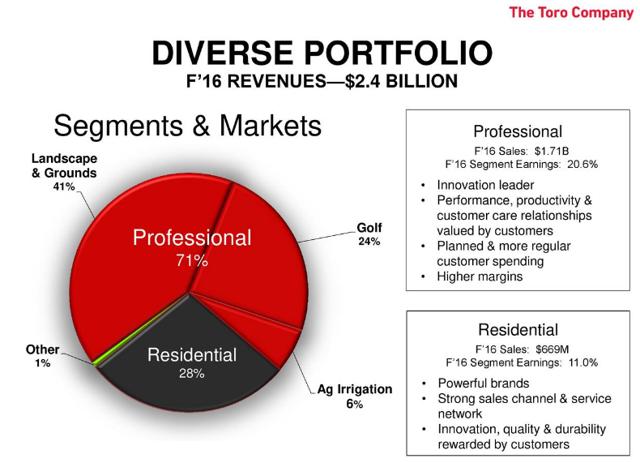 The residential market is too dependent on new home construction. In that area, the U.S. market has been weak ever since the great recession of 2008-2009 and is yet to reach pre-recession levels that were achieved in 2007. The irrigation products for home lawns and gardens may be too dependent on new home construction. The demand for its snow plow products for residential use was low, and that caused a decrease in revenue in that segment.
Total Number of Housing Units Started In The U.S. Still Well Below The Peak Attained in 2006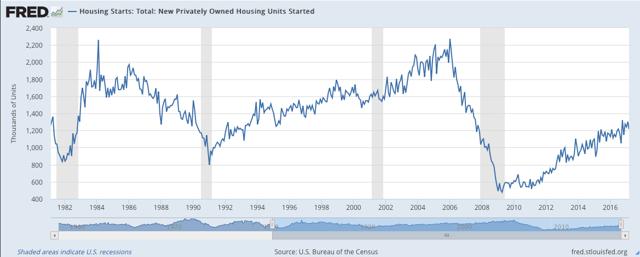 (Source: U.S. Bureau of the Census, Housing Starts: Total: New Privately Owned Housing Units Started [HOUST], retrieved from FRED, Federal Reserve Bank of St. Louis; May 3, 2017.)
The professional segment serves customers in landscape, golf, and agricultural irrigation markets. The landscape and golf business has been resilient and grew by 4% in 2016 when compared to 2015. The golf market accounted for 24% in fiscal 2016. There has been an oversupply of golf courses in the U.S., and there is a correction underway in that market. In 2015, there were 15,372 courses, down from 16,052 courses at the peak. So, it's going to be tough sledding for Toro in that market as the number of courses decreases further to reduce oversupply. Golf market in the U.S. peaked along with the popularity of Tiger Woods and is yet to reach those levels.
BOSS Acquisition Drives Diversification
In November of 2014, Toro acquired BOSS, a professional snow and ice management business, from Northern Star Industries. That acquisition is a good example to diversify into an adjacent business and gain a revenue stream from a counter-seasonal business. The traditional markets of landscape equipment, golf, and agriculture, produce the highest revenue during the spring and summer months in the U.S. That's the second and third fiscal quarter for Toro. Its fiscal year ends in October, so its second quarter runs from February to April. BOSS's business peaks in the fall and winter. So, BOSS adds a portfolio of counter-seasonal equipment that could smooth the amount of revenue and profits generated in each quarter.
BOSS Acquisition Provides Counter-Seasonal Revenue and Profits

(Source: Company Filings)
Technology Driving Benefits in Agriculture
Agriculture presents a great opportunity for Toro. Precision agriculture is gaining more momentum across the globe, and Toro already has a small presence in that market with its drip irrigation products, its precision soil sensors, and software.
Irrigation Still a Small Percent of Total Revenue, Agriculture Markets Can Help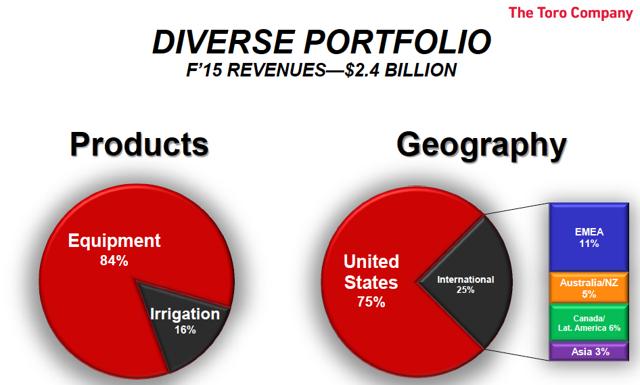 (Source: Company Filings)
Currently, Toro generates just 16% of its revenue from irrigation products and just 6% of total revenue from agriculture. Also, agriculture is a basic need across the globe and can help Toro generate more revenue internationally. Agriculture is in the midst of massive changes driven by trends such as population growth, climate change, need for land conservation, and increased competition. The growth in global population, coupled with increasing competition from around the globe, is pushing farmers to increase yield and profitability from their farms. The drive to reduce land used for farming and the need to reduce water and fertilizer use on farms is driving farmers to look to technology to lead conservation efforts and increase profits at the same time. Given low-profit margins and the unpredictability of weather, agriculture market is slow to adopt and spend money on new technology investments. But, Toro's micro-irrigation products have shown higher growth in prior years in the agriculture markets. There may be short-term headwinds in the agriculture markets due to a short-fall in rain or other conditions. But, there is a long-term trend towards more efficiency in farming driven by technology. Toro needs to expand in that market to ensure its long-term growth and profitability.
Toro is a company that has been around for more than a century (centennial celebrations was in 2014). So, the company has navigated massive changes in technology, customers, and the economy. It understands the importance of both investing in R&D and the need for right acquisitions to drive growth. It is very much likely that the Toro will expand its presence in the agriculture market.
Disclosure: I/we have no positions in any stocks mentioned, and no plans to initiate any positions within the next 72 hours.
I wrote this article myself, and it expresses my own opinions. I am not receiving compensation for it (other than from Seeking Alpha). I have no business relationship with any company whose stock is mentioned in this article.