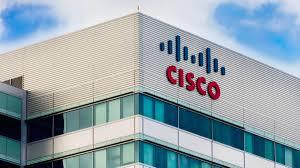 Despite near-term sales headwinds, I continue to increase my position in Cisco Systems (NASDAQ:CSCO). In my opinion, the market is discounting Cisco's long-term growth potential and isn't giving credit for their massive $71.8 billion cash balance. I also consider Cisco to be one of the best dividend stocks given the large amount of capital returned to shareholders with a payout ratio that remains low. This makes Cisco's 3.39% annual yield very safe and likely to grow in the future.
1. Cisco is a Free Cash Flow Machine
My investment thesis for Cisco is heavily weighted on their production of free cash flow. Over the last 6 years, Cisco has turned 24% of their revenue into free cash flow. Pound for pound, this means that there are few better companies at producing free cash flow than Cisco. This allows Cisco to fund dividend payments and share repurchases, while at the same time growing their cash reserves. Other well-known dividend stocks like Verizon (NYSE:VZ), AT&T (NYSE:T), and Chevron (NYSE:CVX) wish they could say the same thing.

2. Cisco's Growing Dividend - 3.39% Annual Yield
Cisco's growing dividend is one of the ways they have been using their excellent free cash flow. Cisco started their dividend in 2011 at $0.06 per share and has since rapidly grown it to $0.29 per share.

I'd expect Cisco to continue increasing their dividend over the next few years. Even though Cisco has an annual yield of 3.39%, their payout ratio in 2016 was only 38%. That's low and leaves plenty of room to grow even if revenue growth is stagnate. Keep in mind that most stocks with more than a 3% yield have payout ratios in the 50%-100% range.
3. Share Repurchase Program
Another way Cisco uses their free cash flow is to repurchase stock. I love stock repurchases for a variety of reasons. First, it's a form of returning capital back to shareholders, just like a dividend. Second, share repurchases increase earnings per share, even if earnings remain flat. The chart below illustrates how powerful this can be over time. Cisco had 7.5 billion shares outstanding at the beginning of 2002, but has since reduced that amount by approximately 33% to 5.04 billion shares (there have been no stock splits during that time period). This has significantly uplifted earnings per share over that time period.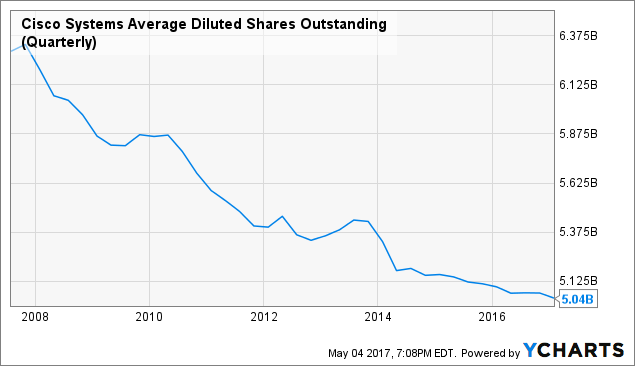 CSCO Average Diluted Shares Outstanding (Quarterly) data by YCharts
4. Cisco's Monster Cash War Chest
Cisco has $71.8 billion in cash, which is a pretty astonishing figure for a company with a market cap of only $171.5 billion. This puts Cisco in a rare club with other companies like Apple (NASDAQ:AAPL) and Microsoft (NASDAQ:MSFT) that have so much cash they don't know what to do with it all. Cisco will have the opportunity to finance multiple large acquisitions without taking on additional debt even though their debt balance remains low. Cisco's debt-to-capital ratio at the end of last year was less than 30%.

5. An Improving Revenue Mix
One of the main reasons I believe Cisco is undervalued is the weakness in their Switching and NGN revenue streams, which both account for a substantial amount of Cisco's total sales. This has led to stagnate sales growth and concerns that revenue might deteriorate in future years.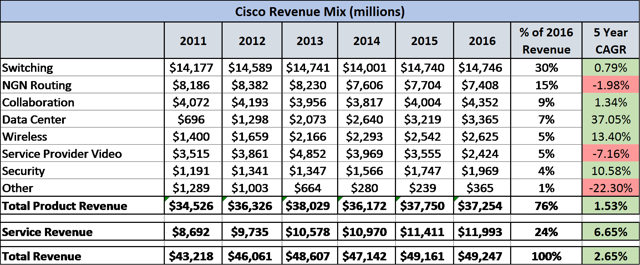 However, Cisco has been focusing on shifting its business model to focus more on software and subscriptions. Cisco is also focusing on areas such as Security, Digital Transformation, SDN, and Cloud, which are the future growth drivers. There are sales headwinds over the next year or two, but Cisco's product mix is diversifying and improving. The growth initiatives will push Cisco back to a growth curve once specific segments gain critical mass (i.e. Services, Collaboration, Security, Data, etc.), which is evident by their long-term growth rate of 10%.
6. A Track Record of Beating Expectations
Cisco has a recent history of underpromising and overdelivering. They have beat Wall Street's consensus estimates for four quarters in a row (source: Wall Street Journal).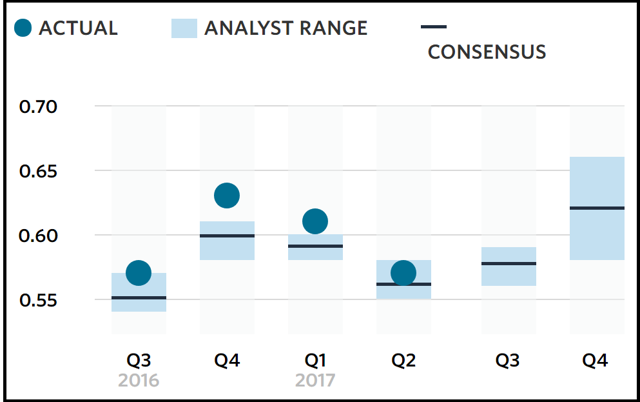 7. Attractive Valuation
Cisco has a forward P/E of 13.73, which is attractive relative to large-cap technology peers based on their long-term growth potential. As I said earlier, I believe the market is penalizing Cisco for a lack of near-term revenue growth. However, long-term expectations look good. Cisco has a 10% long-term growth rate, which drives an attractive PEG of 1.43. I also wrote a more in-depth article on Cisco a few weeks ago that valued the stock using discounted cash flow and discounted dividend models. Each also exhibited deep discounts for Cisco's stock.

8. Wall Street's Opinion
According to MarketWatch, Wall Street analysts have an average target price of $35.66 per share. Given the current stock price of $34.09, that's 5% upside. This seems a little bit low in my opinion, but don't forget about the dividend and share repurchases, which is where you can expect a substantial amount of your annualized return.
Conclusion
Given Cisco has been trading at a discount relative to peers, I've continued to add to my position. I like their long-term growth potential, cash balance, low amount of leverage, and amount of capital returned to shareholders through dividends and share repurchases. I believe Cisco will continue to aggressively increase the dividend, which I believe will make them the leading dividend stock on the Dow Jones in a few years. For these reasons, I recommend buying the stock.
Disclosure: I am/we are long CSCO, AAPL.
I wrote this article myself, and it expresses my own opinions. I am not receiving compensation for it (other than from Seeking Alpha). I have no business relationship with any company whose stock is mentioned in this article.