Thesis
The humanization of pets and the increased and impulsive spending that goes along with that has been a trend for many years now.
A number of stocks have seen huge benefits including pharmaceutical related plays, veterinary supplies, food manufacturers, and more.
IDEXX Laboratories (NASDAQ:IDXX) produces diagnostic solutions for animal care and IT solutions for vets.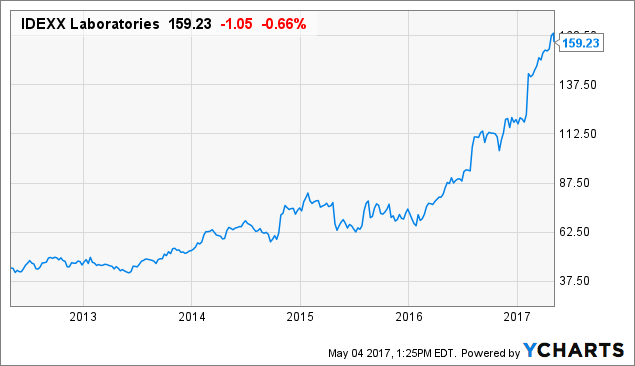 Henry Schein (NASDAQ:HSIC) has human and pet focused dental and medical products.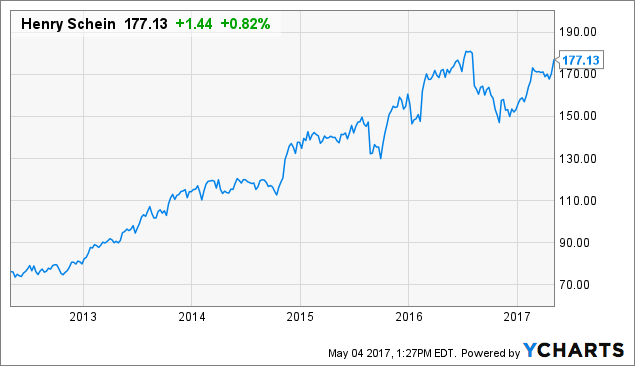 So with many of the plays at all-time highs, I wanted to talk about a company that has a bumpy ride: Freshpet (NASDAQ:FRPT).
Company Overview
Freshpet, as the name implies, is a maker of fresh pet food. Most of us are familiar with the bags and bags of dried food from various brands that line the supermarket.
Freshpet claims it is the first and only maker of fresh pet food that needs to be refrigerated.
Much like selling kids toys that appeal to parents since they are must-buy-it for kids, Freshpet hopes to appeal to pet owners that will buy pet food the same way they buy food for themselves.
The difficulty comes in that the logistics are much more difficult for Freshpet in a world where it is the only one doing this.
The company sells its products from coolers in stores which require more investment than sending bags of food to each store to display on standard shelves.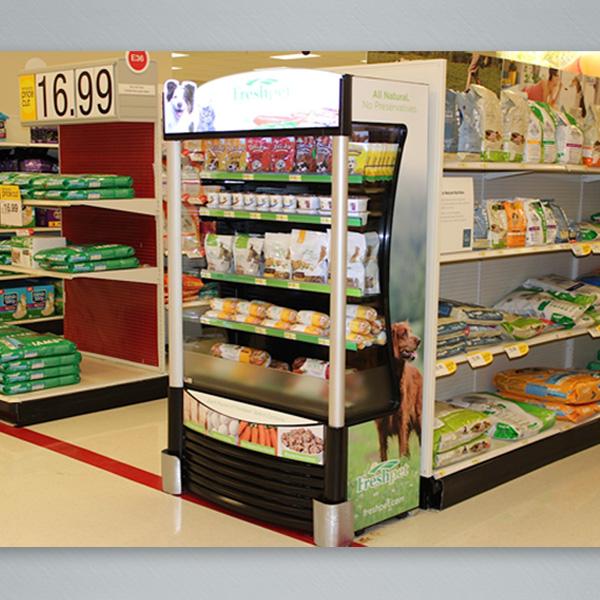 The company has a variety of brands including its namesake Freshpet, but also Dognation and Dogjoy treats, Vital, and DeliFresh products sold exclusively at Costco (NASDAQ:COST).
Freshpet Financial Results
Freshpet has grown very rapidly over the past 5 years. Sales have grown from $43.5 million in 2012 to $133.05 million in 2016.
That is a CAGR of 41.1% per year. Gross margin has hovered around the 45-47% mark.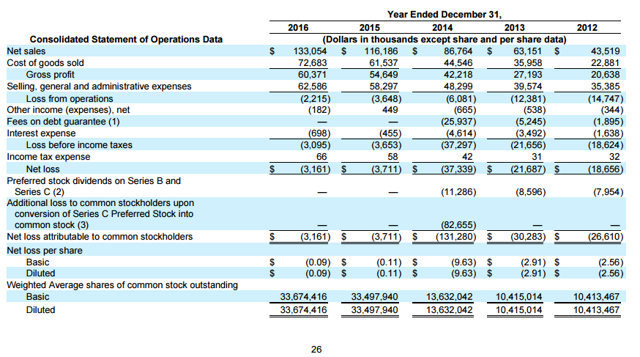 The first good thing I noticed is that the Loss from Operations line has slowly decreased over the past 5 years. There is significant potential for the company to be profitable in 2017.
The bottom line numbers below that are a bit more noisy. As you can see from the interest expense, the company used to have significantly more debt but has cleaned up its balance sheet a lot as you will see.
2014 had some additional adjustments related to conversion of preferred stock and such.
The share count rose dramatically as the company IPO'd in late 2014.
Two important metrics I compute for a company like this are how many fridges it has installed or its "install base" and how productive those fridges are.
Both metrics are looking positive. Fridges installed have doubled from 8500 in 2012 to over 16000 today.
Revenue per fridge installed grew from $5 million per year to $8 million per year in 2016.
This is key to the growth story. More fridges need to be installed and the company needs to drive more products out of them.
Balance Sheet
Freshpet has a very strong balance sheet which looks slightly weaker as the $7 million loan it took out to expand production is present for 2016.
The prior year the company would have had over $11 million in cash and short term investments against $9 million in current liabilities.
Calculating the full current ratio would be over 2.0 times. The company has no long-term debt or other liabilities listed.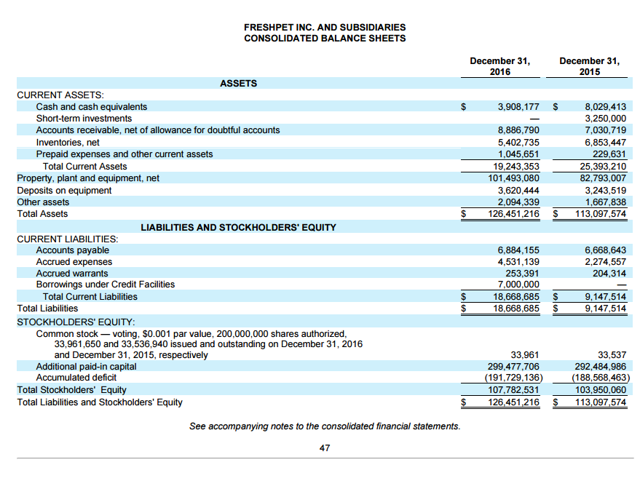 Profit in 2017?
I mentioned above how I think the company could reach a profit in 2017. The analysts peg the company for a loss of 6 cents this year although they range from 11 cent loss to a profit of 2 cents.
But it is clear Freshpet should not be evaluated on earnings, at least not yet. It is all about growth and operating leverage at this stage.
Can the company continue its 40%+ growth year-over-year or does that growth come down?
I mentioned the credit borrowings above. Freshpet notes that due to strong demand it is expanding its production capacity and launching an innovation center to create new products.
That kind of spending will certainly weigh on results in the short term and may be the reason Freshpet doesn't post a profit until 2018.
The other big question is, can Freshpet eventually achieve margins similar to the dried pet food businesses? I couldn't find Big Heart Pet Brands gross margins as it is now part of J.M. Smucker (NYSE:SJM), but its operating margin for that division was 22.9%.
Freshpet has a negative operating margin currently due to heavy spending as I outlined.
Valuation
Freshpet currently has a market cap of $400 million. It had sales last year of $133 million, so P/S comes in at 3.00.
Assuming a growth rate of 20% over the next 5 years, half of what the last 5 gave us, sales could reach $330 million by 2021. 20% may be too low but I felt it was conservative given that growth always slows and we are using it for average growth over 5 years.
At that sales level the market cap is likely to expand, otherwise Freshpet would be at .825 times sales, a very low valuation.
Risks
The two biggest risks I see for Freshpet are competition and business model limits due to growth.
The company thinks it can have 35000 fridges in the US which is up from 16600 currently.
But I see potential backlash or hesitation from retailers. As I mentioned above, these fridges take up prime real estate and are more of an investment and commitment on the retailers' part than a simple shelf they can stack anything on.
Freshpet is also limited as it cannot sell its products in the existing fridge areas of the store. I do not think human and animal food will be sharing space any time soon, lest the stories of buying the wrong one abound.
I also see an inherent disadvantage with Freshpet when it comes to e-commerce. I have witnessed how virtually every good including TVs and furniture can now be purchased over the internet, but groceries, especially fresh items, remain elusive.
Amazon and others like Peapod have limited success but traditional stores still retain the bulk of this business.
It is conceivable the company can deliver items in controlled containers, but this is an expensive prospective and has yet to catch on to a mass degree.
The company does appear focused on e-commerce in the slightest, so this may not be a problem for investors to worry about in the near term but is something to note.
From a technical stock price perspective, Freshpet looks attractive as well.
It has been consolidating for about a year after it fell almost in half a few months after its IPO.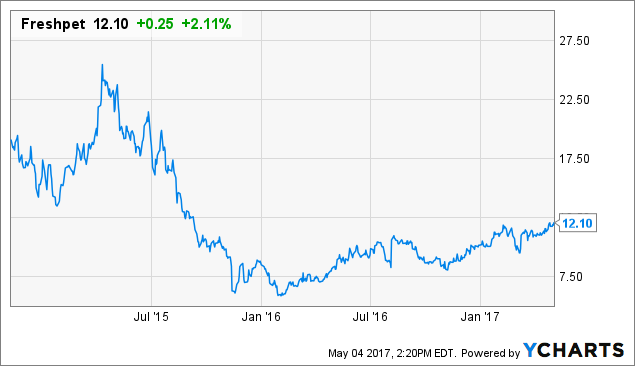 Compared to the other pet plays I outlined above and the general market, Freshpet looks fairly priced here.
Conclusion
Freshpet is growing very fast, has a reasonable valuation given that it is unprofitable, a stellar balance sheet, and strong secular humanization of pet tailwinds.
After a consolidation for about a year and slowly moving up to 12 and change, I think Freshpet is a strong buy here for investors looking to allocate money away from mega cap companies trading at all-time highs.
Disclosure: I/we have no positions in any stocks mentioned, but may initiate a long position in FRPT over the next 72 hours.
I wrote this article myself, and it expresses my own opinions. I am not receiving compensation for it (other than from Seeking Alpha). I have no business relationship with any company whose stock is mentioned in this article.