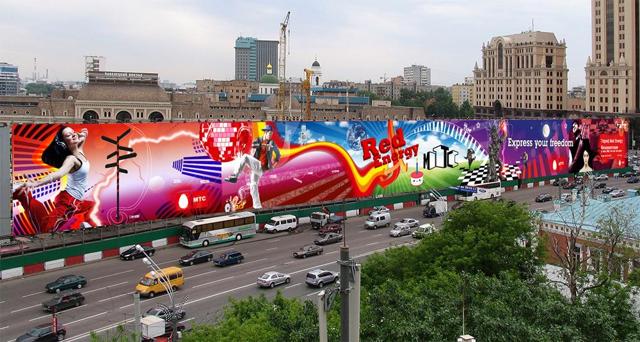 MTS Billboard in Russia. MBT's MTS is Russia's largest mobile telecom operator
Yesterday, Mobile TeleSystems (NYSE:MBT) got slaughtered pretty heavily. The underlying reason was news that Rosneft had hit Sistema with a $1.9 billion lawsuit.
$1.9 billion, of course, is real money seeing as Sistema itself was worth just about double that when news came out (it since lost more than 1/3rd of its value). Mobile TeleSystems, for its part, fell because Sistema owns slightly over 50% of its equity.
Now, intriguingly, there are reasons why this drop in Mobile TeleSystems makes sense, and why it doesn't. So I'll quickly cover both angles.
Why It Doesn't Make Sense To Punish Mobile TeleSystems
This is easy to see. Mobile TeleSystems doesn't own Sistema. It's the other way around. So even if Sistema lost $1.9 billion in this lawsuit, Mobile TeleSystems theoretically wouldn't be affected.
Some might speculate, "Oh, but then Sistema would have to sell Mobile TeleSystems shares and pressure the share price". Yes, that seems logical. But not when you consider that Mobile TeleSystems trades so cheaply, that if a majority shareholding became available, it likely would be taken over … at a premium.
So, from this angle Mobile TeleSystems dropping on the lawsuit makes little sense.
Why It Makes Sense To Punish Mobile TeleSystems
However, the angle I just described is not the only possible angle. The reason this is so derives from the object of the lawsuit.
You see, Rosneft bought Bashneft. Bashneft had previously been seized from Sistema by the Russian state, due to supposed privatization improprieties. What Rosneft is now alleging is that prior to having Bashneft seized, Sistema "asset-stripped" it.
How can this be relevant for Mobile TeleSystems? Well, clearly investors might fear that if Sistema could strip assets from Bashneft, it can also strip them from Mobile TeleSystems, where it's also the majority shareholder.
The fears aren't totally irrational, but they depict a very unlikely situation. This is so because Bashneft was a special situation for Sistema. A situation where the Russian government went and seized the company. As a result, it isn't wholly unlikely that Sistema might indeed have stripped assets to an extent (something we don't know for a fact right now).
Of course, a secondary fear would be that even if Sistema is unlikely to strip assets from Mobile TeleSystems presently, it could become more likely to do so if it lost the lawsuit. The lawsuit is so large that if Sistema lost it, Sistema's own survival would become endangered.
Conclusion
In my view this event will ultimately prove to be irrelevant for Mobile TeleSystems. Moreover, the Rosneft claims have been known for a while and only the amount surprises. At an extreme, it could be that if Sistema loses it will be forced to sell Mobile TeleSystems, which could even be a positive outcome.
Market fears hitting the shares further cannot be excluded, though -- so it might pay to monitor the stock and buy just on extended weakness. One obvious timing to buy Mobile TeleSystems shares would be upon an unfavorable lawsuit outcome (and further aggressive weakness as a result).
In the meantime, Mobile TeleSystems trades cheaply at around 4.7x EV/EBITDA, carries a large dividend yield (~9.7%) and might gain from Russian economic recovery. There's some risk, however, that both the ruble and the Russian economy might suffer if crude sees renewed downside. Also relevant, the impact from these news has reduced the premium the ADR trades at to 8.4% (the stock is 8.4% more expensive to buy in ADR form than it is in Moscow).
Disclosure: I/we have no positions in any stocks mentioned, and no plans to initiate any positions within the next 72 hours.
I wrote this article myself, and it expresses my own opinions. I am not receiving compensation for it (other than from Seeking Alpha). I have no business relationship with any company whose stock is mentioned in this article.