Today, Genocea unexpectedly announced fantastic 24-month GEN-003 results. It seems that the investor community has completely overlooked these developments, with shares trading close to flat on low volume, and news services (such as, for example, Seeking Alpha's), not covering this new data.
In fact, I almost named this article "24-Month Data Show Genocea's Genital Herpes Candidate Stimulates Immune Response; Shares Flat".
Summary of Today's Results
So, here we go (with apologies to Seeking Alpha's News):
Thinly traded micro cap Genocea Biosciences (NASDAQ:GNCA) is nearly flat for the day on lower-than-normal volume in response to its announcement of positive 24-month data for lead product candidate GEN-003, an investigational immunotherapy for the treatment of genital herpes.
24-month data from a Phase 2a clinical trial showed that GEN-003 reduced genital lesion rates by 77% and viral shedding by 58% at the 24-month period on the 60 ug per protein/50 ug of adjuvant dose.
Genocea further announced that it has identified "novel and unexpected antigens of T-cell responses" in the Epstein-Barr Virus-related cancer program. The results will be prsented at AAI's IMMUNOLOGY 2017 conference in Washington, D.C.
CEO Chip Clark says:
These long-term durability data reinforce our conviction that GEN-003 could become the cornerstone treatment for patients with genital herpes. We believe the data suggest a single course of treatment of GEN-003 could offer significant clinical, virologic and convenience benefits to patients generally, and especially those dissatisfied with current treatments, for at least 2 years with no maintenance dosing.
Given our successful End of Phase 2 meeting with the FDA, we continue to plan a Phase 3 program design consistent with previous guidance. We believe that these new data, together with the body of positive clinical results to date and these FDA discussions, give us momentum to advance our pioneering product candidate to Phase 3 readiness this year.
Since my article was published in late October, Genocea's stock price has steadily risen and is now up ~60%. However, (and this is beginning to become an annoying pattern), ever since Genocea's positive 12-month 2a data announcement in early-2016 briefly catapulted Genocea's stock price (leading various so-called journalists to pooh-pooh GEN-003), any positive news (expected or not) seems to have had a negative or neutral effect on that stock price.
Interestingly, a couple weeks after my article was posted (where I criticized the UBS analyst for being incomprehensibly sloppy and helping to trigger a nearly 50% sell-off on good data), UBS mysteriously withdrew its coverage of Genocea, citing the need to conserve its resources. Right.
Many Recent Positive Developments
Since my article was published, there have been a number of positive developments with the company:
In late October 2016, the company showed that GEN-003 stimulates the production of polyfunctional T-cells. These T-cells are effective than regular T-cells and their presence identifies an effective antigen response.
Genocea wisely decided to delay its combination Valtrex+GEN-003 2b study and reduced expenses on many of its other programs, focusing just on GEN-003 and cancer vaccine immunotherapy, or GEN-009. With these moves, the company extended its cash runway through Q1/Q2 2018. The company further currently has access to $10m of fresh debt financing which can allow approximately one more quarter.
GEN-003 is on track for Phase 3 initialization in late 2017.
GEN-009 development plans have been "reviewed and refined", with an IND filing later this year. The company has participated in multiple cancer antigen vaccine scientific conferences.
The company executed a partnership with Checkmate Pharmaceuticals in advanced melanoma, and generated several million in revenues.
In January, the company announced positive, statistically-significant (and clinically significant) 6-month Phase 2b data for GEN-003.
Genocea continues to expand its personnel, hiring for multiple research and development positions over the last several quarters.
Genocea completed a positive meeting with the FDA, reaffirming the company's Phase 3 development plan for GEN-003.
The company, in March, took on Howard Mayer, Shire's head of global clinical development, as a Director, replacing Kevin Bitterman.
Unexpectedly positive 24-month GEN-003 data, as described above, was announced on May 4. As stated in the summary, this potentially puts GEN-003's long-term efficacy on par or above once-daily Valtrex dosing and substantially advances GEN-003's value proposition, to both patients and payers.
Additionally announced on May 4, an unexpected EBV (Epstein-Barr Virus) antigen discovery was announced. EBV, according to researcher Young-Hyeh Ko, "was the first virus shown to cause cancer in humans and is associated with a wide range of human cancers originating from epithelial cells, lymphocytes and mesenchymal cells." The company has stated that details of this EBV discovery will be presented on May 12.
The Benefit of ATLAS Cannot be Underestimated
GEN-003 trial success is based on three factors. the company's diligence in developing and executing trials, Novavax's (NASDAQ: NVAX) Matrix-M adjuvant, and ATLAS.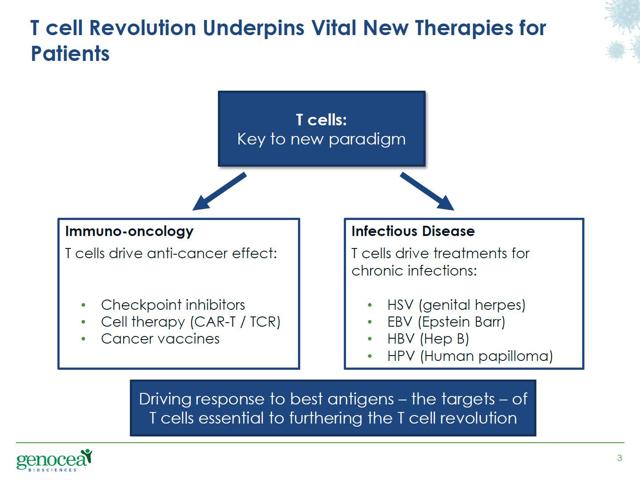 As described in my original Genocea article and multiple Genocea presentations, ATLAS is a patented technique and discovery platform which finds relevant and beneficial antigens, thus providing the basis for the formulation of new therapies in both antivirals and cancer treatment. The ATLAS approach stands in stark contrast to currently-utilized algorithmic approaches, which may incorrectly identify not just antigens which don't work, but antigens which actually worsen disease progression.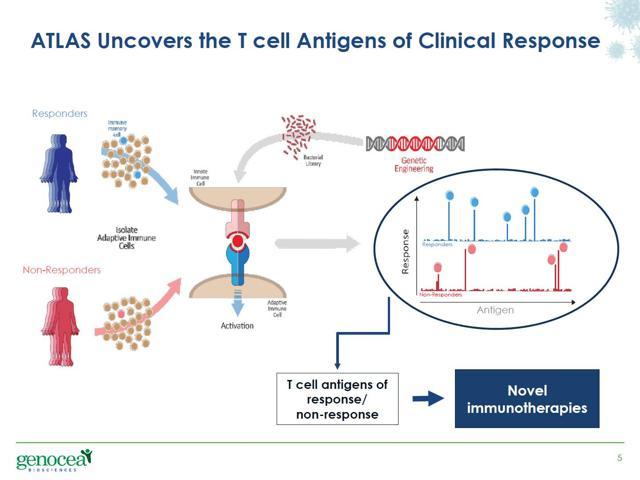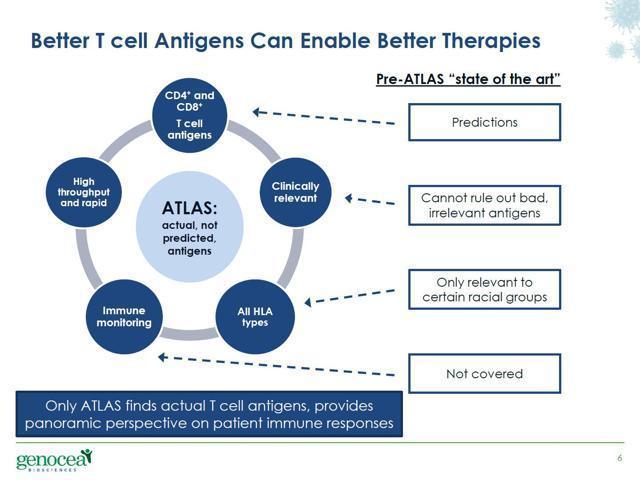 ATLAS is not just usable for overall anti-viral and cancer immunotherapy. Because every person's immune system is different, ATLAS can be used to optimize therapy (and find the appropriate antigens for) for an individual's specific tumors.
In my original article, my model estimated Genocea's stock price at $58.82. This price accounted for an effective 40% eventual dilution and only considered GEN-003 the HSV-2 indication. With cancer patient-specific neo-antigen immunotherapy, in my humble opinion, the sky's the limit.
Genocea's EBS (Epstein-Barr Virus) presentation at AAI's IMMUNOLOGY 2017 on May 12 should be interesting.
Partnership with a Big Pharma?
Those following company developments over the last 9 or so months know that Genocea has explicitly stated (in conference calls, filings, and presentations) that they looking for a partner for its Phase 3 program:
We retain all rights to GEN-003 and our strategy is to execute a partnership to maximize the potential of GEN-003 and to help fund the costs of the GEN-003 Phase 3 program.
Another interesting piece of the puzzle involves the last few presentations: on the bottom of page 14 on Genocea's 2b 6-Month Results presentation, the presentation slide states that the company was "Exploring global development and commercialization partner(s)". Yet in a nearly identical slide on Genocea's subsequent and current (March 2017) corporate deck (page 16), this line is missing.
So:
Genocea stated that GEN-003 is a potential $2 billion (yearly sales) opportunity.
Genocea just published really good 24-month GEN-003 data, which seems to possibly exceed Valtrex daily dosing efficacy.
Genocea recently appointed Shire's head of global clinical development to its Board of Directors.
Genocea is on the verge of a personalized cancer immunotherapy revolution.
Very interesting slide differences, as described above.
The company literally stated that their strategy is to execute a strategic partnership to advance GEN-003.
Well, draw your own conclusions!
Disclosure: I am/we are long GNCA.
I wrote this article myself, and it expresses my own opinions. I am not receiving compensation for it (other than from Seeking Alpha). I have no business relationship with any company whose stock is mentioned in this article.
Editor's Note: This article covers one or more stocks trading at less than $1 per share and/or with less than a $100 million market cap. Please be aware of the risks associated with these stocks.