Introduction:
Lately, there's been talk about a gasoline glut. In this article, current gasoline inventories and demand trends are analyzed. Furthermore, the interrelationships between refiner crude oil input, the crack spread, and gasoline demand are explored.
Gasoline Inventories & Demand:
Gasoline inventories have been building for the past few years. In this article, gasoline demand-days are defined as the U.S. total gasoline stocks divided by the average daily gasoline supplied for a particular week. Seasonally, the demand-days in storage rises and falls according to demand: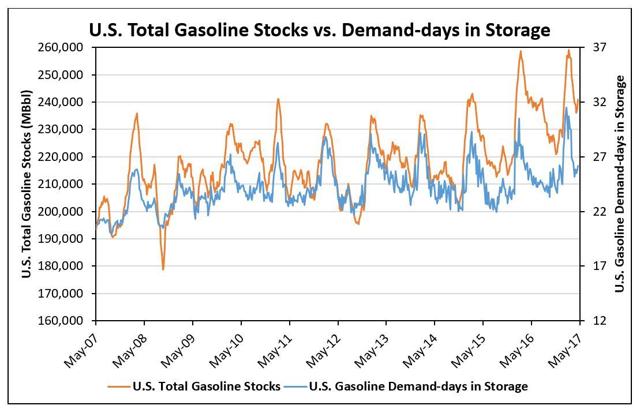 Although we reached a ten-year high in gasoline demand-days in storage this past January, it appears that things aren't so bad going into the summer driving season at first glance. Inventories are only around one demand-day higher this April than they were in 2012 and 2013.
So what gives? Let's dig a little deeper and look at current gasoline demand: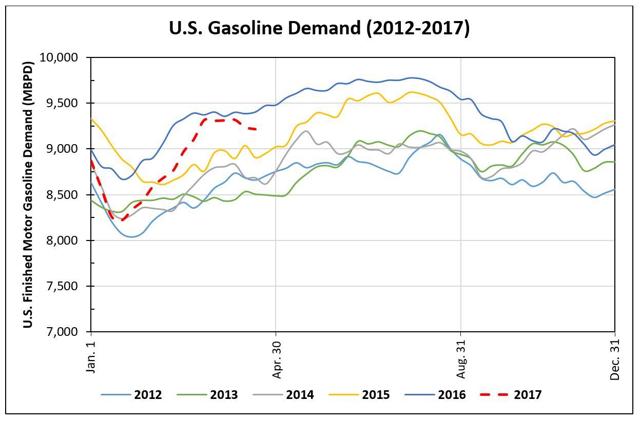 At the beginning of the year, demand appeared to be shaping up much worse than it does now, in fact, we briefly crashed below 2013/2014 demand levels. Things have recovered since then, but they aren't looking as rosy as in 2016.
Refiner Net Input Considerations:
When the crack spread is high, the refiners make a killing. What about when the crack spread weakens marginally due to a product glut? Do the refiners cut their runs quickly?
To analyze how product weakness affects refiner throughput, let's analyze the 3:2:1 crack spread, which serves a measure of refining profitability. The term stems from the profit a refiner realizes from creating products according to their standard volumetric ratios: 3 barrels of crude oil produces roughly 2 barrels of gasoline and 1 barrel of diesel. Plots of the crack spread and U.S. refiner net input are below: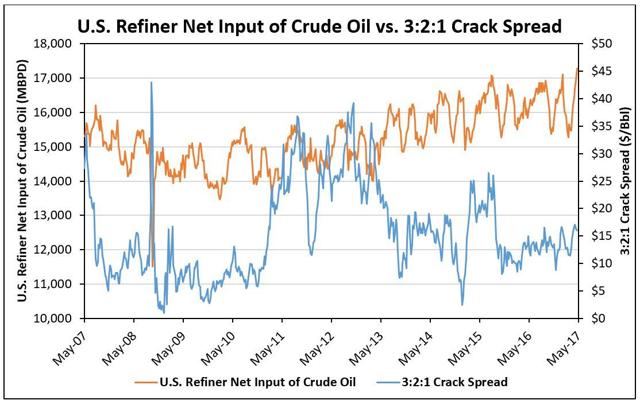 An inspection of the curves indicates that refiner input is rather insensitive to marginal variations in the crack spread. It is much more closely tied to seasonal tendencies; high input points tend to be in the midst of peak summer and winter grade gasoline production runs. Low points tend to be during maintenance periods.
So what is refiner input correlated to? It is much more closely tied to demand: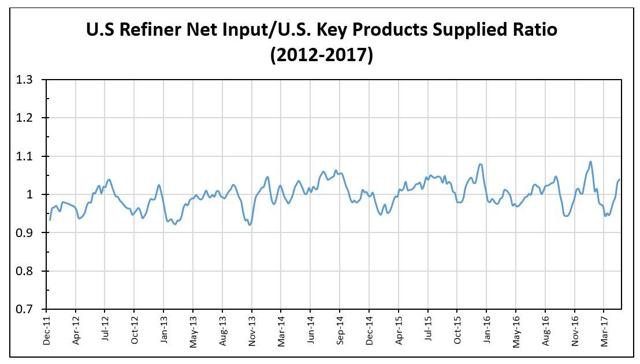 Note: In the plot above, key products are defined as gasoline, diesel, jet fuel, propane, and propylene.
Refiners aren't in the business of storing excess products. Unlike crude oil, distillates are a pain to store. The glut will not move downstream in the fashion of a horde of physical products. Unlike the upstream cowboys, the refiners keep a close balance between refined products and what their customers purchase.
Conclusions:
Gasoline inventories are high, but they won't get proportionally bloated to the levels that crude oil has. Refiners simply will not store a horde of excess products. If the lackluster gasoline demand continues, refiners will be forced to cut runs to prevent the buildup of excess product stocks. This will translate into continued weakness in the crude oil market if things don't shape up soon.
Disclosure: I/we have no positions in any stocks mentioned, and no plans to initiate any positions within the next 72 hours.
I wrote this article myself, and it expresses my own opinions. I am not receiving compensation for it (other than from Seeking Alpha). I have no business relationship with any company whose stock is mentioned in this article.