When we think about expensive stocks we typically think of highfliers that are trading at high earnings multiples (e.g. Netflix (NASDAQ:NFLX), Tesla (NASDAQ:TSLA)), rarely do we think about beaten down names that are trading at 52-week lows. But I have some "bad news" for Ford (NYSE:F) shareholders: it's about to get expensive. However, there is no need to panic.
About the same time last year I talked about Ford's symptom of being a perpetually cheap stock (read Ford Is Cheap Enough). At the time there were still some doubts regarding "peak auto sales"; while an optimist would say that the peak is still unclear, a realist would say that the descent has begun.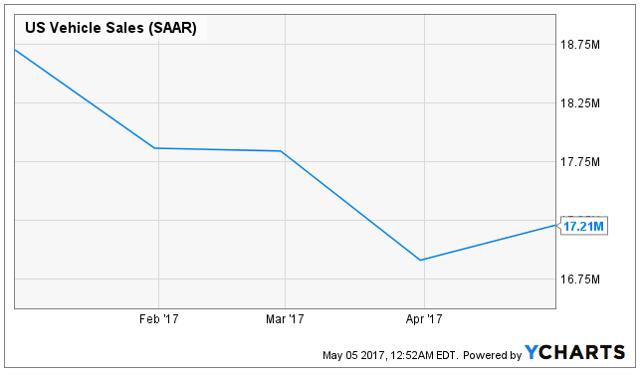 As the year progressed, Wall Street analysts started to revise their estimates.

Source: Yahoo Finance
We can see that earnings estimates for both this year and the next have come down somewhat. This makes the forward P/E multiple higher, which suggests a less attractive stock. However, the bulk of the "expensiveness" is reflected in trailing earnings.
Taking a look in the rear-view mirror we can see that trailing P/E has jumped to 12x from 5-6x a year ago.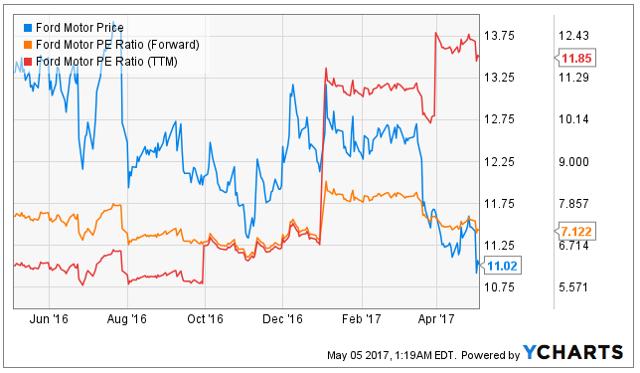 The relative stability in the forward estimates (the jump in January was due to the roll of 2016 estimates becoming 2017 year estimates) means that analysts were widely expecting Ford's earnings deterioration, hence any shareholder buying Ford solely on the basis of a cheap stock based on a low trailing P/E needs to rethink his or her thesis. Remember that trailing P/E is only useful if the recent past is repeated in the future, and as we touched on earlier, the future of the auto sector looks nothing like the past. In other words, if you are counting on the earnings multiple expanding because price will move up, I would suggest that you look elsewhere.
Don't Panic
But long-term holders need not panic. Many investors find safety in a low trailing P/E ratio - after all, that's the commonly accepted investment strategy. But as a cyclical stock like Ford go through a trough, the "E" part is going to get a whole lot smaller. That being said, I remain confident that the "P" won't get crushed. Why? Even though Ford just reported terrible monthly sales data (-7.2% in April) and the stock is trending lower, notice how the stock has only dropped by 17% over the past year while the trailing P/E has nearly doubled. This tells me that the stock price will not mirror changes in earnings, certainly not on a one-for-one basis. This means that even though I fully expect earnings to deteriorate, I do not think that there will be large downward movement in the stock price.
Still a Hold
Sure shares are still under pressure, but I remain confident that a ton of pessimism is baked in already. The aforementioned expansion in P/E illustrates my point. The stock could get a lot more expensive, but I believe that shareholders won't get hurt that much on the downside while retaining a lot of upside when the sentiment shifts.
If we look at how the stock has traded relative to vehicle sales, we see the stock tends to react much faster.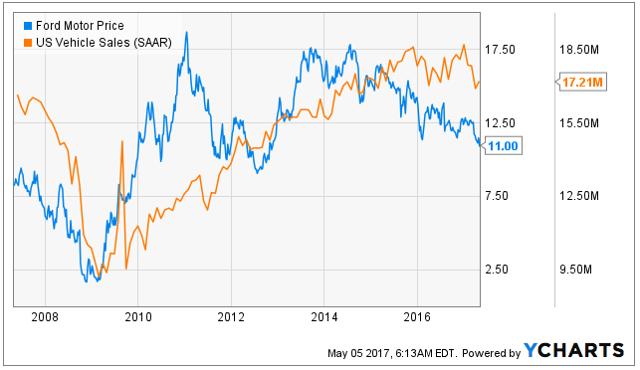 When the recession ended the stock soared far before any significant pick up in sales. The market has been pricing in sales declines for the past three years using the same logic. But a temporary dip is a very good set up for future gains. The stock took a hit in 2011 as the auto recovery was in doubt, but took off after sales rebounded.
While you may disagree with me, I remain highly confident about the economy going forward. This means that even though auto sales are likely to trend lower in the short to medium term, it's just a matter of time before they come back; and when they do, Ford shareholders will be among the biggest beneficiaries.
So the question you need to ask yourself is: would I hold a stock that could go nowhere for the next year or two and looks expensive on paper, but has big potential? I would. The stock still pays a nice dividend in the meantime, and as much as Tesla investors would like you to believe, Ford isn't going away any time soon.
Disclosure: I/we have no positions in any stocks mentioned, and no plans to initiate any positions within the next 72 hours.
I wrote this article myself, and it expresses my own opinions. I am not receiving compensation for it (other than from Seeking Alpha). I have no business relationship with any company whose stock is mentioned in this article.