Yesterday, I was reading an article on Seeking Alpha entitled "Chevron: Still Reliant on Asset Sales" by Stone Fox Capital. In this article, the author argues that Chevron's (NYSE:CVX) free cash flow is not as strong as its latest earnings report may suggest. In fact, Stone Fox Capital states that the oil giant was not able to generate enough cash flow to cover its dividend payout despite the strong earnings report. In fact, this has been occurring for quite some time, as I point out in an article from a few years ago. This is a state of affairs that should worry any investor in the company, particularly those who are dependent on the dividend income from their portfolios to fund their lifestyles, such as retirees.
It is unfortunate that many investors do not understand where the money to fund a dividend truly comes from. This is at least due in part to the focus that most analysts and media releases put on a company's bottom-line earnings, also commonly called its net income. This is then commonly reported as a metric known as earnings per share, which supposedly tells an investor the amount of a company's earnings that each share of stock represents a claim to. Most investors simply assume that if the dividend is less than the earnings per share that a company can afford its dividend. This is far from an accurate measure of ability, however, as net income itself is a relatively meaningless figure for measuring a company's ability to produce what truly should matter to a dividend investor: cash.
The better measure for a dividend investor to look at when determining the sustainability of a dividend is a metric known as free cash flow. Investopedia defines free cash flow thusly:
Free cash flow (FCF) is a measure of a company's financial performance, calculated as operating cash flow minus capital expenditures. FCF represents the cash that a company is able to generate after spending the money required to maintain or expand its asset base. FCF is important because it allows a company to pursue opportunities that enhance shareholder value."
In short, the free cash flow is essentially the amount of money that the company has left over after paying all of its expenses and pursuing the growth opportunities that it has before it. It is this money that a company can use for paying dividends, buying back stock, and paying off debt. As we shall see in a moment, Chevron cannot currently afford its dividend or its former stock buyback program and, in fact, has not been able to afford these givebacks to shareholders for many years (well before the 2014 decline in oil prices).
This chart shows Chevron's operating cash flow, capital expenditures, and free cash flow over each of the past six full years:

(all figures in thousands)
Source: Chevron Corporate Filings
As this chart shows, Chevron's free cash flow went negative in 2013 and has remained there since. This means that the company did not even make enough cash from its regular operations to maintain its asset base and fund its own growth projects, let alone return any money to its shareholders. However, in every one of those years, Chevron continued to pay a dividend and up until 2014 bought back copious amounts of its own stock, thus returning even more money to its shareholders. This is despite the fact that the company was clearly not bringing in enough money to make these payments.
Unfortunately, it gets worse. Here is the same chart, this time including the amounts that Chevron paid out to its shareholders in each of those years.

(all figures in thousands)
Source: Chevron Corporate Filings
As this chart shows, Chevron has not been able to generate enough money to finance its givebacks to shareholders in any year since 2011. The company was short by more than $10 billion in 2013, a trend that has been true in every subsequent year. It is worth noting that in 2012, 2013, and the first half of 2014, oil prices were significantly above today's levels. Thus, it does not appear that the low oil price environment is the reason for this problem, although it has certainly exacerbated it in the past two years.
As Stone Fox Capital pointed out in the earlier article, Chevron's cash flow left a lot to be desired in the most recent quarter when asset sales are excluded (as they rightfully should be when examining sustainable cash flows). Let us have a look then at how the company's free cash flow looked in the most recent quarter.
Curiously, this is where it gets complicated as Chevron did not provide a statement of cash flows in any of the materials that it released to either analysts or the media as supplemental materials to the earnings conference call that was held on April 28, 2017. This statement will certainly be found in the company's 10-Q filing with the SEC, but unfortunately that filing has not yet been made public. Instead, all Chevron provided in its conference call materials is a statement that its cash flow from operations in the first quarter 2017 was $3.9 billion and this slide, ostensibly to show that the company's cash flow is improving: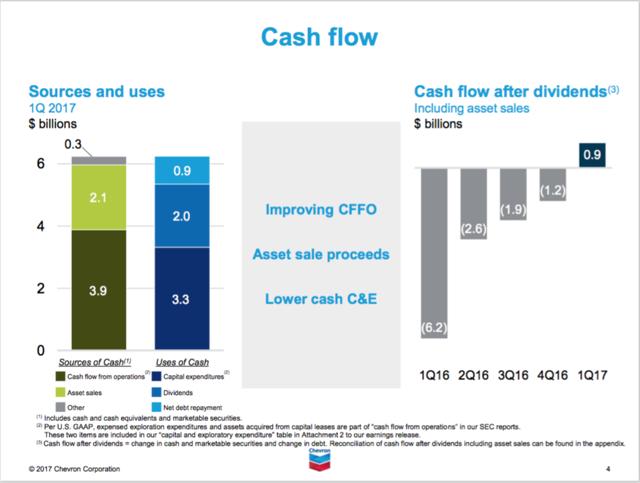 Source: Chevron
Fortunately, Chevron did provide its income statement from the quarter and we can calculate its free cash flow from this using the alternative formula: EBIT (1 - Tax Rate) + Depreciation & Amortization - Change in Net Working Capital - Capital Expenditures. That figure works out to be approximately $1.638 billion using the figures provided in the earnings release. The company states that it paid out approximately $2 billion in dividends during the quarter. Thus, we can conclude that it could not truly afford to pay this dividend either.
The rational thing to ask after reviewing all of the above is how Chevron is obtaining the money to give its shareholders when it clearly is not earning it through its regular operations. There are two primary ways. The first is asset sales, as Stone Fox Capital discussed. Essentially, this involves the company selling its existing assets to someone else and then distributing this money to its shareholders. Unfortunately, this is not sustainable over the long term as eventually the company will run out of assets to sell. In effect, this is a form of controlled liquidation. Unfortunately, Chevron has been doing it with disturbing regularity over the past several years.
The second way Chevron has been funding its dividend and share buyback programs is by taking on debt. Basically, Chevron is borrowing money and then giving it to the company's stockholders. This is evident by looking at the amount of debt that Chevron has had on its books over the past few years, as shown in this chart:

Source: Chevron Company Filings
Thus, Chevron appears to be levering itself up in order to finance current consumption for its shareholders. At least to this investor's mind, this is little different from paying for a vacation on a credit card, with the exception being that Chevron can invariably get a better interest rate than an individual can. As was the case with financing shareholder givebacks with asset sales, this is a wholly unsustainable solution long-term. This is because, as history has shown us numerous times, there is always a limit to how much debt any company, no matter how large, can take on before it encounters financial trouble.
These are certainly trends that should worry a stockholder in the company. Chevron has a long history of being good to its shareholders but now the company may be slowly weakening itself in order to enrich the shareholders, which while good for shareholders today, is not for the company's future.
Disclosure: I/we have no positions in any stocks mentioned, and no plans to initiate any positions within the next 72 hours.
I wrote this article myself, and it expresses my own opinions. I am not receiving compensation for it (other than from Seeking Alpha). I have no business relationship with any company whose stock is mentioned in this article.