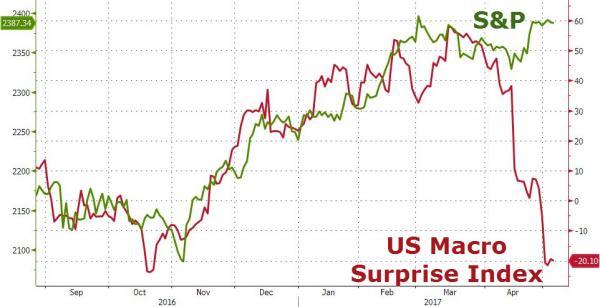 Surprise!
No, not the fact that the Republicans in Congress (not a single Democrat voted for this) yanked away your health care yesterday (while keeping Obamcare for themselves) and not the fact that your parents will soon be moving in with you as Republicans also rescinded small-business retirement plans so they could give their money to richer people too. No the surprise I'm talking about is the US Macro Surprise Index which hasn't fallen this hard and fast since 2008 - another fun thing to ignore in market utopia.
The Citi U.S. Economic Surprise Index measures actual data readings are how they compare with expectations. A reading above zero means that the data on balance are coming in above expectations, while a negative reading indicates an economy that is underperforming and, suddenly, we're at -20, down 80 points in a month! That decline began with last month's horrific Non-Farm Payroll reading of just 98,000 but on Wednesday, the Fed indicated in their statement that they didn't think it was a trend and the Atlanta Fed, in their GDP Now Forecast, are pegging Q2 growth (and we're halfway through it) at 4%.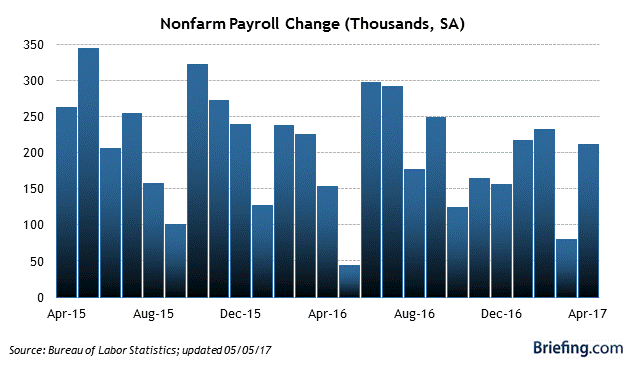 But the Citi index says they are idiots - or Economorons, as I like to call them. The indications we've been getting in April have, time after time after time, indicated growth is slowing (and last Q we only grew 0.8%), not speeding up and Corporate Profits, though strong, are being goosed by a weaker Dollar, weak comps and earnings that are simply divided by less shares due to buybacks.
There is A LOT of financial engineering in earnings reports these days. The gap between GAAP and Non-GAAP earnings has never been higher, with Q3 GAAP earnings coming in almost 25% lower than the Non-GAAP earnings they use to come up with the "official" S&P earnings. We're not even in the ballpark of reality here - yet traders (I won't call them investors for they know not what they are doing) keep BUYBUYBUYing - no matter how ridiculous the valuations get.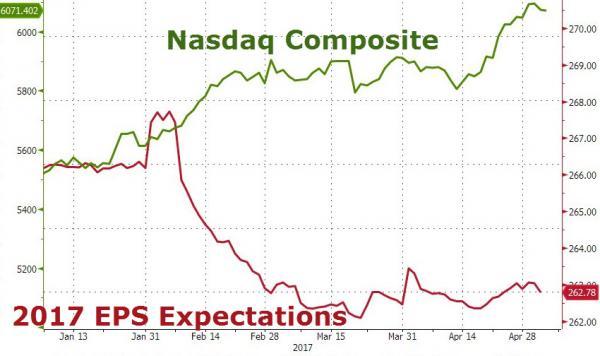 As we've discussed in the past, to some extent - money simply has nowhere else to go. You can't put it in the bank, because the interest doesn't keep up with inflation, bonds are just as bad and very scary with rates rising, gold and silver are very unreliable and real estate - well, too many people were recently burned for that to be attractive. That really doesn't leave anywhere else to put your money other than equities, does it?
We're about 60% of the way through earnings and, as you can see from the EPS Expectations chart, no one is raising guidance and no one is really outperforming enough to move the needle from where we were at the end of Q1 earnings yet the Nasdaq itself has jumped 10% since then as people are chasing anything that sounds good. As I may have mentioned, we like CASH!!! at the moment and our long positions are very well-hedged to the point where we're missing the upside over S&P 2,350, which is where we expect to settle in after earnings - even if we don't finally have a proper pullback.
Now, it's possible I'm down on the economy because I'm a Liberal and us Democrats think this country is on a terrible and dangerous path while our Republican friends think everything is awesome. It is literally like living in two alternate realities, with their own alternate facts, only there are no alternate facts - there are facts and there are fantasies and that's why the great Charles Mackay called his epic book: "Memois of Extraorinary Popular Delusions and the Madness of Crowds." If he were still alive, this chapter would be titled "The Trump Rally."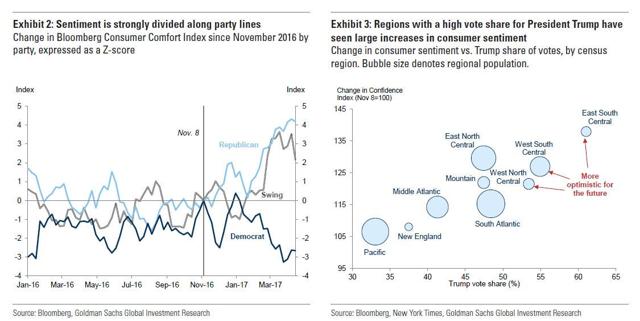 Mackay's book goes back as far as 1634, when all of Holland was trading tulips as exports picked up and supply didn't keep up with demand and a single tulip bulb would fetch the price of a farm near the peak. Looking back at it, after the fact, the whole thing was idiotic - but that didn't stop most of the country from becoming tulip speculators and selling all their other possessions to buy tulips. Some people got rich, some when broke - TIMING IS EVERYTHING!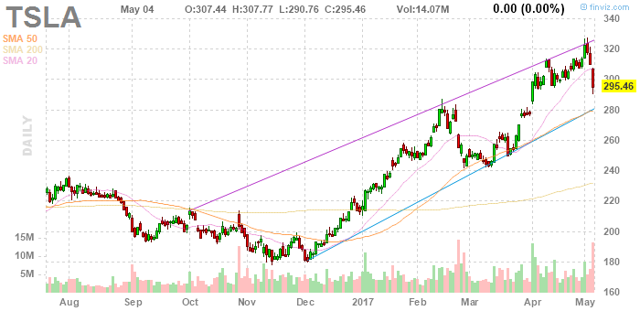 We timed out of the short calls on April's Tesla (NASDAQ:TSLA) spread that we discussed in yesterday's PSW Report at $11 (6 contracts were $6,600) for a $6,000 gain (up 51.7%) so you're welcome on that one. We didn't get out because we believe TSLA is worth $300 but because you can't expect other people to be logical so we will content ourselves with "just" another $9,000 of remaining upside (already $6,000) on our bear put spread if TSLA drifts lower.
We called the finish for TSLA right on the button yesterday morning, saying,
$296 is the 5% line on TSLA, we bounced off it on technically a fall from $311 for the day. If our theory is correct and we're heading for $280 (20% above the 200 dma) from $325 (40% over) then the pullback we expect are from that run, from $230 to $325 so call it 100 points and that means we expect 20-point pullbacks to $305 and $285 so those are lines to watch. Off the $296 line is a $15 drop for the day so $3 weak bounce to $299 and $6 strong bounce is right to that $305 line, which is where we expect to pull back in stage one.

So, in short, $305 must stay failed and, if that fails then we have a very good shot of breaking back below $296, on the way to the next 5% ($15) correction.
So we will watch the action today to see we're still on track and possibly initiate some new shorts.
8:30 Update: Not drifting lower at all are jobs, which popped right back to 211,000, pushing unemployment down to 4.4% and pushing wages up 0.3% (not good for Corporate Margins) so the Fed was right though we didn't reverse last month's big miss - simply got back to our previous trend of adding 200,000 a months. Now comes the fun part as we have seven (7) Fed speakers today: Fischer, Williams, Yellen, Bullard, Evans, Rosengren and Williams again - all during market hours - it's going to be a wild ride!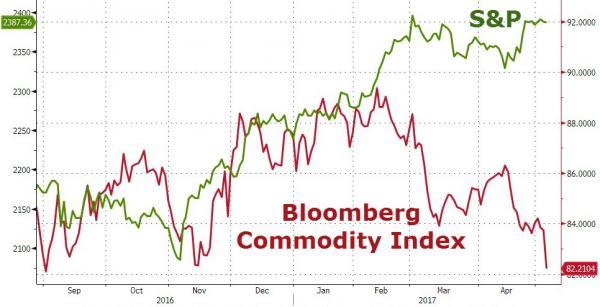 I already put out an Alert (on Twitter) to take advantage of the following prices on Commodities as they fell off a cliff yesterday, taking us back to the November lows:
Oil (/CL) Futures at $45.44
Gasoline (/RB) Futures at $1.485
Silver (/SI) Futures at $16.46
Gold (/YG) Futures at $1,234
Coffee (/KC) Futures at $134.35
You know we have a standing order on coffee to be bullish over $135 - we've been playing that all week and yesterday we added Russell (/TF) longs over the 1,385 line and those are working again this morning. The best opportunity to play along at home for non-Futures traders is to jump in on our Trade of the Year, which is Silver Wheaton (NYSE:SLW) and our original trade idea (from "Secret Santa's Inflation Hedges for 2017") was:
Sell 10 SLW 2019 $15 puts for $2.80 ($2,800)
Buy 15 SLW 2018 $15 calls for $4.75 ($7,125)
Sell 15 SLW 2018 $20 calls for $2.65 ($3,975)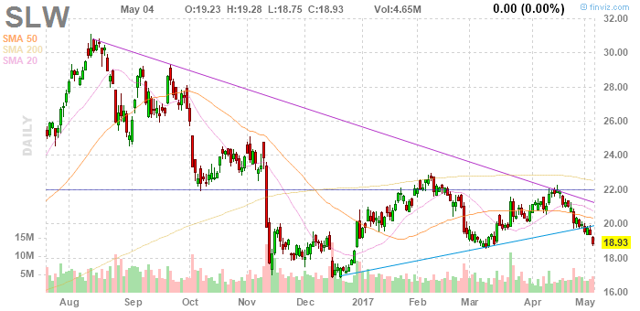 That was a net $350 cash outlay and already the short puts are down to $1.75 ($1,750) and the bull call spreads are net $2.75 ($4,125) for net $2,375 and a profit of $2,025 (578%) and we're only part way to our goal of $5,000 so this is still good for a new trade as you get more than a double from here, even if you missed the first 578% of our gains.
As a new trade from scratch, however, you can take advantage of this recent dip with the following, longer-term spread:
Sell 5 SLW 2019 $17 puts for $2.70 ($1,350)
Buy 10 SLW 2019 $17 calls for $4.60 ($4,600)
Sell 10 SLW 2019 $22 calls for $2.65 ($2,650)
In this case, we have a net $600 cash outlay on the potential $5,000 spread that's $1,000 in the money to start. The upside potential is $4,400 for a 733% return on cash and ordinary margin on the short calls is only $785 - so it's a very margin-efficient way to make $4,440 per set in 20 months.
Have a great weekend,
- Phil
Disclosure: I am/we are long SLW, IWM, USO, JO, UGA, UNG, GLD, ABX.
I wrote this article myself, and it expresses my own opinions. I am not receiving compensation for it (other than from Seeking Alpha). I have no business relationship with any company whose stock is mentioned in this article.
Additional disclosure: Positions as indicated but subject to RAPIDLY change (currently mainly cash and an otherwise slightly bearish mix of long and short positions - see previous posts for other trade ideas). Positions mentioned here have been previously discussed at http://www.Philstockworld.com - a Membership site teaching winning stock, options & futures trading, portfolio management skills and income-producing strategies to investors like you.