Industry 4.0 is a no-brainer, but who wins?
As the Industry 4.0 movement takes the world by storm, the future prospects of companies involved in automation, robotics (NASDAQ:ROBO), and "smart" Internet-of-everything are looking brighter by the day. Naturally, as investors, we are all looking for ways to generate a healthy return while taking on minimal risk. However, it is entirely within the realms of possibility to be absolutely correct about an industry and absolutely wrong about a company within the industry. Fellow Seeking Alpha author Alkaline Capital offers insight on this topic in regards to Electric Vehicles and Tesla Motors (NASDAQ:TSLA) over here.
Just about every industry with a high reliance on process repeatability and high-volume output - like automotive, food and beverage, pharmaceuticals, etc. - are looking to industrial robots and automation for further manufacturing productivity improvements. In this article, I hope to provide thinking points on how to gain exposure to the robotics and automation industry without taking on the risk of being absolutely wrong about a company.
Less about robots and more about interconnectivity
To be clear, robotics, along with the automation movement, has been around for quite some time. In Japan, the practical development of industrial robots progressed throughout the 1970s. Then in the 1980s, industrial robots were implemented in factories and gradually became more commonplace. The Japan Robot Association (JARA) dubbed the year 1980 as "The First Year of Robots."
Now, the Industry 4.0 movement leans more on the interconnectivity of industrial robots. In large part, this movement facilitates data transfer, which brings a whole new level of transparency to factory operations - the Japanese call this "Mieru-ka" (English translation = visualization). The value proposition of increased transparency in robotics comes in many forms. A couple examples include early detection of problems (before they actually become problems) and preventive maintenance. The end result is improved up-time of robots. As anybody with a little bit of operations experience would tell you, keeping things flowing in the factory is mission critical. And so, the Industry 4.0 movement improves the overall value proposition of robots by keeping things flowing.
Remove the guesswork: Where should we be looking?
When we start thinking about factors that drive the Industry 4.0 movement, things like factory automation, cloud-computing, artificial intelligence, big data analytics, etc. come to mind. All of these are also "hot" and emerging areas. Frankly, this doesn't exactly help with our search for exposure to robotics and automation without the risk of being absolutely wrong about a company, as many of these well-known companies are valued at robust multiples, reflective of their long-term growth outlook. Industrial-automation machine-vision play Cognex (NASDAQ:CGNX), for example, trades at nearly 40x next year's EPS estimates according to analyst consensus on Yahoo! Finance. Therefore, significant uncertainty is still left on the table, as investors looking to earn above-average returns would need these "blue-chip" companies to not just deliver good results, but outperform already-elevated expectations. Conversely, if these companies do well but not as well as investors are expecting, the high expectations may prove to be investors' downfall.
Instead of looking at the "hot" and emerging areas for robotics and automation exposure, I believe the prudent investor ought to consider looking at the boring, hardware side of the supportive infrastructure that facilitates the Industry 4.0 movement. I'm talking about companies that build sensors, communication devices, and mission-critical robots parts. Many of these technologies have existed for decades, but the value of the technologies are bound to improve alongside the value proposition of robots as interconnectivity improves.
Major Players and One Pure-Play
Those familiar with the industrial robot industry would be familiar with the big 4 players: Fanuc (OTCPK:FANUY, OTCPK:FANUF), ABB (NYSE:ABB), Kuka, and Yaskawa (OTCPK:YASKF, OTCPK:YASKY). Before Kuka was acquired by the Midea Group, Fanuc and Kuka were the only pure-plays among the big 4. Now, Fanuc is the only pure-play (that is available for purchase), with ABB and Yaskawa generating significant revenues outside of robotics. Just for fun, I'll add a couple other major Japanese robotics players into the mix: Mitsubishi Electric (OTCPK:MIELF, OTCPK:MIELY) and Kawasaki Heavy Industries (OTCPK:KWHIY, OTCPK:KWHIF).

Source: Financial Times, Nikkei, and ABB Investor Relations (Data retrieved: 5/4/2017)
The first 4 companies have similar ROI figures. To some extent, it appears that more exposure to the robotics industry warrants a higher P/B ratio. It's probably important to note that ABB's Robotics & Motion + Industrial Automation segments combined account for 41% of 2016 revenues. Aside from Mitsubishi Electric, P/B and P/E appear to be high in relation for the ROI performance delivered, leading to the problem I referenced earlier - even if these companies benefit from increasing adoption of robotics, their valuation multiples already bake in solid future results, making it hard to call them compelling plays on the trend.
Supportive Players
Admittedly, it's a little difficult to find companies that play a supportive role in the Industry 4.0 movement, especially when we are looking for those that are traded on a US exchange.
I went ahead and dug into Fanuc's filings. The benefit here is that Japanese companies tend to hold shares in companies that are closely connected. In order of holding value, Fanuc's filings show shares in Nabtesco (OTCPK:NCTKF, OTC:NCTKY), Fuji Electric (OTCPK:FELTF, OTCPK:FELTY), and Citizen Watch (OTC:CHCLF, OTCPK:CHCLY), Yamazen (TYO: 8051), and Takisawa Machine (TYO: 6121).
There are more, but I will limit the information to Fanuc's top 5 holdings: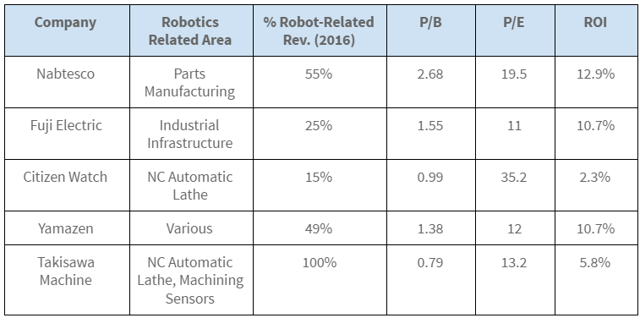 Source: Nikkei & Financial Times (Data Retrieved: 5/4/2017)
As you can see, relative to the "Big 4," many of these "backdoor" robotics plays have similar-to-better financial metrics (i.e., ROIC) with a similar-to-better mix of robotics revenue, and comparable-to-lower valuation multiples. Therefore, they may be more attractive potential investment candidates for investors looking to ride the robotics wave.
In terms of companies traded on the US exchange, Nabtesco shows strong exposure to robotics with solid business performance, but at a high P/B value. For investors open to trading directly in the Japanese markets, Takisawa Machine looks attractive with full exposure to robotics, price below book value, and less than ideal but still profitable business. Just to be clear, Takisawa Machine has a 11 B yen market cap (roughly $100M market cap at today's exchange rates).
In Closing
As seen in the charts above, the supportive players' price-for-performance looks moderately more attractive than that of the major robotics players. Investors looking to gain exposure to the robotics industry without paying a premium price ought to consider investing in companies that support the Industry 4.0 movement. For investors that are particularly eager to gain exposure at a discount, Japanese small caps might serve as a starting point.
If you enjoyed this article and would like to read more on Japanese ADRs, please click the orange "Follow" button at the top of this article. If you would like to read about Japanese securities in general, please visit my website at KenkyoInvesting.com.
Disclosure: I/we have no positions in any stocks mentioned, and no plans to initiate any positions within the next 72 hours.
I wrote this article myself, and it expresses my own opinions. I am not receiving compensation for it (other than from Seeking Alpha). I have no business relationship with any company whose stock is mentioned in this article.
Editor's Note: This article discusses one or more securities that do not trade on a major U.S. exchange. Please be aware of the risks associated with these stocks.