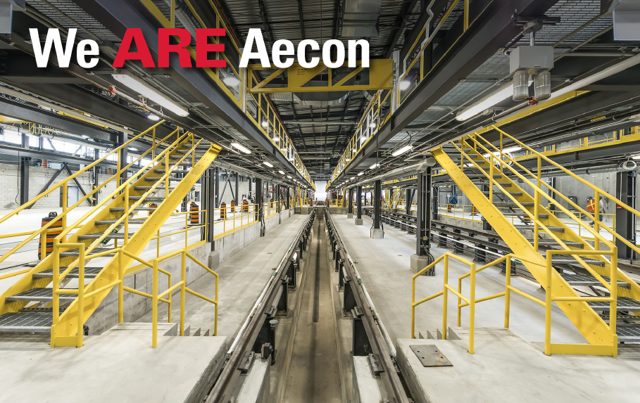 Image source: 2016 Aecon Investor Presentation
Note: All figures in Canadian dollars.
Thesis
The Aecon Group Inc. ("Aecon") (OTCPK:AEGXF) provides investors with a great opportunity to invest in a Canadian company that is fully entrenched in the infrastructure and construction industry both locally in Canada and in international markets. When performing a Graham Analysis on the stock, it is presently undervalued. This, coupled with its strong dividend history and underlying fundamentals, positions Aecon to be a worthy addition to an income-focused portfolio.
Background
Based in Canada, Aecon is a construction and development firm that operates in three key geographic areas - Canada, the U.S., and International (i.e. non-Canada, non-US) - and in four key segments:
Infrastructure, which focuses on construction of public and private infrastructure, in sectors such as:

Rail and Transit
Roads, Bridges, and Tunnels
Hydroelectric
Water Treatment
Aeroports

Energy, which offers site construction, module assembly, industrial construction, and manufacturing, in sectors such as:

Nuclear
Gas Pipelines & Stations
Power Generation
Utilities Programs
Oil Development
Fabrication and Modules

Mining, with a focus on construction services for all aspects of the mining industry (overburden removal, extraction, processing, and environmental reclamation):

Heavy Mechanical Works
Processing Facilities
Fabrication and Modules
Site Development
Contract Mining
Environmental Reclamation

Concessions, which include activities for development, financing, construction, and operation of infrastructure projects. Key activities include:

Project Development
Project Management
Operations and Maintenance
Project Financing
Public-Private Partnerships
While Aecon is making headways outside of Canada, Aecon's revenue is still dominated by the Canadian market, where non-Canadian revenues account for less than 1% of total revenues for 2015 and 2016.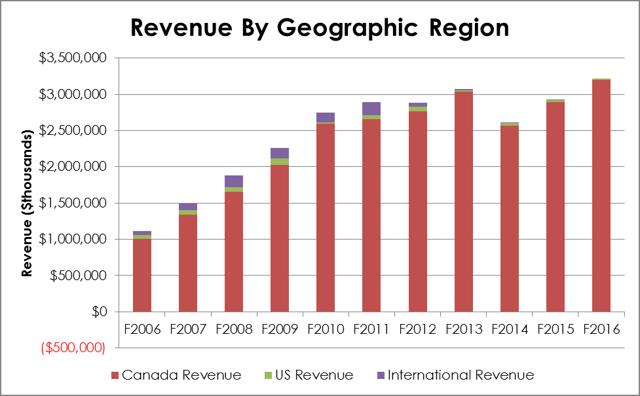 Source: Company annual reports
Due to the nature of Aecon's work, any work it undertakes in one of its four key areas is project-based: The work has a defined beginning and planned completion date. To that end, Aecon's revenue in any given year is based on its active projects, and Aecon's ongoing profitability is driven by its success at being awarded new contracts in the future, and its project backlog, which itemizes revenue that Aecon is reasonably sure to receive in the future. For example, if Aecon embarks on a 10 year project in 2010, in 2016 it records any revenues related to that project in 2016, as well as lists any future revenues for the remainder of that project in its backlog.
In addition to the above, while Aecon takes on a considerable number of projects, where it makes sense strategically it aligns itself with partners and joint arrangements. For the most recent fiscal year (2016), Aecon has joint ventures with other parties for the following projects:
| | |
| --- | --- |
| Project | Percentage Ownership by Aecon |
| Waneta Dam Project | 60.0% |
| IPF Cold Lake and Polaris Pipelines Project | 50.0% |
| Northeast Anthony Henday Drive Project | 22.5% |
| Lower Mattagami Project | 20.0% |
| Port Mann Project | 40.0% |
| OPG Darlington RFR Project | 50.0% |
| OPG Darlington D20 Project | 60.0% |
| Eglinton Tunnel | 50.0% |
| John Hart Generating Station Project | 60.0% |
| Waterloo LRT Project | 51.0% |
| Waterloo LRT Concessionaire | 10.0% |
| Eglinton Crosstown Light Rail Transit Project | 25.0% |
| Eglinton Crosstown LRT Concessionaire | 25.0% |
| Yellowline Asphalt Products Ltd. | 50.0% |
| New Post Creek Project | 20.0% |
| Total: | ~25% of overall revenue |
Source: 2016 Annual Report
Finally, some of Aecon's key projects in Canada include:
JOHN HART GENERATING STATION - British Columbia
NORTH WEST REDWATER STURGEON REFINERY - Alberta
K+S POTASH CANADA LEGACY PROJECT - Saskatchewan
REGINA WASTEWATER TREATMENT PLANT - Saskatchewan
REGION OF WATERLOO'S ION STAGE 1 LRT - Ontario
EGLINTON CROSSTOWN LRT - Ontario
DARLINGTON NUCLEAR REFURBISHMENT PROJECT - Ontario
CAPE SHARP TIDAL PROJECT - Nova Scotia
Source: Aecon Media Kit
Strengths and Opportunities
As discussed in the section on Aecon's background, its revenue in any given year is based on current project work. Because Aecon does not sell an explicit product or service, and its work is primarily project-based, Aecon's backlog is a suitable proxy for expectations of future revenue.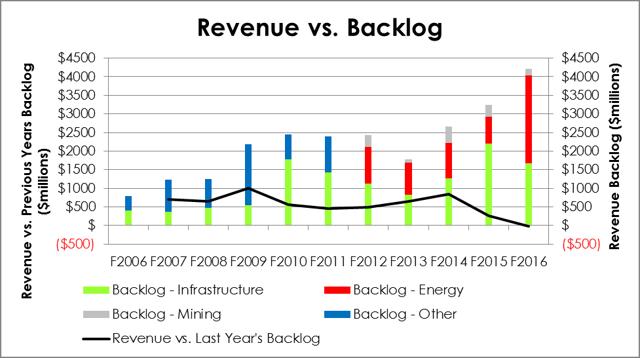 Reviewing historical backlog vs. revenue, as evidenced by the Revenue vs Last Year's Backlog line, except for F2016, revenue has always exceeded backlog from the previous year. Given the current state of the backlog, Aecon's future revenue appears to be safe at this time.
The Concessions segment typically amounts for a very small portion of overall revenue (less than 1% since 2012). Because the percentage of revenues allocated to concessions has been consistently low, "revenue segment risk" can be estimated by focusing on the remaining three segments. Observing the other three sectors, since 2012 there has been a healthy distribution between them. Because Aecon's revenue is generally well distributed amongst three primary revenue streams, to the extent that one stream falters, it should not have a detrimental effect on overall revenue.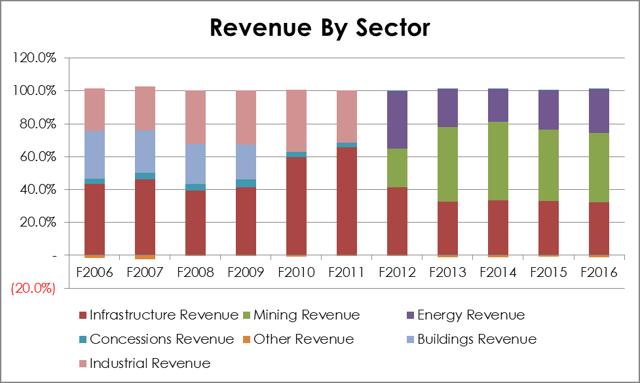 Another key asset of Aecon lies in its employee base. Aecon's work is a commodity service, no pun intended. Barriers to entry are not excessively high (e.g. construction equipment is easily accessible), so its employees are key to its success. To that end, as part of their published business strategy:
Initiatives are ongoing to strengthen practices related to recruitment, training, leadership development, and building a 'performance and learning culture'. Aecon University continues to be an innovative vehicle for employees to access the full range of learning, technical and development opportunities across the Company.

Source: 2016 Annual Report
As indicated in Aecon's annual report, the 2016 Alberta Wildfires impacted the mining segment , where Aecon had "lower volume and gross profit margin in both civil and foundations and contract mining operations, the latter of which was impacted by the Alberta wildfires in 2016" (Source: 2016 Annual Report). However, the wildfires are also an opportunity for Aecon; as they have experience in environmental reclamation, and infrastructure, there are more than likely public sector projects to rebuild Alberta in 2017 and beyond.
Finally, Aecon has vertical integration as one of its key strategic levers in its business plan, where Aecon has the "ability to self-perform services required at virtually every stage of a project, from site clearing to final construction, often including complete procurement services" (Source: 2016 Annual Report). This vertical integration allows for Aecon to bid and execute on projects with little reliance on other parties.
Weaknesses, Risks, and Threats
One of Aecon's key weaknesses is that the majority of its revenues are from Canadian based projects, which means that Aecon is only as profitable as the Canadian economy is strong. Infrastructure revenues are dependent on federal/provincial/municipal needs, such as roads and highways, transit, rail, and aeroports. The mining industry is highly dependent on the strength of the Canadian dollar, and the general strength of the mining sector. That said, Canada's weakening dollar is an added incentive for foreign companies to invest in Canada, particular in the mining industry. Finally, like infrastructure, the energy segment is highly dependent on the economic wherewithal of the country; energy needs (and ancillary needs such as infrastructure/building/maintenance/upgrades) are dependent on overall demand for energy in the Canada.
As mentioned in the previous section, one of Aecon's opportunities lies in work related to rebuilding Alberta after the 2016 Albert Wildfires natural disaster; however, natural disasters also pose a risk to Aecon. In the event of natural disasters or negative environmental considerations (floods, drought, fires, etc.), Aecon's projects could be paused or outright cancelled. Moreover, Aecon's revenues are highly cyclical based on seasonality, which is summarized in Aecon's own words:
The construction industry in Canada is seasonal in nature for companies like Aecon which performs a significant portion of its work outdoors, particularly road construction and utilities work. As a result, less work is performed in the winter and early spring months than in the summer and fall months. Accordingly, Aecon has historically experienced a seasonal pattern in its operating results, with the first half of the year, and particularly the first quarter, typically generating lower revenue and profit than the second half of the year.

(Source: 2016 Annual Report)
While Aecon invests in its employees, the nature of their workforce being significantly unionized poses a risk to overall operations. Aecon is highly susceptible to the probability of labour strike(s), and due to the bargaining power of the unionized environment, there may be additional costs (no pun intended) due to wage rates.
Finally, the biggest risk with Aecon lies in its ability to successfully win contracts for which it bids. As discussed in the background section, Aecon's revenue backlog is a suitable proxy for future revenues in the near term (e.g. looking forward one to three years). However, because Aecon's work is project based, future revenues are only as good as the projects for which they are the successful bidder.
Financial Strength and Profitability
When reviewing the financial strength and profitability of Aecon, I consider the following factors:
Revenue backlog
Revenue growth
Earnings per Share
Debt ratios observed through the short term asset to debt and current ratios
Free cash flow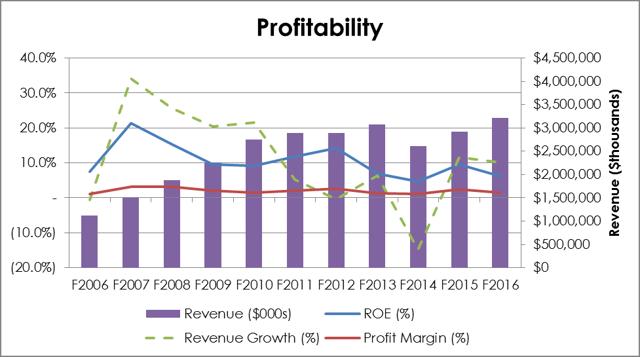 The revenue backlog was discussed in the background section. Given that the F2016 backlog is in excess of $4.5million, and that the backlog provides a proxy for the minimum expected future revenue, Aecon's revenue appears sound. Moreover, Aecon's revenue as a whole has generally been trending upwards, illustrated in the above graph. There are some concerns over ROE and net profit margin, which have been trending downwards or trending flat, respectively. However, in the face of EPS, which is generally trending upwards, there should be no immediate cause for concern; that said, ROE should be revisited in 2018.The ultimate indicator of profitability is still cold, hard, cash, and in that regard Aecon is generally positive; except for 2010, it has always been cash flush vis-à-vis positive free cash flow.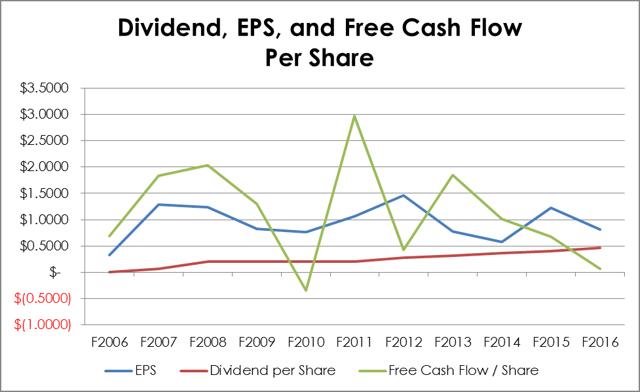 When reviewing Aecon's debt exposure, I observe two ratios: short term assets to short term debt, and the current ratio. Short term assets are defined as all current assets (i.e. items which can readily be converted to cash), less hard-cash, and short term debt is de-facto debt (i.e. current portion of long term debt, plus direct bank indebtedness). Generally speaking, the higher this number, the better, as it speaks to Aecon's ability to pay off current debt in the near term. Evidenced by the red line in the graph below, except for F2014, this ratio has been consistently > 10x, indicating that Aecon has $10 in current assets for every $1 in current debt.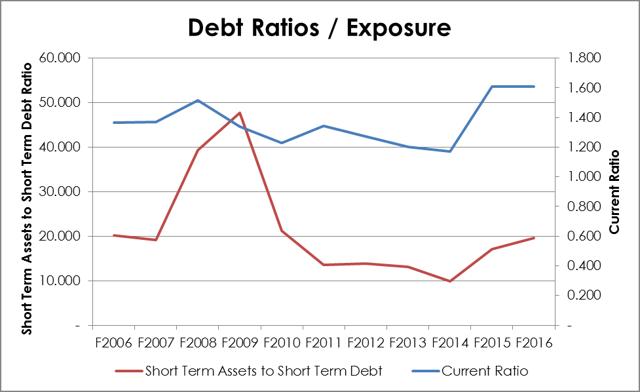 The current ratio measures aggregate current assets divided by aggregate current liabilities (i.e. it does not distinguish between "pure debt" and "liabilities," and typically this ratio should be greater than 1.5 (i.e. current assets are at least 1.5x current liabilities). Historically Aecon has been below this threshold, but in recent years (F2015, F2016), it has exceeded 1.6, which speaks to the strength of its balance sheet.
Stock Price and Dividend Performance
If looking for companies that provide opportunities for capital appreciation, Aecon may not be the best fit for a portfolio. While the share price has an impressive 8.14% compound annual growth over the past 10 years, it still trends relatively flat.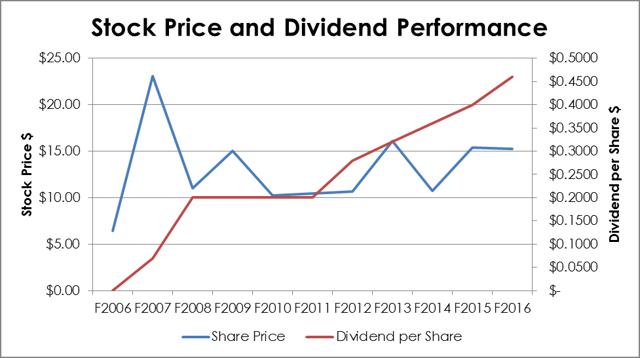 However, dividend performance is where the company shines. Illustrated in the below graph, since introducing its dividend in F2007, Aecon has provided investors with a 20.72% compounded annual rate of return over the past 9 years. That said, the dividend payout ratio has been slowly trending upwards. This is not necessarily a need for concern at this point, but over the dividend payout ratio should be revisited in 2018, based on F2017 financials.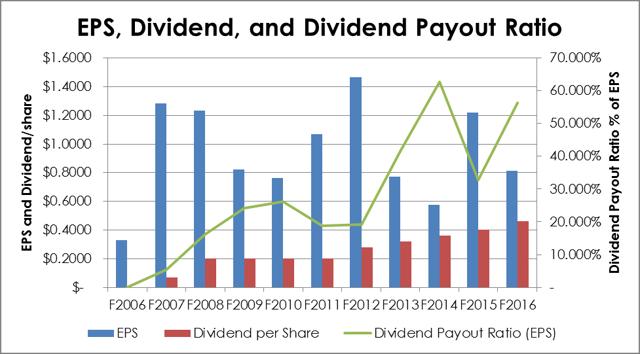 Graham Analysis
The final part of our analysis leverages criteria outlined by Benjamin Graham:
Criteria

Threshold

Value

Strong financial condition as measured by current ratio

Greater than 1.5

1.61

Earnings Stability measured by number consecutive years of positive EPS and negative EPS

Most recent 3 years positive

No more than 1 year of negative

Pass

Dividend Growth

Minimum CAGR of 2%

20.72%

Share Price Growth

Minimum CAGR of 3%

8.14%

EPS Growth

Minimum CAGR of 3%

8.65%

Moderate P/E, P/BV, or P/E × P/BV

P/E < 15 or P/BV < 1.5 or combined < 22.5

Currently combined is 21.91
The above table summarizes the other elements of analysis in previous sections, with the exception of the P/E, P/BV, and P/E × P/BV values. Typically, upper thresholds for the P/E and P/BV are 15 and 1.50 respectively, or a combined threshold less than 22.50. The combined threshold allows for one of the metrics to exceed the maximum threshold, provided the other is sufficiently below the threshold. Based on the F2016 results, the combined ratio is 21.91, less than our maximum threshold of 22.50.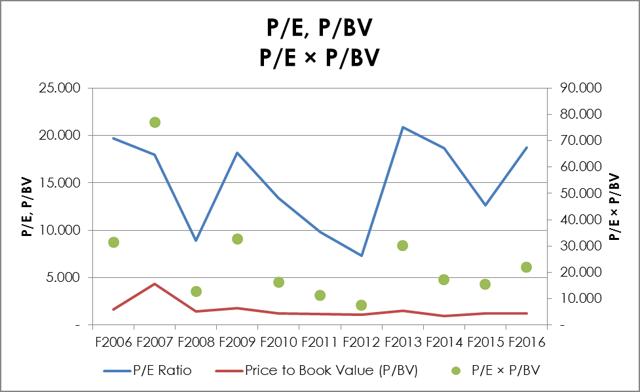 Moreover, based on the April 24, 2017, closing price:
| | |
| --- | --- |
| Forecast | Value |
| Current Price | $16.19 |
| MRQ Book Price | $13.02 |
| Mean Fwd EPS | $0.95 |
| Current Dividend | $0.50 |
| Dividend Yield | 3.09% |
| TTM P/E | 17.0421 |
| TTM P/BV | 1.2431 |
| P/E × P/BV | 21.1854 |
| Max Price | $16.68 |
Based on the mean analyst estimate for F2017, the EPS for F2017 is $0.95. Taking into account the most recent quarter's book value, the combined P/E and P/BV ratio is 21.19. We can reverse this process as well, which gives us a maximum price of $16.68 for the stock. Based on the April 24, 2017, closing price of$16.19, the stock is presently undervalued, providing a margin of safety of approximately 3%.
Recommendation
Aecon has a number of strengths and opportunities that it can leverage, to ensure it maintains adequate revenues in both the near and the long term. While there were a number of risks and weaknesses discussed, none of these risks or weaknesses are necessarily new. In fact, Aecon's ability to grow EPS at a compounded rate of 8.65% over the past 10 years is a testament to its ability to ride out external factors such as the 2008 financial crisis, and the Alberta wildfires. Moreover, excluding 2010, Aecon's gross profit margins being consistently greater than 9% further reinforces the ability of management to manage the business in the face of changing economic conditions.
For those looking for long term dividend growth, Aecon provides a strong candidate to accentuate the returns of an income-focused portfolio. Its increasing dividend payout ratio raises some concerns, which would warrant revisiting the stock in 2018 based on F2017 financials. Given that the stock passes all Graham criteria, I would normally rate this a strong buy, but with the increasing dividend payout ratio, and flat stock performance in recent years, I am rating it a buy.
Disclosure: I/we have no positions in any stocks mentioned, and no plans to initiate any positions within the next 72 hours.
I wrote this article myself, and it expresses my own opinions. I am not receiving compensation for it (other than from Seeking Alpha). I have no business relationship with any company whose stock is mentioned in this article.
Additional disclosure: I am majority shareholder in a private Canadian corporation which holds a long position in Aecon.
Editor's Note: This article discusses one or more securities that do not trade on a major U.S. exchange. Please be aware of the risks associated with these stocks.