There was plenty of good news in Glu Mobile's (NASDAQ:GLUU) FY17 Q1 financials, which were the company's strongest set of quarterly results for two years.
Beating the high point of guidance by $14 million, with bookings up 19 percent quarter-on-quarter and 28 percent year-on-year to $69 million was the impressive headline.
GAAP revenue (bookings minus deferred revenues - the latter are typically accounted for over a 90 day period) was up 23 percent quarter-on-quarter or 4 percent year-on-year to $56.8 million.
Small wonder Glu stock is approaching $2.50, a level it's only breached once, at that briefly, in nine months.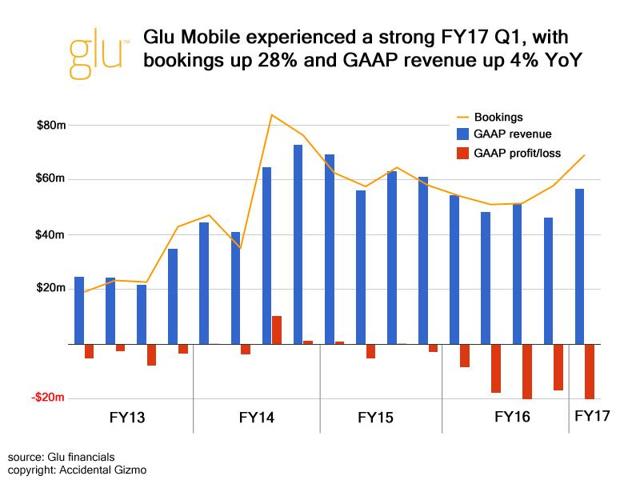 (source: graph created by author from company reports)
The star driver of this performance was Design Home, which produced its first full three-month period of revenue. As it launched in November 2016, FY16 Q4 only recorded two months' performance.
Even on that basis, Design Home dialed up its success significantly, moving from $6 million of bookings pro rata ($4 million in FY16 Q4) to $14.9 million. And Glu expects this level of growth to continue.
Indeed, over the coming quarters the company is looking to aggressively invest in marketing the game, with annual advertising spending expected to more than double in FY17 to as much as $80 million.
'It's a magical opportunity,' GLU CFO and COO Eric Ludwig commented in the analysts' call.
The result is Q2 booking guidance of $71-73 million, which on this level looks beatable, and uprated FY17 guidance of $280 - $290 million (from $215 - 225 million).
Or half empty?
Yet, as long term Glu watchers/investors know, this isn't the first time the company has found itself with a bonafide hit on its hands with little to show for it. The legacy of $200-million-game Kim Kardashian: Hollywood (released in 2014) still hangs heavy on the company's fundamentals.
It hasn't posted GAAP profit for seven quarters and over the past four years has only had four profitable quarters.
This was the case again in FY17 Q1, with Glu posting a GAAP loss of $22.8 million, compared to $17.2 million in FY16 Q4..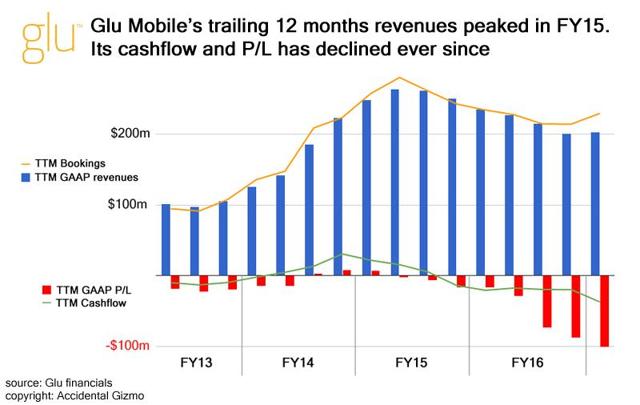 (source: graph created by author from company reports)
Marketing expenses were up $3 million quarter-on-quarter, and there was a $3.7 restructuring charge. But it was the drag of royalties, mainly minimum royalty guarantees from a slate of failed games (Katy Perry, Britney Spears, Rival Fire) that continues to haunt its balance sheet.
Glu started FY17 with $26 million of such liabilities and paid off $14 million in Q1. Yet after three quarters of generating small cash flow from operations, Q1 was a disaster with $14.9 million used to fund operations, although this was partly down to Apple's payment schedule.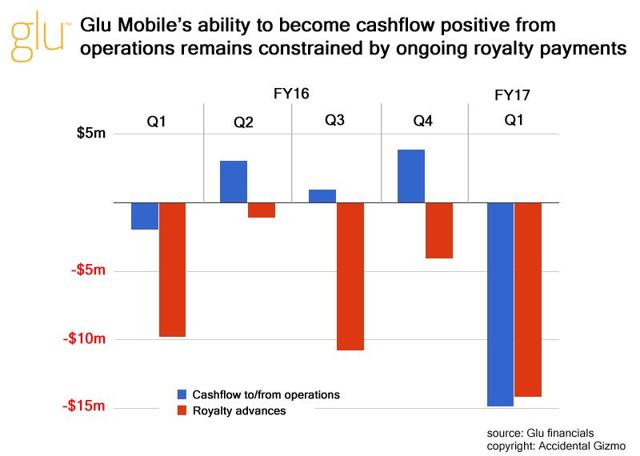 (source: graph created by author from company report)
For this reason, Glu's cash and equivalents total took a $29 million hit, ending at $73 million, although Ludwig reiterated guidance that despite additional spending the company would end FY17 with at least $60 million in cash.
With overall operating expenses at a record high of $54.5 million, up 26 percent quarter-on-quarter or 32 percent year-on-year, the dilemma is can Glu ride its new growth curve while keeping a tight lid on costs?
At this point, it's worth noting the planned increased marketing spend isn't a cost problem. Mobile game marketing (aka user acquisition) is a highly data-driven process with the cost of installs closely monitored to ensure return on investment in terms of in-game purchases.
Unless something goes horribly wrong, Glu's fear won't be wasting its marketing war chest on non-spending users. Its fear will be not being able to spend its war chest because it can't find enough high quality users at the right price.
And, more generally, Glu's company structure remains volatile. It's gone through several redundancy rounds, shutting down North American studios and shifting some low-level work to its cheaper Indian and Russian facilities.
But, at the same time, it has increased headcount by 90 thanks to the Crowdstar acquisition, and is currently on a high profile recruitment drive for creatives leaders. This strategy of new CEO Nick Earl also will see Glu spending around $5 million on a new San Francisco office later in 2017.
Of course, this is small-scale spending compared to the potential upside, but others will suggest loss-making companies should be more frugal and probably not be combining COO and CFO positions.
Strength in depth
Aside from such considerations, though, perhaps the most significant element of Glu's Q1 financials was the surprising underlying strength of the company's long tail products.
Given it has been a mobile game developer and publisher since before the iPhone and App Store launched, Glu has a lot of what it refers to "Legacy" titles. These 80 or so games are not being actively maintained and so offer high margin revenue, albeit on a declining trend.
One step up are 60 or so "Evergreen" titles, which under Nick Earl's direction, Glu's recently been working hard to update. The evidence from FY17 Q1 is that as well as managing their decline, on occasion Glu has been able to grow revenues.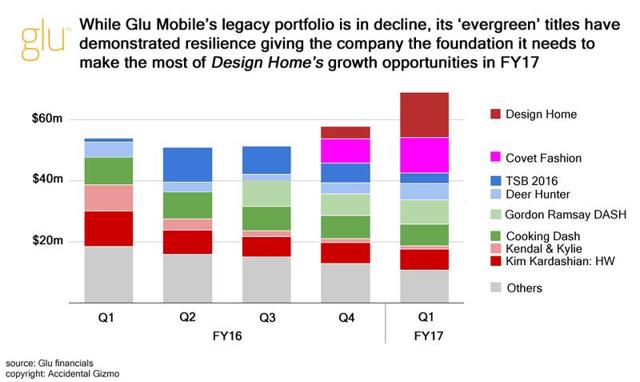 (source: graph created by author from company report)
The best example is Deer Hunter 2017, which despite its fresh-sound name, was originally released in 2015. Thanks to a new underwater-themed update, quarterly bookings were up $1.7 million to $5.3 million. Similarly Gordon Ramsay DASH's bookings rose $0.9 million to $7.9 million quarter-on-quarter.
When revenues can't be increased, just halting the decline gives Glu a strong foundation. Kim Kardashian: Hollywood's bookings were static quarter-on-quarter at $6.9 million, while the original version of Deer Hunter maintained its $1.3 million of quarterly bookings.
More extreme cases can even be turned around. Racing Rivals was a $40 million title for Glu in FY15 but a terrible FY16 saw that slip to $23 million. Since then the development team have been fired and the game handed over to a new startup, which has boosted Racing Rivals back toward the top 100 grossing charts. Its FY17 Q1 booking total of $2.9 million should be improved in Q2.
The road ahead
And looking toward the next quarter suggests more reasons Glu should beat guidance.
One of the company's strongest performers in FY16 was Tap Sports Baseball 2016, which to-date has generated lifetime bookings of $32 million, including a peak of $11.3 million in FY16 Q2.
It's since been superseded by the licensed MLB Tap Sports Baseball 2017, which launched at the end of the Q1 period and hence doesn't feature in terms of bookings this quarter. Glu hopes the addition of the MLB license will increase the game's revenues, albeit at the cost of profit margin given it will have to pay royalties.
Nevertheless, MLB Tap Sports Baseball 2017 will add double-digit bookings to Glu's Q2.
However, this isn't to say traders and Glu bulls have the ascendancy. While FY17 promises strong growth, investors and Glu bears will continue to point to the company's structural volatility and lack of anything approaching profitability as an going warning sign against long-term success.
The argument remains delicately balanced.
Disclosure: I/we have no positions in any stocks mentioned, and no plans to initiate any positions within the next 72 hours.
I wrote this article myself, and it expresses my own opinions. I am not receiving compensation for it (other than from Seeking Alpha). I have no business relationship with any company whose stock is mentioned in this article.