The first time I purchased Extra Space Storage (EXR) was late 2013 for approximately $47.00. At that time I was more into chasing a fast nickel than a slow dime, and I set a personal price target of $50.00 within 5 months. I figured, I'd collect a couple dividends and earn $3 per share in capital gains. Easy peezy.
After only a few months that felt like years of a declining share price, I sold for a loss. I remember thinking, "I don't have the patience for this. I'm losing capital every day. I'm out." So I sold in early 2014 losing about $3 per share.
Approximately 5-6 months after I initially bought my stake, the share price rose to $50. My impetuousness cost me dearly. The share price continued its torrid run years later all the way north to $94 before the latest pullback to a more reasonable $72 today.
Do I regret I sold? You're damn right I do. Show me an investor without regret and I will show you a fool destined to repeat his errors. I've grown to accept regret as a necessary reflection mechanism. The quote below resonated with me as a renewed disciplined long-term investor.

Source: Image
In cycling they call a very challenging ride a sufferfest, and in May 2017, REITs across the board are experiencing their (what seems like annual) sufferfest. I'm not the most seasoned investor, but I've lived through enough of these to understand that during these moments of indiscriminate selling, it is best to be prepared with your shopping list ready. It's getting very close to that time to add to my holdings and below are a few that I will be layering into as share prices continue to drop.
I like the self-storage industry since that is where my father made a good chunk of money as a small operator in Colorado. He explained that when times were good, folks bought more "stuff," as George Carlin used to say. They need a place to store that stuff. When times were bad, folks would downsize and need a place to store the stuff they had acquired. It was a win-win. That is not say that self-storage facilities are immune to cyclical changes, but historical results speak for themselves. Quite simply, it's a great business to be in because it's inherently American to acquire more "stuff."
1) Extra Space Storage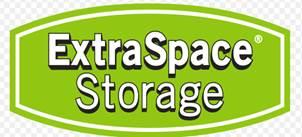 Extra Space is the second-largest operator of self-storage facilities in the United States. Extra Space is geographically diverse with properties in 38 states housing 103 million square feet of rentable space. Last week the REIT posted earnings growth of $1.03 FFO vs. $0.86 the year before. Occupancy rose 80 basis points while opex dropped 2%. This trend built on the previous quarter, which saw same-store revenue up 5.2% and FFO of $1.03 vs. $0.87 the previous year.
When you visit the website you notice how sharp and clear everything is. This was no accident. Extra Space claims that 80% of customers interact online before entering into a transaction. Since customers have multiple operators to choose from, emphasizing the online and mobile experience engages new customers and helps retain previous ones. It is little things like this that can differentiate one operator from another and it solidifies Extra Space as an industry leader.
The dividend growth has been incredible rising 680% in 5 years. The next increase is slated for later this month. With a current yield of 4.25%, even a muted 10% increase will generate a yield-on-cost of 4.7% at $72.50. Morningstar recently issued a note on the stock assessing fair value at $86.00. The past 12 months have not been kind to this REIT as evidenced in the chart below (via Schwab). I am looking for EXR to revisit the lows and I began purchasing shares at $72.00. I will add to my share count below that level.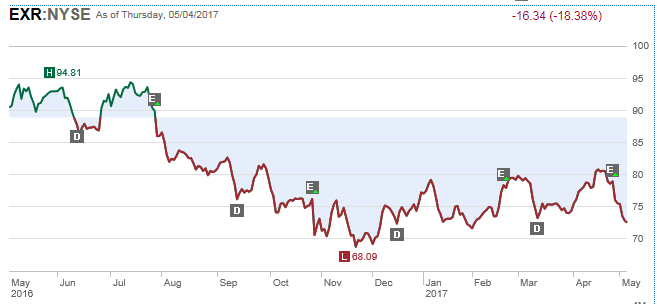 2) Public Storage (PSA)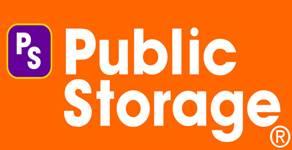 Public Storage is the premium operator in the self-storage REIT space commanding approximately 7% of the national market share. I think of Extra Space and Public Storage as the twin titans or the Verizon (VZ) and AT&T (T) of the self-storage world. Instead of selecting one (as with telecom) I choose to ride both horses for diversification sake.
Public Storage also releases quarterly earnings recently. PSA earned $2.34 FFO per share this quarter compared with $2.10 the year before (an 11% increase). Net operating income rose 4.1% y/y despite occupancy dipping slightly at 93.1% compared with 93.8% the previous quarter. Over the last 5 years revenues and profit have risen in tandem as demonstrated below.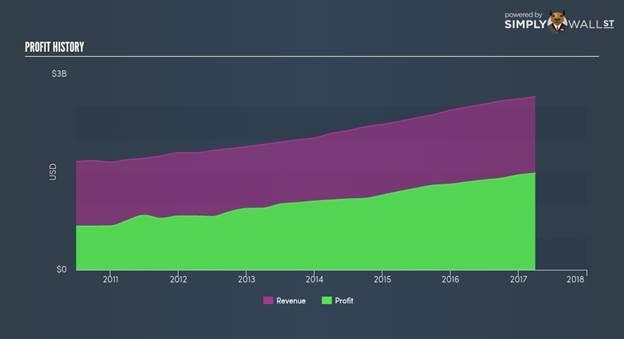 Source: simplywall.st
Additionally, the daughter of the founder (who owns over 10% of the company), Tamara Gustavson, purchased a sizeable chunk of shares late last year at $215 which is a vote of confidence. The share price currently hovers around $207 yielding nearly 4%. Since September 2013, PSA has raised its dividend from $1.25 quarterly to $2.00. Good for a 60% rise. I expect PSA to continue to raise the dividend sustainably in the years ahead.
PSA has a unique and advantageous capital structure with its many issuances of preferred shares. I scooped up some of these investment grade preferred shares last year when treasury yields blasted off after Donald Trump's election. Morningstar notes, "Public Storage has benefited from redeeming callable preferred shares and reissuing at lower rates…the reissuance of preferred shares in recent years and various other sources to fund capital leaves Public Storage in a strong financial position." For those curious, Morningstar has assessed fair value at $237.00. I have yet to purchase any common shares, but on a break below $200 I will be buying with market orders.
3) The final REIT on my radar is Simon Property Group (SPG).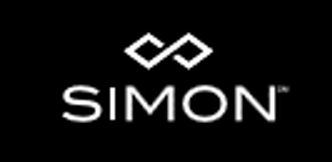 I gotta be honest, I hate malls. I hate strip malls. So listing the preeminent leader in retail real estate as number three on my REIT shopping list is a bit of an odd choice. The entire retail sector unnerves me as an investor (except for the bellweather Nike). I don't own shares of Wal-Mart (NYSE:WMT), Macy's (NYSE:M), Target (NYSE:TGT) or any other retailer or grocer. But I won't let my personal aversion stand in the way of a golden opportunity to own some of the real estate. And that is what is transpiring as Simon Property Group flirts with breaking below $165.
Simon leases space to almost 3,000 brands in 37 states, serving 3 billion customers annually. Brands come and go, but having Apple (AAPL), Nike (NKE), Microsoft (MSFT) and Starbucks (SBUX) around should allay some fears that brick and mortar is obsolete. Even those names may decay over time, but someone new will be ready to replace them. The VCR and DVD player didn't bankrupt the box office, and (come to think of it) SPG benefits from the cinemas housed in its malls.
Simon's FFO grew from $2.63 per share last Q1 to $2.74 per share this year. Occupancy remained very high at nearly 96%. The company has also been busy retiring shares, purchasing nearly 900k last quarter alone. This trend was consistent with the previous quarter's growth as FFO rose to $2.53 per share from $2.40 a year earlier. Simon repurchased 1.4M shares over that period.
Morningstar issued a report recently, slapping a $206 fair value to the stock. They had the following to say, "Simon's assets are located in demographically favorable markets that are attractive to top tenants that require presence in more profitable distribution channels." Morningstar elaborates that Simon is not immune to the turmoil of recent industry trends, however when you research the property locations you feel a bit more at ease. Luxury locations include San Diego, Tempe, Charlotte, Boston, Miami, Orlando, Palo Alto and Las Vegas. These are pretty strong and resilient markets that should remain in-demand for some time.
I initially purchased shares of Simon's preferred stock, which yielded over 6% the past few months. However, that is highly unusual for me since I prefer to buy preferred shares and bonds below par whenever possible. The preferred stock commands a BBB+ investment grade rating and doesn't mature for another decade so it is another option to consider if you want a safe place to park your capital. I am watching the common ticker currently and buying shares below the $165 level.
Conclusion:
I am not confident that I have seen the last of regret. But I am confident that the mistakes that precipitated those regrets will not be repeated. It was a shortsighted error to sell Extra Space years ago and I will err on the side of patience this time around. My yield on cost would be much more fruitful had I just…done…nothing. Except click the DRIP button in my brokerage account. Instead, I will be buying shares at a higher price but still a fair price given the strong financial health of each of the companies listed above.
Mid-quality REITs are selling off. Low-quality REITs are selling off. High-quality REITs are following suit. My focus is on taking advantage of this selling and prepping my shopping list to deploy capital in high quality names generating dependable returns. I am unafraid of averaging in as the indiscriminate selling accelerates. Certain companies deserve a whack to their share price but those listed above are casualties, and therefore, opportunities. I will never buy at the lowest point. But I don't have to in order to aggregate a respectable cost basis when the annual REIT selloff rears its ugly (or is it beautiful?) head.
Disclosure: I am/we are long EXR, PSA, SPG.
I wrote this article myself, and it expresses my own opinions. I am not receiving compensation for it (other than from Seeking Alpha). I have no business relationship with any company whose stock is mentioned in this article.