Non-farm payrolls printed a healthy number of 211,000 new jobs created. However, looking at that number exclusively does not tell the broader picture of employment in the United States; it is too linear. Looking at productivity gains, wage growth and unit labor costs tells a dramatically different story when you look at employment; the future may not be as rosy as the headline non-farm payrolls picture paints. Jobs data has the potential to deteriorate going forward.
Adding new jobs to the payrolls is a good thing. But, what do those jobs cost and how does a firm profit from new jobs? Those questions are what an entrepreneur deals with when looking to expand their firm. In the case of payrolls, the amount of productivity of each employee is important. But, if the costs of having that employee continue to rise while the amount of output declines the math dictates that you slow down employment growth.
Wage growth is increasing. Inflation is increasing. However, inflation is increasing faster than wage growth. This is forcing employees to turn to employers and ask for more.
Personal incomes have risen 4.51% year-over-year. Not bad. The bigger picture is this: Since 2008, income has increased 35%. According the Bureau of Labor Statistics, during that same period of time, productivity gained 48.66%. However, Unit Labor Costs have risen 56.83% during the same period. Individuals are producing more and more goods, for sure. That is what the productivity gains are showing. However, the cost of producing those goods has risen, and eclipsed the pace during the same period of time. And, the bigger surges in Unit Labor Costs have occurred over the past two year period of time; this year's gains in unit labor costs alone are 6.71%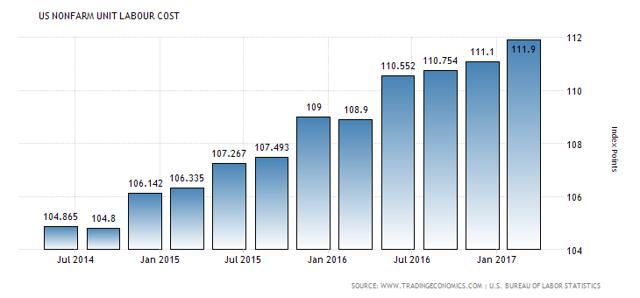 Business will need to do two things in the future to ensure their competitiveness. There needs to be more investments into productivity gains. This will ensure they are ahead of the curve and can keep costs under control. However, these investments incur costs themselves so the benefits need to outweigh those costs.
The other issue is containing unit labor costs from a wage standpoint. Personal incomes have increased over the year approximately 4.51%. Inflation is increasing more with a year-over-year pace of 2.4%; this, down from 2.7% the month before. If overall wages continue to Increase but productivity delivers lower-than-desired results then firms will need to take action and trim their costs. This is what I am focusing on.
The consumer already appears to be extended beyond their capacity. The recent credit releases from the Federal Reserve show there have been sharp increases of credit being extended to consumers. However, Capital One Financial Corp. (NYSE: COF) released their earnings for the past quarter showing that the consumer is not only extended beyond their capacity but has begun to default on their payments, something that I found to be a very telling sign. The consumer is the driving force of the economy. If the consumer begins to taper off, which we have already begun seeing with declining retail sales, then firms will take action to reduce staffing. At the same time, given that the employees are costing more to firms while producing less, and I believe the future looks dim for payrolls going forward.
Jobs are a lagging indicator. Today's release is solid given the economy where it was a few months ago. But, with the current economic state jobs data will start to decline. The financial markets will follow suit.
I am intently watching personal income and consumption with a special emphasis on retail sales. The later has seen the declines the past two months. We have not gotten the numbers for this month yet. If the trend continues then businesses will begin reacting.
In the meantime, I see no reason why businesses will be adding large numbers of employees to their payrolls if productivity does not increase and simultaneously costs do not get under control. This does not mean there will be wholesale firings in the future from this. Instead, I believe that costs will be addressed with the intent of lowering them. However, the inflation numbers will also need to be contained. If there are significant gains in inflation in the near term, businesses are going to start to feel that with employees either demanding higher wages or looking elsewhere to move up the economic ladder. Until costs get under control I do not see firms adding more to their payrolls.
At the same time, if firms were to start investing more into productivity gains this would improve the overall situation. But, those investments take time to see any results.
There is a constant interplay with these economic variables. For now, though, I see the cost side winning. The combined cost increases with the lack of productivity is going to be a drag on the economy in the future. It is simple mathematics: If hiring a new employee costs more than they can contribute, then a firm will not hire a new employee.
Disclosure: I am/we are short SPY, S&P 500.
I wrote this article myself, and it expresses my own opinions. I am not receiving compensation for it (other than from Seeking Alpha). I have no business relationship with any company whose stock is mentioned in this article.