Overview
Nonfarm payrolls are a critical data point for market watchers chronicling the health of the labor market and providing a leading indication for inflation and spending. The data points are released the first Friday of every month and include several key indicators including: nonfarm payroll adds, unemployment, labor force participation, average hourly earnings and hours worked.
April Nonfarm Payrolls by the Numbers
April nonfarm payrolls beat our estimates (211,000 vs. est. 166,152) suggesting that the labor market remains robust. Job gains were broad based as even the beleaguered retail sector added jobs after several months of declines.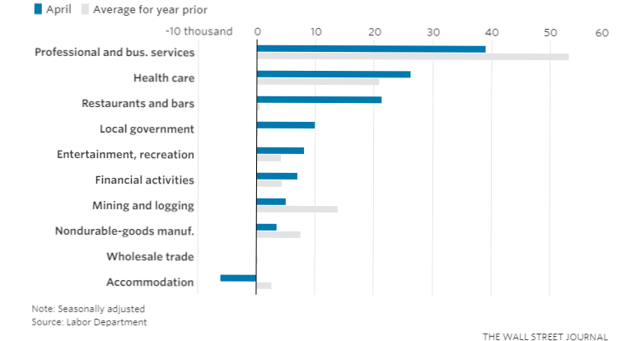 Source: WSJ
Strong April job growth suggests that prior weakness in March was likely transitory and may provide ample support for a June rate hike next month.
Other indicators suggested similar developments. Average hourly earnings increased 2.5% to $26.19 bolstered by a tight labor market. Earnings improvements were seen throughout a majority of sectors, but occurred at a slower pace than expected. Continued gains in earnings will be essential to supporting inflation expectations and interest rate hikes. Thus far, wages have yet to fully power inflation though some effects have been felt.
Weakness has persisted in the labor force participation rate as it was unchanged from the prior month but remained 0.5% higher since December. The stubbornly low labor force participation rate underscores secular demographic trends occurring throughout the developed world. The ebb and flow between retiring workers, job additions, and declining marginally attached workers will likely limit improvements in the LFP going forward.
Unemployment Rate Declines
The unemployment rate declined to 4.4% besting our estimate of 4.66% suggesting that full employment has yet to be reached. We have noticed declining unemployment rates across a majority of sectors.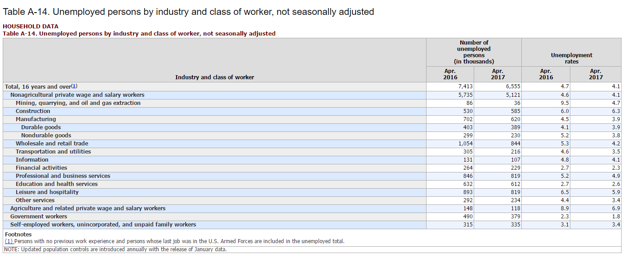 Source: BLS
The declines in manufacturing and mining unemployment rates have supported job additions and put downward pressure on unemployment. Furthermore, they indicate strength in the sectors after 2 years of weakness that acted as a drag on growth and inflation.
Despite declining sector unemployment rates, workers that have left the workforce may also be fueling unemployment declines.
Source: BLS
The number of citizens not in the workforce increased by nearly 300 thousand in the prior year driven by declines in marginally attached workers. Declines in marginally attached workers have likely pressured the unemployment rate. While we would attribute a healthy share of growing employed workers to have contributed to unemployment declines, an increasing number of workers leaving the workforce may have a similar effect on unemployment. The primary difference, however, is that employment adds put upward pressure on inflation while workers leaving the workforce may limit the impact.
Conclusion
Strength in employment will be critical to supporting future rate hikes and spending growth. Positives include growing wages and declining unemployment while negatives include weak productivity and labor force participation. April's nonfarm read has forced upward revisions of ~7,500+ to our nonfarm payrolls estimates for Q2. Ultimately, the strength in payroll figures and declining unemployment may provide enough firepower to a hawkish Fed as a tighter job market will be assumed to be inflationary. The Fed must take notice at what is driving falling unemployment to avoid overplaying their hand.
Disclosure
This article contains the opinions of BlackVault Investments and in no way is acting as an offering and/or solicitation of securities or investment advice.
If you have any questions, feel free to leave them in the comment section or message me directly. Thank you for reading and good luck to all.
Disclosure: I/we have no positions in any stocks mentioned, and no plans to initiate any positions within the next 72 hours.
I wrote this article myself, and it expresses my own opinions. I am not receiving compensation for it (other than from Seeking Alpha). I have no business relationship with any company whose stock is mentioned in this article.