According to a Reuters report, Pierre Andurand, who runs Andurand Capital, liquidated his last long oil positions on May 5th. The fund had lost 8.5 percent, $130 million, in the first two months of 2017, prior to the large drop in oil prices in March, implying it was highly leveraged.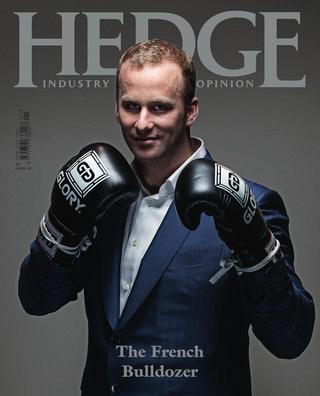 Since the end of March, crude prices have dropped another ten percent. With the leverage he had in the first quarter, that would imply an additional loss of 20 percent. But the report said he had been reducing his positions over the course of 2017, so it is unclear how much money he lost based on his flawed long oil thesis.
One writer nominated him for the "next Andy Hall prize." Andy Hall had lost about 60 percent ($3 billion) of his $5 billion fund from 2012 to 2015, and made a small recovery in 2016.
I had written a note to my Premium members on Seeking Alpha on April 26th entitled, "Why Andurand's Bull Oil Thesis Will Fail'" and published the note to all SA readers on May 4th.
My article specifically addressed a recent letter to investors obtained by Bloomberg, which stated, "He's still betting that slowing Middle East production and declining U.S. fuel inventories show prices are headed higher."
Several readers pointed out that his long-term thesis had more to do with depletion and decline rates. My interpretation is that he may have realized that the market is focusing on shorter-term issues than that. This was also reminiscent of Andy Hall's thesis that crude oil prices would go to $150 by 2020 as shale oil production dropped off.
Losses May Have Forced the Issue
If a hedge fund loses thirty percent or more, investors can normally terminate their investment. Perhaps more importantly, in the hedge fund world, it demonstrates a lack of effective risk management. That is in line with my thinking "Why It's Foolish to be Bullish (All the Time) In Oil."
Andurand was reportedly one of the oil traders consulted by OPEC members prior to the November 30th agreement about what it would mean to come out of the meeting without an agreement. And so perhaps he also knows something from his OPEC contacts about the upcoming May 25th meeting.
Conclusions
I wrote - with regard to extending the deal - "Why OPEC is Damned If They Do, Damned If They Don't". I suggested a counterintuitive proposition that OPEC may be able to deplete excess inventories faster by not extending the cutbacks. The reduction in output has supported oil prices, enabling production in the U.S. to rise quickly, as well as to hedge future production.
Perhaps an extension is not a "foregone conclusion," as stated by Harold Hamm, CEO of Continental Resources (NYSE:CLR). It seems to me that if Andurand knew they would extend the cut, he might not have liquidated his long positions in their entirety twenty days before the meeting.
For more information about my Premium service on Seeking Alpha, click here.
Disclosure: I/we have no positions in any stocks mentioned, and no plans to initiate any positions within the next 72 hours.
I wrote this article myself, and it expresses my own opinions. I am not receiving compensation for it (other than from Seeking Alpha). I have no business relationship with any company whose stock is mentioned in this article.