In a previous article, I had a look at Boeing's (BA) earnings and my conclusion was that I was not particularly impressed with the earnings report as core performance remained below my expectations. The strong beat, in my view, was primarily driven by a lower tax rate. In the article, however, I might have given the impression that I was bearish on Boeing - but this is not the case.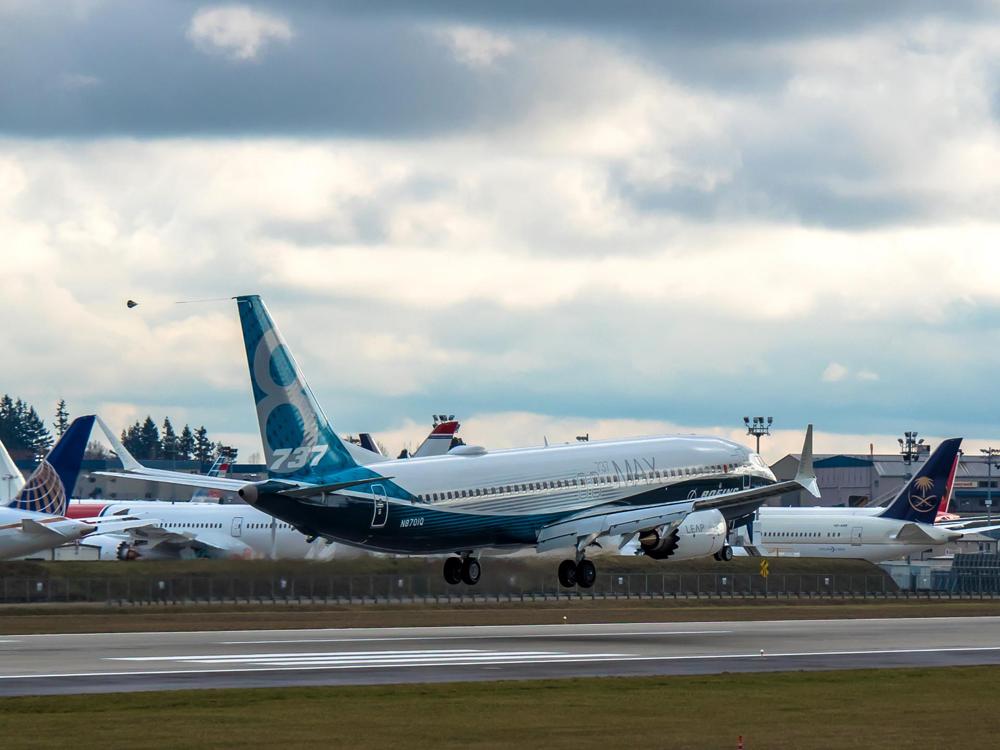 Source: www.imgur.com
In this article, I want to have a look at what makes Boeing an attractive investment for your portfolio after all.
Cash flow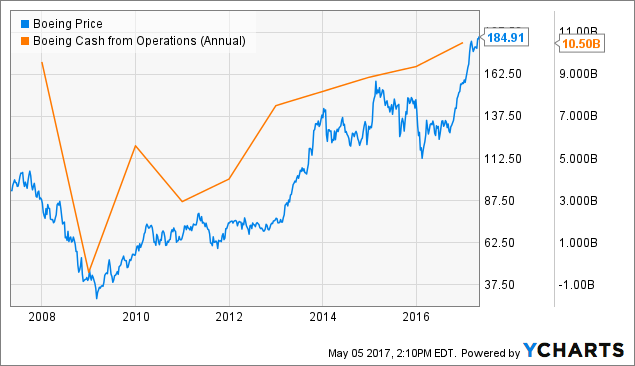 BA data by YCharts
Boeing's stock prices move with cash flow and currently the direction of operating cash flow is strongly pointed upwards with the Boeing 787 being a main driver of that cash flow in the coming years.
Starting in 2019, Boeing will be increasing production rates for the Boeing 737 program which will drive and compensate for lower cash flow on the Boeing 777 program. Simultaneously the Boeing 787 cash profile will continue to grow towards traditional margins for the production of aircraft and the Boeing 787-10 will be added to the delivery mix.
Boeing 787
With rates for the Boeing 777 coming down in the coming years, the Boeing 787 will need to provide the cash to realize cash flow growth.
In its earnings call Boeing's CFO, Gregory D. Smith, said the following about the Boeing 787:
…over the long term, we continue to focus on improving 787 cash generation, driven by favorable delivery mix, internal productivity improvements, and additional supplier step-down pricing.
This shows that the Boeing 787 will be driving growth without the need to increase production. In the first quarter Boeing showed strong performance on turning the Boeing 787 more cash positive. This strong improvement bodes well for the company and the possibility of increasing rates should be considered a boost on top of the already strong cost improvements on the program.
Boeing is also still eyeballing bringing the production rate up to 14 aircraft per month. While this would be an additional boost for Boeing's cash flow profile, I consider it to be a bit risky. At 12 per month, Boeing continues to increase efficiency on the program. An indication of the importance of the Boeing 787-10 was shown in the words of Boeing's CFO during the earnings call when he said that the 3rd Boeing 787-10 unit costs were already in line with those of the Boeing 787-9.
Boeing 737 MAX
Another cash driver should be rate increases on the Boeing 737 program and introduction of the Boeing 737 MAX.
The Boeing 737 production will be increased to 47 per month later this year to 52 per month in 2018 and to 57 per month in 2019. So before 2020, production is set to increase by 45 aircraft per quarter.
Additionally, I expect that despite higher costs for the turbofans the Boeing 737 MAX will return some more profit to Boeing on a unit basis.
Core efficiency
In the first quarter Boeing's operating margin was 8.5%, which is not a figure I was very happy with. One thing that should be mentioned is that the KC-46A tanker program applied pressure of $140 million during the quarter, which Boeing expects to be a one-off item. In light of Boeing considering this being a one-off item, it is worth to see where margins would have stood excluding the added tanker costs.
Excluding charges, BCA [Boeing Commercial Airplanes] earnings from operations would be $1,335 million on a revenue of $14,305 million or an operating margin of 9.3%, which would be an improvement year-over-year with one-off items are excluded.
For the Boeing Defense, Space & Security division the pressure was $20 million. Excluding this absorbed cost, the margins would be up 0.2 pts to 11.6%. So, if we strip the impact of one-off items, the underlying efficiency was strong and more indicative of Boeing's targeted margins throughout the year.
Move into spares and monitoring
Boeing has set a goal to generate $50B in revenues. I think that is highly aspirational but with Boeing setting up its services and parts division later this year, I do expect them to do things at least more efficiently.
Lower corporate taxes
Something that holds for most companies aiming to expand profits is striving for lower corporate taxes. Currently Boeing has guided on an effective tax rate of 31% for the year. The Trump administration wants to lower this tax rate to 15%. Companies such as Boeing are to benefit from this, but there is the possibility that it will come at the cost of debt accumulating even faster for the US. The ultimate goal of the lower tax rate is to grow the companies and allow US companies to support more (American) jobs, but ideally this should not increase the US deficit.
A reform of the tax system is required, but slashing rates altogether could eventually cripple the US economy, which will affect defense as well as commercial sales to Boeing.
Conclusion
If you invest in stocks for their cash flow, I think Boeing is a must-have stock. Despite lower production rates for the Boeing 777, the company will see operating cash flow grow through efficiency improvements on the Dreamliner program and increased production rates on the Boeing 737 program probably coupled with marginally higher profits.
This does not include the positives of the expected growth in the Defense arm; the possibility of higher Dreamliner production (which I am currently not expecting); the quarterly dividend of $1.42 that might be increased even further in the coming years; or a possible cut in corporate taxes.
In an article from March, I pointed out that a range of $180-194 would be reasonable based on price-to-earnings figures, while cash flow figures even suggest that the price could head north of $200.
Given the positives that I highlighted in this article, I think there still is upside left for Boeing solely based on efficiency improvements this year and a major boost in the coming years can come from a reform of the tax system and deregulation.
If you would like to receive updates for my upcoming articles, please click the "Follow" text at the top of this page next to my profile.
Disclosure: I am/we are long BA.
I wrote this article myself, and it expresses my own opinions. I am not receiving compensation for it (other than from Seeking Alpha). I have no business relationship with any company whose stock is mentioned in this article.