I have never really liked the twin deficit of the U.K. Moreover, the U.K. economy has been plagued with a lot of uncertainty due to the Brexit vote as of late. No real turmoil has been observed yet and I hope it will not materialize either. However, in case it will, I would like to be well prepared to buy into some undervalued retail banks if the opportunity presents itself. For that reason, I will start studying the U.K. retail banks and compare them for you.
Measured by the number of current accounts, Lloyds Bank (NYSE:LYG) is by far the biggest retail bank in the U.K. The top-5 retail banks hold 85% of all the current accounts in the U.K. So the U.K. banking sector is not very concentrated (like Greece), nor very dispersed (like Germany).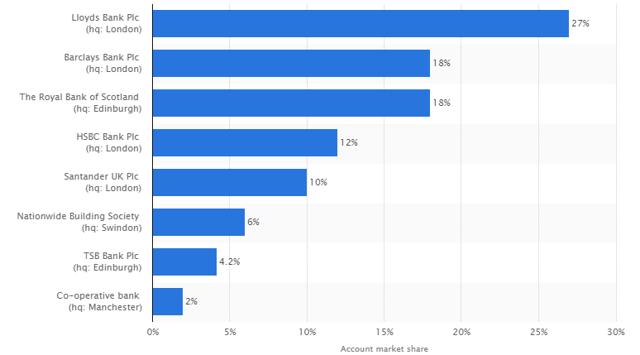 Source: Statista
Capitalization & Liquidity

Source: FY2016 annual reports
From a risk-weighted perspective (CET1), Lloyds bank is the best capitalized although all banks seem to be in comfortable territory. From a pure equity point of view (leverage ratio), HSBC (NYSE:HSBC) is best in class but again all banks seem to do fine on this measure. I feel comfortable with the capitalization levels overall.
During normal circumstances, a healthy Loan/Deposit ratio swings around the 90%-110% level. At first glance, it appears Santander U.K. (NYSE:SAN) has too much deposits while HSBC has to few (although HSBC could be a special case because of the many business lines). This is worth some further investigation.
Profitability & Efficiency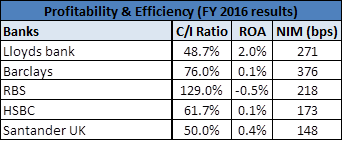 Source: FY2016 annual reports
The cost-income ratio of Lloyds bank is best in class, closely followed by Santander U.K. However, it should be added that the results of RBS are very volatile and thus the figure is not very accurate. Barclays (NYSE:BCS) has a big services business, which traditionally produce higher C/I ratios. So these factors also 'distort' the C/I ratio. Find below the revenue origination for the banks, to get an idea of what I mean:

Source: FY2016 annual reports
Lloyds bank produces the best returns on assets by far and Barclays has the best net interest margin overall. Surprisingly, Lloyds, RBS (NYSE:RBS) and Santander U.K. are all very U.K. focused but have very different NIMs. I might dive into this in a follow-up article.
Asset quality

Source: FY2016 annual reports
Barclays and Santander U.K. have the least amount of non-performing loans. Despite the fact RBS has the highest number; it's NPL ratio of 3% is still quite OK. My first conclusion is that the loan books of all five banks seem to be in a healthy state. The coverage ratio of Barclays is the highest by far. However, it is very important to place this in context with the underlying loans. If the loan book is mostly filled with relatively safe mortgages (high collateral value, historically low default rates etc.) a coverage ratio of 40% might be more than enough. On the other hand, if your loan book is full of risky loans without collateral, then a coverage ratio of 80% might even be too low. So it will take another article to figure out whether management has been conservative provisioning non-performing loans.
Valuation
Santander U.K. has been omitted from this part of the analysis as it is not publicly traded (100% owned by the Santander Group).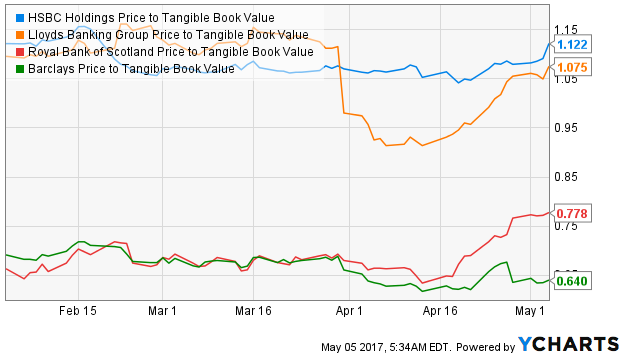 None of the U.K. banks covered in this article is trading at 0.5x Tangible Book value (which is normally my threshold, found here and here). The only time when I will deviate from this rule is when a bank is exceptionally well managed and has a strong market position. For now, only Lloyds Bank checks that box. But even then I would demand a discount to tangible book value which is currently not the case.
My take
At first glance, Lloyds bank feels like the 'Wells Fargo of the U.K.' and will be on my list for further research. RBS will pass my first filter as well, but for valuation reasons. I will pass on Barclays and HSCB. Figuring out a basic retail bank is hard enough and these two banks are just too complex for my taste (trading activities, very international etc.).
Disclosure: I/we have no positions in any stocks mentioned, and no plans to initiate any positions within the next 72 hours.
I wrote this article myself, and it expresses my own opinions. I am not receiving compensation for it (other than from Seeking Alpha). I have no business relationship with any company whose stock is mentioned in this article.