Earnings per Share
AIG (NYSE:AIG) reported financial results on Wednesday, May 3, for the quarter ended March 2017. The Non-GAAP EPS of $1.36 was the highest since the $1.39 posted QE June 2015. The four-quarter average is a mere $0.20 because of the massive -$2.72 loss in the prior quarter ending December 2016.
The GAAP EPS of $1.18 is the highest since the QE June 2016 ($1.68) and the four-quarter average of just $0.08 is entirely due to the loss of -$2.96 last quarter.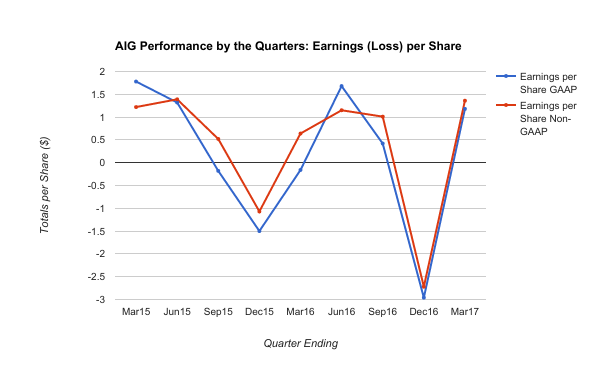 Earnings per Share Year Over Year Growth Rate (%)
The Non-GAAP EPS for the QE 3-31-17 of $1.36 was a very strong +112% increase year over year, from $0.64. This is the third consecutive YoY EPS increase for Non-GAAP, after four consecutive decreases. The most recent four quarters now average an encouraging +31%.
For GAAP EPS, the YoY increase was an astronomical +837% from a loss of $0.16 to earnings of $1.18. There have now been four consecutive quarterly increases, after four previous quarterly decreases.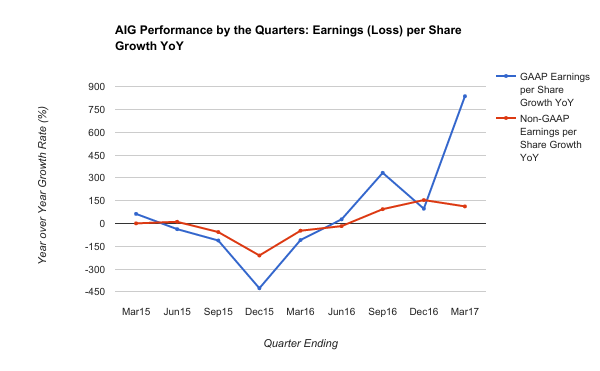 Revenues
Non-GAAP operating revenues were $12.8 billion for the quarter ending March 2017 which is the lowest in several years. AIG will need to post higher revenue numbers plus continue reducing expenses as noted by CEO Peter Hancock, "we achieved our two-year expense-reduction target of $1.4 billion three quarters ahead of schedule."
Revenues for March QEs are consistently lower than December QEs. Therefore, this QoQ decrease of -11% in operating revenues was expected and in line with the QE March 2016 decrease of -10%. The YoY was a decrease of -0.54%.
GAAP net revenues were $12.6 billion for the quarter ending March 2017, a YoY increase of +7% and QoQ decrease of -3%. However, compared to the $18.4 billion in the prior year quarter ending March 2016, this was a decrease of -12%. GAAP net revenues have been trending downward for many years and YoY growth has been negative for 8 of the past 10 quarters!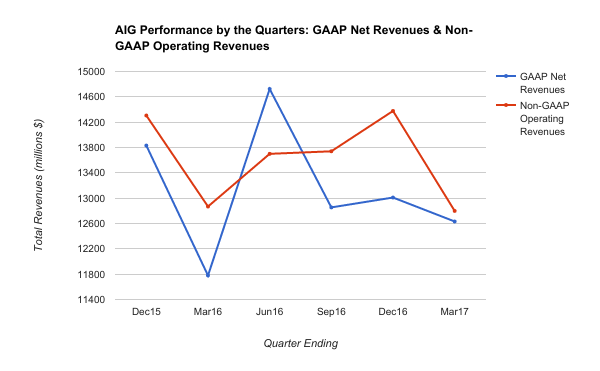 Return on Assets
GAAP return on assets have hovered around the 0.00% mark for the past five quarters. In 2013, 2014, and into 2015 the return on assets was above 1.00%. Therefore, there has not been an improvement in the earnings maximization of assets.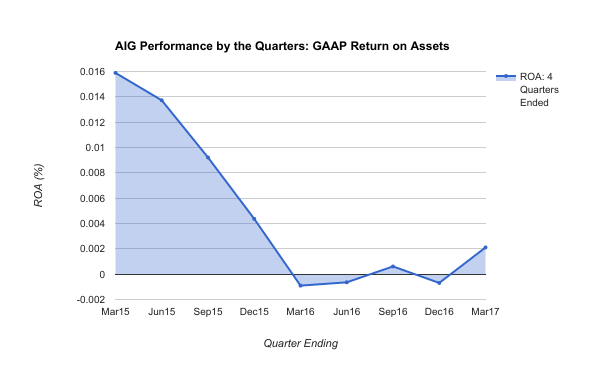 Asset Mix
Asset mix has deteriorated slightly for the past three quarters showing a recent downtrend in investments, the earning assets. Investments were $315.5 billion or 63.1% of total assets at QE 3-31-17. A recent peak for investments was $356.8 billion or 68.5% of total assets for the QE 3-31-15.
In prior years, AIG consistently exceeded 65% back to 2012. Further in the past, AIG consistently exceeded 70%! Therefore, assets are not being deployed as profitably as in the past. The recent trend is down and well below historical standards.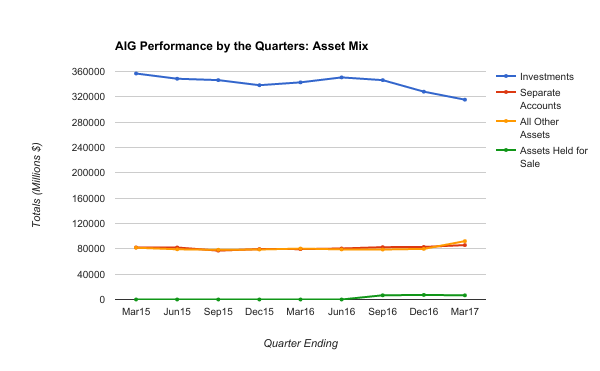 Other Issues
CEO Succession: Investors await the announcement of a replacement for CEO Peter Hancock, who resigned in March but continues in his position until a successor is named. Management would not comment on the pending employment of a new CEO during the recent earnings call.
Restructuring: There have been so-called transformative actions and a realignment of AIG operations. Some actions have already occurred, but not much can be said about any future actions by anyone at AIG until a new CEO is named.
Conclusion
Financial Performance: Non-GAAP financial performance improved this quarter ending March 2017 and earnings per share has rebounded. GAAP financial performance has basically tracked with Non-GAAP recently. Normally the cyclical nature of AIG's financial performance would indicate next QE 6-30-17 would be comparable to this QE 3-31-17. However, the imminent restructuring impact remains to be seen.
Revenues: A reversal in the long-term downtrend in revenues would be encouraging. There is only so much expense that can be decreased for higher profits. At some point revenues will need to be increasing.
Financial Position: Financial position is adequate with a capital to assets ratio of 14.9%, which is significantly less than the 17 quarter average of 18.7%. This is another long-term downtrend that needs to be reversed, but the large stock repurchase program probably prevents this. A.M. Best rates both AIG Life and Non-Life Financial Strengths an "A", which is excellent. However, the Fitch Outlook is "negative" and the A.M. Best Outlook is "Under Review Negative".
Dividends & Stock Repurchases: AIG declared a dividend ($0.32) on May 3, which is now approximately a 2.0% annualized yield. Net stock repurchases, the capital return program, is massive and outlined in the next paragraph..
Capital Return Program: Per the latest press release, "In the first quarter, AIG repurchased 56.0 million common shares for $3.6 billion. Through May 3, 2017, AIG has repurchased an additional 18.1 million common shares for $1.1 billion. On May 3, 2017, AIG's Board of Directors authorized an additional increase to its previous repurchase authorization of AIG Common Stock of $2.5 billion, resulting in an aggregate remaining authorization of approximately $3.8 billion on such date." AIG now has returned $18 billion of the $25 billion target in capital return to shareholders.
Stock Price: AIG stock reached a post-financial crisis closing high of $67.20 on January 10, 2017, at this writing is about 7% below that peak, and is negative for 2017. This strong earnings report should reverse the downtrend. The stock has been in an overall downward trend and struggled since the December peak. The bottom may be in with this most recent earnings report, but the upward trend may be slow.
Stock Evaluation & Opinion: With a stock beta of 1.33, an inordinate rip or dip is possible which makes this a stock interesting for shorter-term fast traders. As an intermediate-term to long-term investor, I consider AIG stock to be a Hold. I am neutral on AIG stock, compared to negative or positive. What the financial performance will be after a new CEO is named and the impact of further restructuring remains to be seen. There are better financial performances to invest in for stock profits.
(Graphs created by author using data from AIG)
Disclosure: I/we have no positions in any stocks mentioned, and no plans to initiate any positions within the next 72 hours.
I wrote this article myself, and it expresses my own opinions. I am not receiving compensation for it (other than from Seeking Alpha). I have no business relationship with any company whose stock is mentioned in this article.