India ETF products have received over $200 million of net new inflows in 2012 and why not? The performance of unleveraged India ETFs is between 22% - 49% year to date. A single iShares' India ETF, INDY, has benefited the most gaining almost $110 million in new assets - more than the next two ETFs combined. It is interesting to note that the best performing India ETFs in 2012, SCIF and SCIN, have together only gained $8 million of interest. Here's the chart from Index Universe's Fund Flow Tool.
To put ETF flows into context, one must review the year to date performance chart of all India ETF and ETN products. This year, the best performers aren't necessarily the best asset gatherers. Just take a look at WisdomTree's (NASDAQ:WETF) single India offering and flagship ETF, EPI. EPI is the first and largest India ETF and has outperformed iShares' INDY by almost 600bps year to date. Unfortunately it has lagged INDY in fund flows by a wide margin. This is a red flag for WisdomTree and an encouraging sign for iShares who has launched two new India ETFs year to date: SMIN and INDA.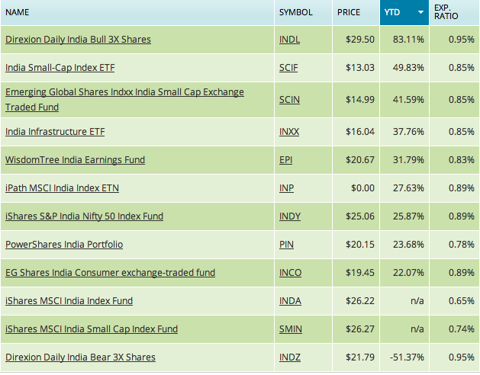 Source: IndiaETFs.com 3/1/2012
Disclosure: I have no positions in any stocks mentioned, and no plans to initiate any positions within the next 72 hours.
Additional disclosure: Christian Magoon is publisher of IndiaETFs.com.