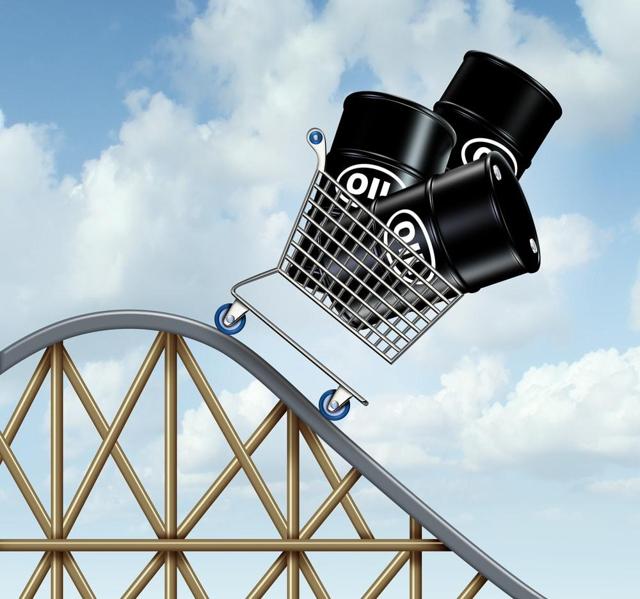 Source: Stock Photo
It wasn't difficult to foresee the recent and inevitable collapse of the price of oil. Watching responses from those long oil suggested they were getting more nervous as time went on concerning the weak support coming from the production cut deal initiated by OPEC.
In the past, when there was no meaningful U.S. shale industry, OPEC and others could cut oil output and generate a predictable result, although an enormous amount of cheating on agreed upon quotas during those cuts would at times distort the market and its response.
With shale having disrupted oil so thoroughly, and it being confirmed by oil price support not reaching expected levels, it was only a matter of what catalysts, or group of catalysts, would put significant downward pressure on oil.
In my view, the one major catalyst that is hidden in plain sight, and which may have the impetus behind the plunge in oil prices, is the fact oil inventories typically draw down during this time of the year. When the very low decline in stockpiles was reported, it pointed to it being much weaker than the general market understood.
The so-called smart money understood it, which is why they appeared to flee their long positions in a knee-jerk reaction.
Almost everything was already priced in
Before I get into the impact of seasonal inventory expectations, investors should consider that almost everything has already been priced in. The one exception is shale oil supply. Why I assert that is we simply have no idea as to how quickly and to what level shale producers are going to boost production and supply for the remainder of 2017.
Shale is generally priced in, but the goal posts continually have to be moved because of how rapidly output is rising. Shale oil has to be analyzed using more of a sliding scale than an exact number.
Not only are more rigs in play, but those rigs represent a lot more production and supply than even a year ago, and add to that the improvement in well productivity, and not only is there the will to raise output, but to do so at lower costs and higher levels of supply.
A rig and wells are no longer what they were in the recent past, and that makes it difficult to know where oil production will end by the latter part of 2017. Some may assume it's priced in, but that's only because of awareness of the industry, not the accurate assessment of what it'll produce in the near term going forward.
Concerning the production cut deal, the market already assumes it'll be extended.
With output from Canada and Brazil being visible, the other major factor outside of how many wells are completed by producers operating in the U.S., is if Libya can maintain domestic stability and raise supply levels by another 400,000 to 500,000 barrels per day by the end of 2017, which is its stated goal.
That said, the market is still very aware of all this, and it's doubtful any of these things were the major catalysts behind oil longs abandoning a significant percentage of their positions.
Although we have no idea how fast and to what level shale oil production will rise, the market is aware it'll continue to do so. For that reason alone, I am looking outside the obvious to the less obvious, which is why I think the seemingly disproportionate response of the market to a low inventory draw down, was in reality one that reflected an understanding of the risk it represented to oil.
Seasonal effect
An analyst was cited by Bloomberg concerning this, noting that "Crude inventories fell, because they always do at this time of year." This is far more important than it appears on the surface.
The point being made was U.S. stockpiles didn't even drop by 1 million barrels over the last week, at a time when low demand should have represented a lot steeper drawdown, if for no other reason than seasonal weakness in crude and gasoline demand.
What this implies is the anemic shrinkage in crude inventories, when measured against seasonal past performances, is likely to result in inventory levels climbing in the months ahead, even with the busy U.S. driving season approaching.
At the very least, the market's response to the low and slow decline in stockpiles made investors with long positions very nervous, with my assumption being concerns over weak demand and rising U.S. production having a stronger influence on oil prices over the next four months or so than it has recently had.
Conclusion
I see exports, crude inventory levels, and demand as three major catalysts to watch closely. Also important will be whether or not a decline in stockpiles is basically offset by an increase in petroleum product inventories.
With exports, the weak decrease in U.S. stockpiles would mean they continue to be robust. This would underscore the strong probability that demand may not be as strong as it was projected, or there's still a lot more oil being supplied to the market than thought.
One thing is for sure. U.S. crude inventories should have dropped a lot more than they did based upon historical seasonal demand. Since it didn't, speculators that were long oil took that as the tipping point to get out of their positions.
If this plays out over the next month or so in the same way, oil prices will continue to drop, even though the initial and most deep response is probably already over. If oil prices continue to fall, it'll probably be more steady and incremental, rather than steep and quick, as the market just experienced.
Having said that, if U.S. inventory levels remain strong this week, we could see one more strong sell-off. I don't think the drop would be as steep as the last week, but it could still be significant. Afterwards, if stockpiles remain high, that's where I see more of an incremental pressure on the price of oil.
Disclosure: I/we have no positions in any stocks mentioned, and no plans to initiate any positions within the next 72 hours.
I wrote this article myself, and it expresses my own opinions. I am not receiving compensation for it (other than from Seeking Alpha). I have no business relationship with any company whose stock is mentioned in this article.