Sure Dividend, an SA contributor, posted last month that investors need not worry about Disney (NYSE:DIS) seeing declining subscribers in its Media Networks segment. Sure Dividend then ironically posts the following table, straight from Disney's official annual report: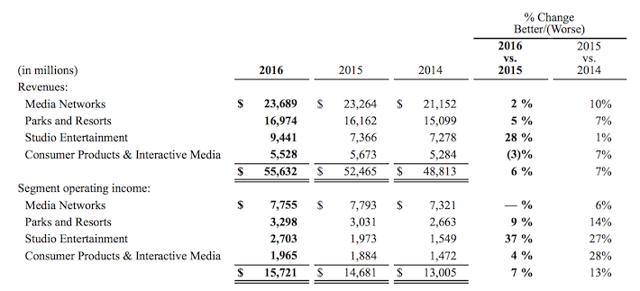 The above image shows Media Networks to be Disney's biggest signal revenue source. That, to Disney investors, is hard to decouple with the statement of "don't worry." Working out the numbers shows Media Networks to be one-third of the company's operating profit.
Media Networks numbers are not the only ones falling: This week the stock price took a significant hit on the back of Disney's placement of blame on ESPN, specifically. The company is pruning ESPN's staff and cutting other costs in an effort to save the margins of this segment. The timing of this move seems both too late and too early.
Too late: Sports, like weather, has been dying in its natural ecosystem: The television. The internet has made it redundant in many respects, allowing fans to easily obtain highlights, thereby removing the main selling point of Sports Center. It also gives fans direct access to a larger variety of games, often at lower costs. Cord-cutters have known these facts for quite some time, and the mainstream is becoming increasingly aware. The death process was present several years ago, and the peak is already in, making the cost-cutting seem a bit late.
Too soon: This pruning process comes almost immediately after ESPN's securing of better costs on both sides of the transaction. ESPN exchanged a mere 10% drop in subscriber guarantees to 80% from 90% for higher carriage fees. Not only that, but the fees ESPN has negotiated for sports rights have decreased. What's more, ESPN negotiations have taken the network to 100% penetration, being offered in all cable packages. ESPN's dominance in the market has allowed it access to wider distribution, lower costs, better prices, and more privileges - and these actions have led to punishments on part of Disney.
Effect on Earnings?
On what level will this hurt Disney when it reports earnings in three days?

Anything related to earnings is my business, as SA's resident earnings forecaster. On the meta-level, the ESPN worries are counterbalanced with an influx of revenue from successful movie releases. Notably, we have a new Guardians of the Galaxy movie opening right before the earnings report.
This doesn't mean, however, that you must rush to buy (assuming you're looking to gain exposure to the movie). Disney's movies have a lag time of about one month before they are fully priced into the stock. You also have to question whether the statistically significant gains expected to come over the next month will override the reaction of the stock that is attributable to declining Media Networks revenue.
Seasonality
More factors, such as whether Disney's dismal summer seasonality will once again disappoint investors: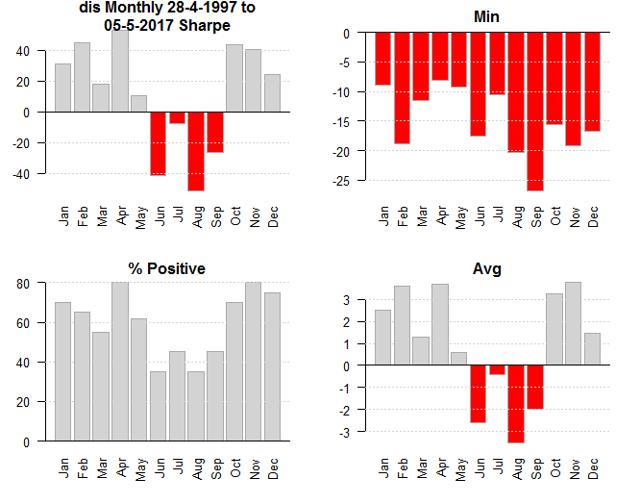 But the most important prediction you can make at this point is whether the earnings report will give you access to a discount (i.e., buying opportunity) or premium (i.e., the realization that now was the buying opportunity). The in-depth earnings predictions I make in Exposing Earnings are typically on the scale of thousands of words, so here, I'll do my best to simplify the process and give you the most important pieces of information for making the above prediction. The first piece of information is hidden in the chart above.
Disney usually posts its Q2 earnings report in May, a month that has a relatively low Sharpe ratio but an objectively high gain probability. In addition, we see a positive but low average gain next to a small maximum loss. In short, Q2 is not an especially exciting month for Disney earnings, and the average report brings somewhat decent gains.
The Options Market Speaks
The options market can give us some insight, as that is where the speculators place their money and where we can analyze Disney's volatility:

The options market correctly predicted last quarter's earnings report, with a large spike visible in the call market despite little to no change in the put market. This time, we see a spike in puts, though not as large as the call spike last quarter; it is also paired with a slight rising in call buying.
Option Pricing: Volatility Crush
Also important is the option pricing: Statistical volatility is significantly lower than the implied volatility, which means options are more expensive than they really should be. We always see a volatility crush after an earnings report, so when options are expensive before an earnings report we should be short volatility instead of long. This means that if we are to play options on Disney's earnings report, we should ensure we are short options as well as long; this allows us to capture profit in the volatility crush.
Running a backtest on Disney's price movements on news events, including earnings events, I find the company to be a slight under-reactor. This explains the slow pricing-in of movie releases after the fact and also supports a short volatility trade: Disney will likely not move as much as the options market is pricing in. The options market is currently pricing in a mere $3.66 move, and my data shows Disney is likely to move even less than that amount.
Conclusion
When you do the math, we expect Disney's earnings reaction to be a mere blip on the charts. My conclusion, which is a boring one, is that Disney's earnings will not be a huge opportunity for profit and for the most part can be safely ignored.
That said, if you want to play it, be short volatility. As for predicting direction, know that Disney almost always beats on EPS predictions: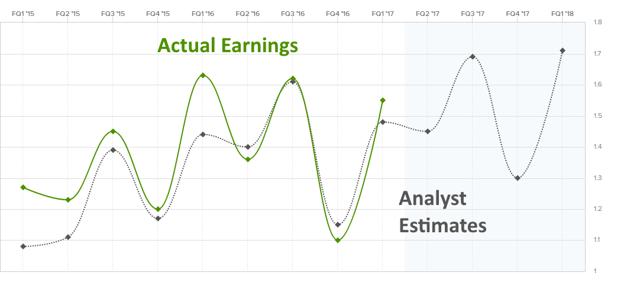 However, like 40% of stocks, an EPS beat does not imply a stock rally. Disney sees roughly one-third of its EPS beats lose out to selloffs. Management's statements issued with the earnings report and in the earnings call are important for this reason.
We cannot predict what management will say, but we can predict how they will talk about specific topic. On the topic of movies, management is likely to be bullish, as they usually are, and this is reflected well in the stock.
This article began with mentioning ESPN, which is where I think our advantage as Earnings Exposers lies. Because Disney is already in the process of cutting costs for ESPN, management will respond to concerns surrounding this issue with a discussion of its plan and current actions. This is bullish for the stock, as research has shown that a company can underperform numerically but still see its stock rally on an earnings report if that underperformance is met with a clear, tangible plan (instead of excuses or mere hope that things will get better).
The Play
The predictability of management's words, the seasonality of May, and the timing of the earnings report (right after a big release) lead me to believe that the options market is incorrect in predicting a selloff and that Disney will rise on earnings. Yet, as previously stated, I don't expect a large percentage change in the stock. Still, if you are playing options, a $2 or $3 move can equal some nice spending cash, especially if you add a short volatility position.
Here's my recommended play, if you play:
Buy Jun16 $115 call
Sell Jan19 $130 call
This is a diagonal spread that puts you short vega (brings $10 profit for every 1% drop in implied volatility) and long delta (mimics being long 15 shares of DIS; this value changes, increasing until DIS passes $130, when the profitability of the trade maxes out). Remember that DIS prices in earnings with a lag, so you might want to let the trade run. If you prefer stock for the sake of dividends, your play will be to hold 15 shares of stock instead of the long call option.
Happy trading.
Note: Get my articles as soon as they are published by clicking the big orange "follow" button at the top of this page. Make sure you choose "real-time alerts." Trade alerts sent through "Copy My Trades."
Note: All unlabeled figures were created by me. I used R to pull data directly from Yahoo and ADVN. Charts with blue backgrounds are from Etrade Pro. Fundamental charts from a paid subscription at simplywall.st.
Gap Trading
I built my trading career on gap trading. See this quick guide for 11 ways to trade gaps.
Upcoming Earnings Predictions
Exposing Earnings - click here for my earnings predictions.
Considering joining us? Check out the info page.
Have questions? Contact me.
Disclosure: I/we have no positions in any stocks mentioned, and no plans to initiate any positions within the next 72 hours.
I wrote this article myself, and it expresses my own opinions. I am not receiving compensation for it (other than from Seeking Alpha). I have no business relationship with any company whose stock is mentioned in this article.