AstraZeneca (NYSE: AZN) last week received an FDA approval for oncology drug Imfinzi, a checkpoint inhibitor that serves as a second-line treatment for a common type of bladder cancer. Imfinzi is the fifth checkpoint inhibitor to hit the market and the third in the bladder cancer indication with more competition. Can Imfinzi become a market leader - or could the drug help AstraZeneca even with a weaker performance compared to the competition from Merck (NYSE: MRK) and Eli Lilly (NYSE: LLY)?
The Bladder Cancer Market
Bladder cancer will appear in an estimated 79,030 new cases in the United States this year. The cancer is over three times more likely in men than women and 90% of newly diagnosed patients are over the age of 55 with a first-time diagnosis average age of 73. Urothelial carcinoma is a type of bladder cancer that accounts for the majority of bladder cancers.
But Imfinzi wasn't approved as a first-line treatment for urothelial carcinoma. The drug was approved for patients with locally advanced or metastatic cancer, also called Stage IV cancer, that haven't responded well enough to platinum-containing chemotherapy. Stage IV bladder cancer has a 5-year survival rate of around 15% compared to the 88% survival rate of those in Stage I. So the checkpoint inhibitors for late-stage bladder cancer could become the last best hope for these patients.
Checkpoint Inhibitors: A Race for Indications
Imfinzi was the fifth approved drug in a class commonly called checkpoint inhibitors. The immune system has to check to tell whether a cell is healthy or foreign and in need of attacking. The PD-1 protein on the surface of T-cells serves as a checkpoint that sees if passing cells have a PD-L1 protein, which PD-1 attaches to like a key in a lock to mark that cell as healthy. The problem is that some cancer cells can have high amounts of PD-L1, which can cause the body to incorrectly mark those cells as healthy. Checkpoint inhibitors block either the PD-1 or the PD-L1 so the cells can't be incorrectly deemed healthy and the immune system can work on those foreign cells.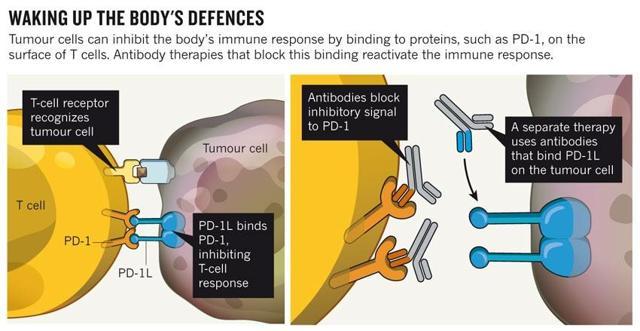 (Image Source: Nature)
Merck's Keytruda (2016 revenue: $1.4 billion) was the first checkpoint inhibitor to hit the U.S. market followed closely behind by Bristol-Myers' Opdivo (2016 revenue: $3.8 billion.) I wrote in February about how these lead drugs have traded back and forth the market lead due to a few different setbacks including Keytruda requiring PD-1 testing and Opdivo stumbling on trial results, due to trial design, for first-line treatment of non-small cell lung cancer (NSCLC). Currently, Keytruda and Opdivo have the most indications of any of the checkpoint inhibitors and keep adding to that tally. Opdivo just picked up its own bladder cancer indication in February, while Keytruda's heading for a couple of FDA decisions on June 17 that include bladder cancer - but as a first-line treatment.
Imfinzi also has to go up against Tecentriq (Roche / Genentech), which was also approved as a second-line treatment for bladder cancer and beat Merck by becoming the first first-line treatment with an approval last month. Bavencio (Pfizer / Merck KGaA) received FDA approval in March but for a rare skin cancer indication.
The market is crowded and two leading drugs are gobbling up indications. Imfinzi is unlikely to take a large slice of the market even if AstraZeneca's attempts to build a combo therapy with its CTLA-4 drug tremelimumab were to pan out (things haven't gone well in the past for that partner drug) - a strategy Bristol-Myers is also attempting with Opdivo and its CTLA-4 Yervoy.
Does AstraZeneca need Imfinzi to become a major market player - or could the company still benefit from a narrower market share?
AstraZeneca's Weak Spot
AstraZeneca is coming off a rough time off the patent cliff having lost blockbusters Nexium and Crestor. The first quarter report beat consensus estimates on revenue and EPS but only when counting positive one-offs, which the company has a nasty habit of using to boost performance over expectations. See HealthBlogger's excellent article for more on the one-off topic.
The first quarter report showed a 45% sales drop, year-over-year, for the still falling Crestor and a 67% drop for Seroquel XR. The oncology products segment was up 20% due to the initial launch of Tagrisso for lung cancer. Other key drugs showed improvement on the year but not the kind of growth that AstraZeneca needs to climb back from that cliff fall. Blood clot treatment Brilinta was up 24% to $224 million and type 2 diabetes treatment Farxiga was up 25% but only to $207 million. And those were two of the rosier pictures from the first quarter product sales table.
AstraZeneca doesn't need Imfinzi to charge ahead of Opdivo but the company definitely needs to pick up some indications or at least that combo therapy.
Upcoming Catalysts and Final Thoughts
AstraZeneca's first quarter report include a slide outlining the upcoming catalysts into next year. Note that the slide was made before the Imfinzi approval so that information isn't updated.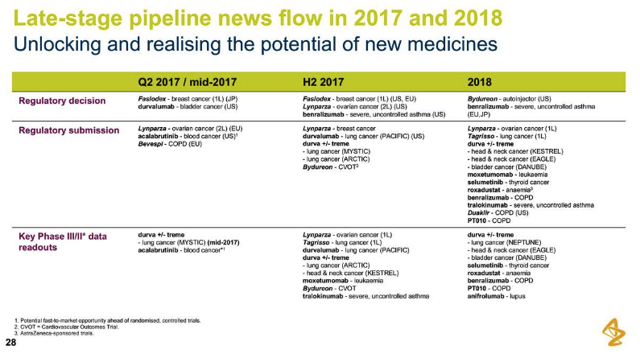 (Image Source: Company Slide)
Keep an eye out for that MYSTIC data due to drop near the middle of the year. MYSTIC is studying Imfinzi alone and in combo therapy with that CTLA-4 drug tremelimumab. AstraZeneca already retooled the trial to first include more patients and then to add overall survival to the prior primary endpoint of progression-free survival. MYSTIC is what analysts are watching to determine whether Imfinzi can become a big player in the checkpoint inhibitor market as a combo therapy.
Disclosure: I/we have no positions in any stocks mentioned, and no plans to initiate any positions within the next 72 hours.
I wrote this article myself, and it expresses my own opinions. I am not receiving compensation for it (other than from Seeking Alpha). I have no business relationship with any company whose stock is mentioned in this article.