To set the stage, corporate spending on organizational and application software in the US hit $138.8 billion through the end of the 1st quarter 2017. The average quarterly expenditure in the category since the start of the official recovery from the Great Recession of 2007 in June of 2009 is $116.6 billion, which gives a good reference point on the critical role the Internet plays in the conduct of business. Application software continues to be a cost-effective investment in both efficiency and productivity. The Dow Jones US Software Index is up just shy of 17% on the year with a bullish positive break-out that began early last week that has sent support levels to a reading of over 77 (see Figure 1, below). By way of comparison, the S&P 500 benchmark is up just shy of 7% over same the period.
Figure 1: Dow Jones US Software Index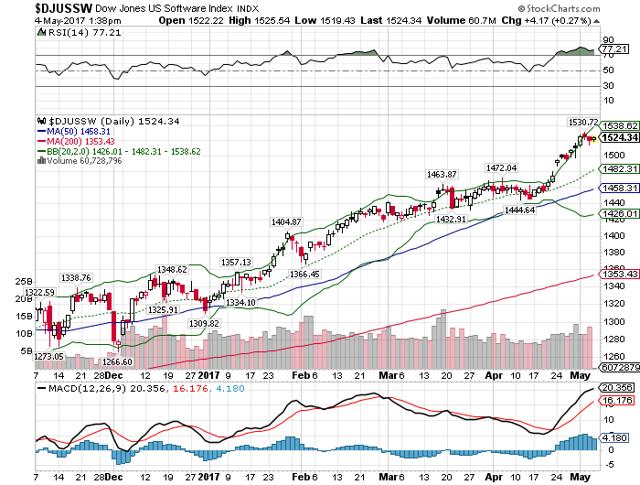 Salesforce.com (NYSE:CRM) is a leading provider of just such cloud software applications to business and organizations throughout North America, Europe and Asia-Pacific. Aided by a series of recent acquisitions such as SteelBrick (February 2016), MetaMind (April 2016), Demandware (July 2016), Quip (August 2016) and most recently Kruz Digital (November 2016), CRM has become a market leader in cloud software-as-a-service (SaaS) solutions. CRM has newly joined the exclusive ranks of Oracle (ORCL), SAP (SAP), Microsoft (MSFT), Adobe (ADBE) and IBM (IBM) in a very lucrative and high-growth technology niche.
Figure 2: Salesforce.com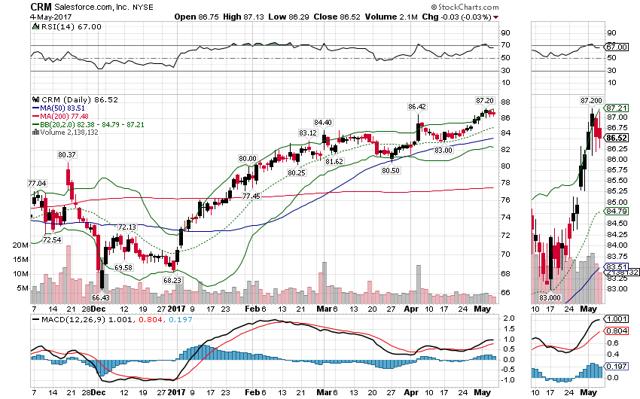 Over 92% of CRM revenues come from fees collected from corporate and organizational users of the Company's cloud computing services and related technical support services. A typical subscription runs anywhere from 12 to 36 months with a range on the short end of a single month to as long as 60 months in duration. The attrition rate through the end of the Company's fiscal year (31 January) came to 8% to 9%. Total revenue for the period came to $8.4 billion, up a robust 26% year-over-year (YoY) in 2017. The average growth of revenue since fiscal year ending 31 January 2013 has been an even more robust 29%. Professional services, including mapping, project management, implementation services and training fees made up the remaining 7.6% of total revenues for the period.
By way of comparison, Oracle revenues grew at an annual rate of 1.44% for a nine-month fiscal period through the end of 28 February 2017 on $26.8 billion and at 1.41% over the same period in 2016. For the first three months of 2017 total revenues grew at just over 2% for the period. Cloud and on premise software comprise 80% of total revenues. Oracle's revenue growth momentum has been conspicuously flat in comparison since 2012. Revenue growth for the Company's fiscal year ending the 31st of May 2016 contracted just over 3% YOY. In 2015 revenue growth contracted again, losing 0.13% YOY. In 2014 revenue expanded almost 3% YOY while in 2013 total revenue expanded by 0.16%. Oracle's recent year revenue is a far cry from the explosive growth potential so vividly on display by CRM over the past five years, signaling a cooling of its momentum growth of years past. Oracle hit a market high of $46.79 in mid-March only to flatline to yesterday's market close of $46.52 after slipping over 6% through the latter part of March-early April timeframe amidst a good deal of profit taking (see Figure 3, below). The stock is up almost 20% on the year, arguably more reflective of the momentum of software stocks as a group rather than actual company growth fundamentals.
Figure 3: Oracle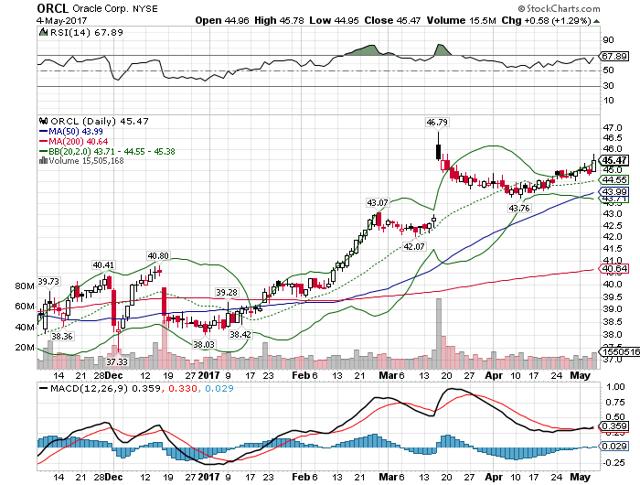 Adobe presents a closer, less mature market comparison. ADBE's revenue growth rate was more comparable at 22% through the end of 2016 YOY, 16% through the end of 2015 YOY, 2% through the end of 2014 YOY, -8% through the end of 2013 and 4% through 2012. The company's digital media and marketing segments comprised just over 97% of total revenue for the fiscal year through the 3rd of March. ADBE has had strong investor support for much of the year to date which has driven the stock to an on-year high of $134.63. The stock is up 31% through Friday's market close (5 May), well above that of the Dow Jones Software Index (see Figure 4, below).
Figure 4: Adobe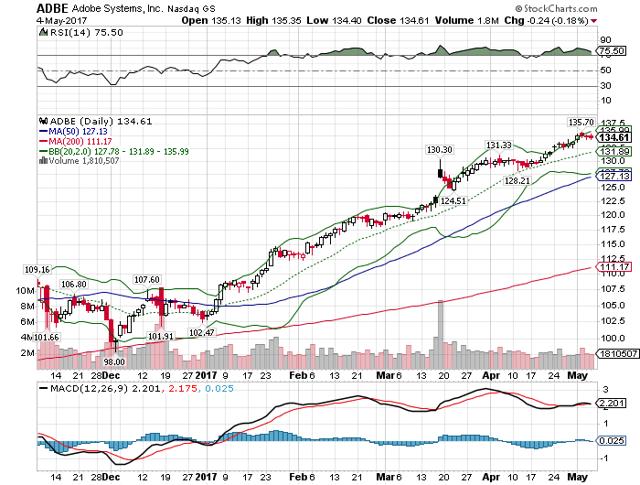 Revenue broken down by cloud offering reveals the sales cloud platform retains the widest corporate usage both domestically and internationally being responsible for 39.5% of total revenue for the period, growing just over 13% YOY and 10% in 2016. The service cloud comprised 29.9% of total revenue and claimed a growth rate of 28% in 2017 and 38% in 2016. The salesforce cloud posted 18.6% of total revenue through the end of fiscal year 2017 and logged a growth rate of 39% for the period which matched its growth rate of 2016. The marketing cloud returned 12% of total revenue for the period and a growth rate of 43% in 2017 on top of a 29% increase in 2016. Roughly 11% of this growth was directly attributable to CRM's purchase of Demandware. Geographically, 74% of total revenue came from the Americas, 16% came from Europe and 10% came from Asia-Pacific.
Market and sales expenses are critical components of the application software space and CRM uses the data point as a primary ratio of performance delivery. Through the end of the Company's fiscal year, market and sales expense came to $3.9 billion, or 46.7% of total revenue for the year. That number has dropped slowly but steadily since 2013 which produces an annualized mean of 51.0%. By comparison, Oracle's sales and marketing expenses grew at a more mature 18.15 in fiscal 2016, 16.9% in 2015, 16.6% in 2014, 16.0% in 2013 and 18.8% in 2012. Adobe's sales and marketing expenses grew by 33% in 2016, 35% in 2015, 40% in 2014, 40% in 2013 and 34% in 2012. Adobe's mean growth in the expense category came to 36.40% over the period.
A $210.3 million tax benefit posted in the Company's fiscal year due to a valuation allowance related to the Demandware which provided an additional income, providing CRM with its first positive net income post of $179.6 million. Diluted net income as a result came to 0.26 per outstanding share.
CRM closed today (4 May) at $86.52, up almost 27% on the year. The stock has posted a strong uptick, mirroring the Dow Jones US Software Index since the beginning of last week, finishing the day at a reading of 1.001 on its MACD chart. Investor support for the stock remains strong at a reading of 67. Today's market close continues to push against its upper Bollinger band, reaching an intra-day high of $87.13 before falling back to its $86.52 market close, down 0.03% on the day (see Figure 2, above).
Over the course of time, SaaS platforms should be able to generate revenues at ever increasingly lower marginal cost from a growing and sticky user base, a trend that Oracle appears to have captured. The overall size and dimension of the future CRM's subscription and services segment will ultimately determine whether the company can indeed become the annuity-like business about which investors constantly dream-a stickiness CRM has a decent chance of achieving given current underlying fundamentals. I would project a 12-month price target of $100, creatively based on a mean revenue growth rate of 28.85% since 2013 coupled with a 2.57% annualized decline in marketing and sales expense for the period. I would project a break-out EPS valuation of $0.75 for the coming fiscal year based on a 13% annualized EPS growth rate since 2013.