On Monday after the closing bell, Pandora (NYSE:P) is set to release results for its 1Q17 quarter. This should have been another in a series of tough quarters for the highly unprofitable Internet radio company.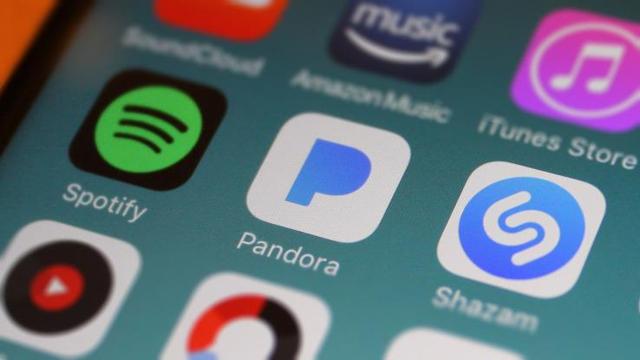 Credit: TechCrunch
The Street is expecting to see $318 million in revenues, which would represent a +7% YOY increase, by far the lowest growth rate in the company's public history. EPS is projected to come in at -$0.34, although the estimate range around that consensus number is a wide 34 cents.
The table below helps to summarize and compare the guided vs. expected results for 1Q17 and 2017.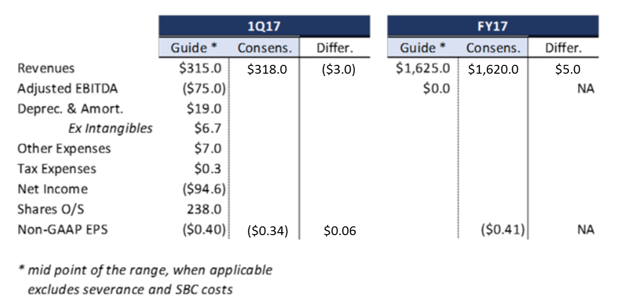 Source: DM Martins Research, using data from company's press release and Yahoo Finance
But beyond the question of how Pandora will perform in the quarter, the most important topic for investors should be how the company is tracking against its 2020 targets. As a reminder, management is seeking total year revenue of $4 billion by the end of 2020 (vs. $1.38 billion in 2016) with gross margin of 42% and consolidated op margin of 15% (vs. -12.5% in 2016). To achieve this ambitious goal in such a short period of time, Pandora has laid out the following milestones for the next three years: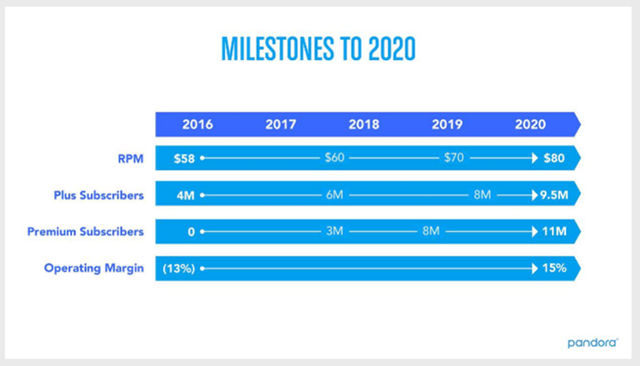 Source: Analyst Day presentation from October 2016
Keep this in mind
Pandora is a very interesting case study. Rarely does a company in the midst of a sizable turnaround provide and commits to such a detailed four-year recovery plan. The ambitious goals, which would result in what I estimate to be $1.00 in adjusted EPS by 2020, serves as a yardstick with which to measure the success of the company over the next couple of years.
1Q17 should be a very important quarter in that regard. Pandora's newly-launched Premium service will have had the first 15 days of post-launch revenues included in the results, and 40 more days of early adoption metrics in 2Q17 available to share with stockholders and analysts. Notice, from the graph above, that Pandora expects the higher-ARPU Premium subscriber base to reach 8 million users before the mid-tier Plus service (already with 4.4 million subscriber in 4Q16) is able to achieve the same feat.
On the stock
Judging by the recent valuation trend (see first graph below on historical EV-to-Sales), it looks like the Street is taking a step back and choosing to limit its risks, while some are even ramping up their bets against the stock (see second graph below on historical short interest, now reaching nearly 30% of the float).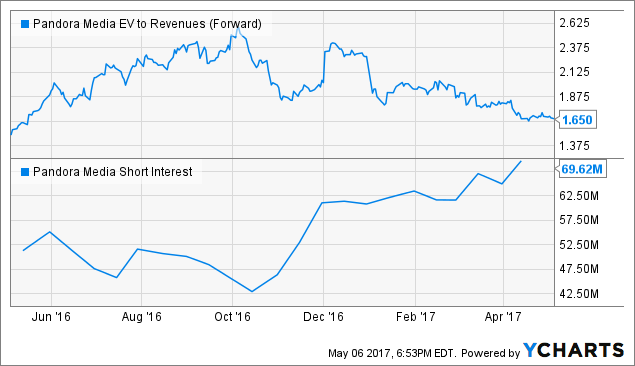 P EV to Revenues (Forward) data by YCharts
I see Pandora as an option-like stock that could either double in value in the next couple of years or become nearly worthless over the same period of time. If the company is able to achieve its aggressive 2020 target, I calculate that the stock would be worth $20/share at a minimum. P's current $10.53 after-hours price suggests that the Street is assigning, at most, a 50% probability that the company will be able to pull this one off.
I am choosing to stay away from this stock for now. But if I were to consider taking a shot at P ahead of the print, I would likely do so very cautiously, possibly protecting my downside risk with puts, and limiting the investment size to a very small portion of my portfolio. Anything different could prove to be reckless in the end, given the heightened risk levels.
Note from the author: I invite you to follow me as I build a risk-diversified portfolio designed and back-tested to generate market-like returns with lower risk. I call it the Storm-Resistant Growth portfolio. The early results have exceeded my expectations, as the portfolio is beating the S&P 500 on a risk-adjusted basis despite the raging bull. Take advantage of the 14-day free trial (click here), and get immediate access to all the premium material that I have published so far, including my recent quarter-end report.
This article is not intended to provide investment advice, and instead represents the author's thoughts and opinions on the proposed subject.
Disclosure: I/we have no positions in any stocks mentioned, and no plans to initiate any positions within the next 72 hours.
I wrote this article myself, and it expresses my own opinions. I am not receiving compensation for it (other than from Seeking Alpha). I have no business relationship with any company whose stock is mentioned in this article.