At first glance the Brookfield Real Assets Income Fund (NYSE:RA) portfolio looks a bit messy. This is because the fund is the result of merging 3 legacy funds into one super fund with a focus on income producing securities in the real assets space. As such the portfolio includes the remnants of 3 different investment styles with only real assets as a unifying factor - real assets being those things with inherent natural value such as real estate, infrastructure and natural resources. Long seen as a diversifying addition to investment portfolios real assets have begun to come back into vogue as an alternative to cyclicals equities, one reason why Brookfield believes the consolidation will benefit shareholders.
The fund's focus and objectives allow it to invest across asset classes which means there are and will be holdings in securitized credit, corporate credit and equities so long as each is based on a real asset or business based on real assets or infrastructure. It is, in manager Larry Antonatos' words, a one stop shop for real assets securities.
To date the portfolio has been skewed toward credit securities and specifically mortgages but that is being remedied. Managers have been shaving portions of both credit segments in favor of building a more substantial position in equities. When I spoke with investor relations they led me to believe this shift will continue into the coming year; the mortgage portion of the portfolio is specifically targeted for trimming in order to reach optimal allocation as per the "dynamic allocation" approach.
Listening in on the 1st quarter real assets summary webcast makes it clear that managers view the real estate market as mixed. They see value opportunities in retail, hotels and industrials while healthcare, residential and office real estate face a variety of headwinds. The retail sector seems counterintuitive in today's climate of store closures but managers were clear in their position that the high quality names held by most REITs should be insulated from that. The hotel sector is expected to be strong on the back of economic growth and growth expectations while industrial real estate demand is driven by e-commerce.
In general, managers are bullish on the infrastructure segment even without President Trump's plans for infrastructure spending. Based on their estimates as much as $57 trillion will be spent on infrastructure by the year 2030. Communications is on area showing exponential growth, up 63% in the last year alone and up 18X levels seen just five years ago. This growth is driven by widening use of the Internet and the build up of the Internet of Things (IOT). The IoT is expected to have at least 50 billion connected devices by the year 2020, more than 6 per connected person, and that will only grow into the future. This is why the portfolios is being overweighted toward energy and communications/towers with, they are underweight on utilities in light of higher valuations.
Since the last monthly fact sheet managers have trimmed more than 5% from corporate credit and securitized credit holdings in order to boost equity holdings. Equity holdings have been increased by nearly 6% to 18.3% of portfolio, mostly in the infrastructure space and specifically in MLPs. Fund managers are targeting MLPs as steady income payers and insulated from much of the volatility seen in other portions of the energy sector.
Insiders And Institutions Are Owners Of This Fund
Insider and institutional ownership is at least positive if not bullish at this time. Insiders have been awarded more than 91,000 shares since the fund was launched with only 1000 sold. Those sold were done so by Brookfield Investment Management, INC, the funds adviser, to cover fees. Institutional ownership is there as well. Since the fund's inception 6 large financial managers have initiated large positions with one, Creative Planning, increasing their stake with a second purchase. According to 13F filings Creative Planning's initial stake of 4,387 shares was increased by 260% in the 1st quarter of this year to 15,829 for a value of roughly $362,000.
The Strategy Is Working
Brookfield strategy is working. The merged fund has been expected to increase shareholder value and it is, real assets have been expected to produce long-term income and capital gains and to date they have. Since the fund's launch net asset value has been creeping higher and the discount to NAV has been narrowing along with it. At launch NAV was reported at $25, and over the course of the funds short 6 month lifespan it has gained a little more than 2.25% with a significant narrowing of discount.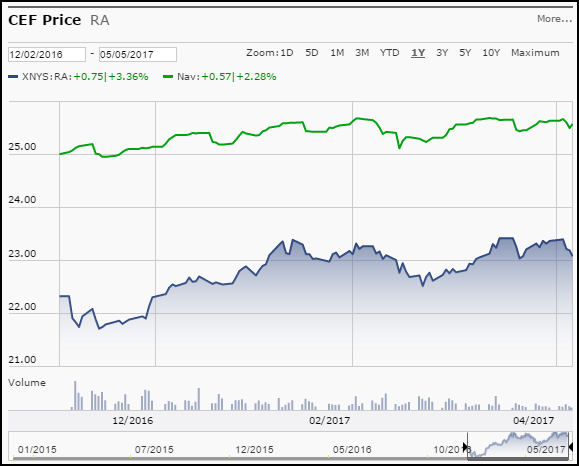 The discount began at just over -11.25% and has since shrunk to a mere 9% on a 3.8% increase in share prices. This gain, along with dividends, brings total returns since launch to just over 9% with no hint of dividend cut or dividend halt, and a positive forward outlook for the sector. Dividends are being paid monthly at a rate of $0.199 or about 10.3% (annualized) of current share prices. For those who already own the Real Assets Income Fund it is a definite hold. For those looking for income, capital appreciation and diversification within their portfolio the Real Assets Income Fund is at least worth a look. I am long the RA Fund and will add to my position on weakness.
Disclosure: I am/we are long RA.
I wrote this article myself, and it expresses my own opinions. I am not receiving compensation for it (other than from Seeking Alpha). I have no business relationship with any company whose stock is mentioned in this article.