Alaris Royalty Corp. (TSX: AD) (OTC:ALARF) is a US$600 million Canadian finance company based in Calgary, Alberta, whose purpose is to create a dividend stream for investors. It pays a monthly dividend and is currently undervalued both on an historical price to book basis as well as on a discounted cash flow basis.
Alaris provides capital to on-going profitable private small to medium-size companies in exchange for a monthly cash distribution on passive minority non-voting preferred equity position. These investments do not have control, maturities or exit requirements. The distributions to Alaris are based on the yield on the original contribution to portfolio partners, set 12 months in advance and adjusted annually based on the year over year percentage change in a "top-line" performance metric such as net sales, gross profit or same location sales. Alaris creates long-term partnerships with companies that have a proven track record of stability and profitability in varying economic conditions. Alaris' Private Company Partners ("Partners") are mostly individual or family controlled businesses that need capital for growth, generational transfers, partial liquidity, management or private equity partner buyouts, etc. 70% of Alaris's equity partners are based in the U.S. and 30% in Canada. Alaris only invests in businesses that are not for sale and whose owners and/or management want to grow the business. Alaris currently has 16 investments or revenue streams.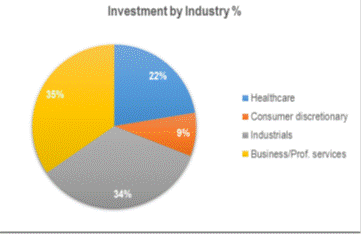 Source: Company presentation.
Alaris is mainly funded by equity and issues shares when it wants make new investments. Alaris was able to make good investments following its IPO in 2009 and in the aftermath of the financial crisis.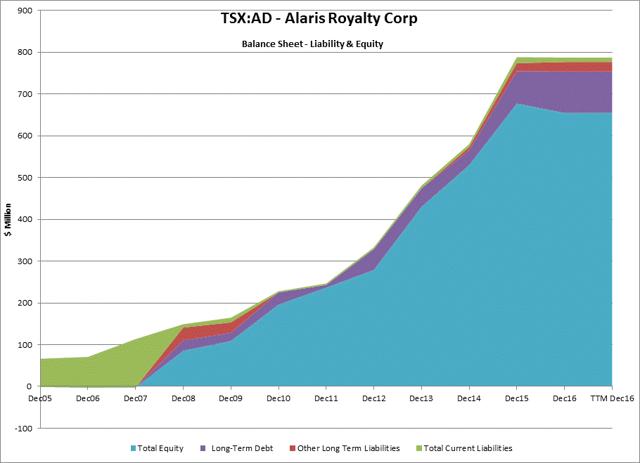 Source: Author with data from Gurufocus.com
In the last couple of years it has had some setbacks in four of its investment where payments were deferred or stopped, but it appears to be regaining its foothold and is in the process of exiting these investments. These setbacks have affected the share price. However, Alaris has been consistently paying and increasing its dividend. This, however, highlights a key risk, that in a recession or economic slowdown, revenue streams can be drastically affected. Therefore Alaris is definitely not a widows and orphans stock.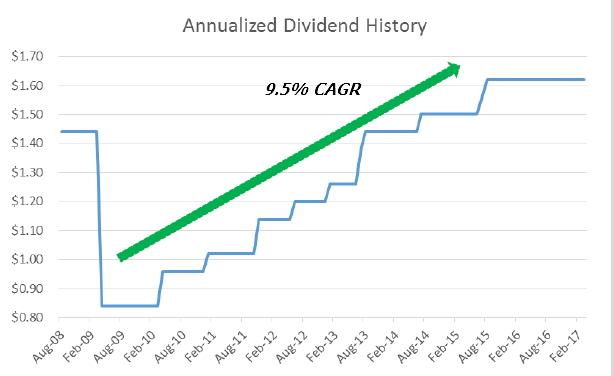 Dividend growth over the last 5 years has been impressive.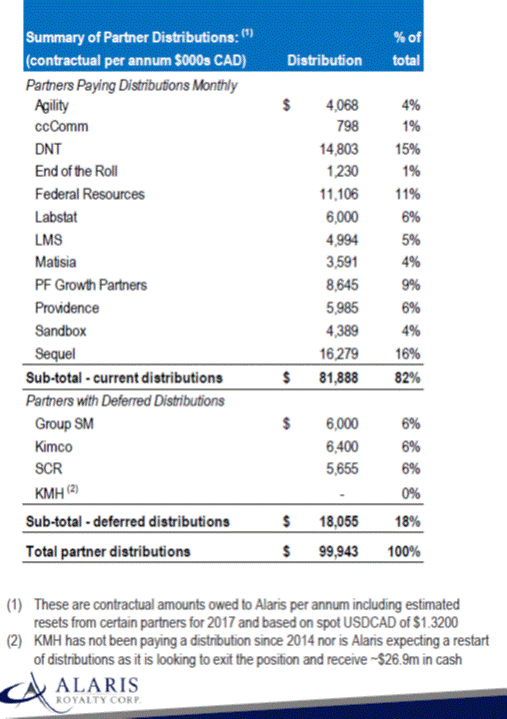 Source: Company presentation
Currently Alaris is paying a dividend of 7.5% and pays out a majority of its free cash flow.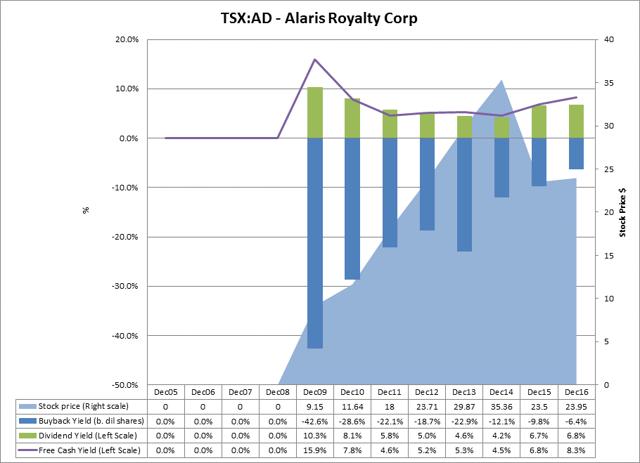 Since IPO, Alaris's median price to book multiple has been approximately 1.55. It is trading significantly below that valuation at present. Alaris has grown book value per share and dividend per share by 9.2% per annum in the last 5 years.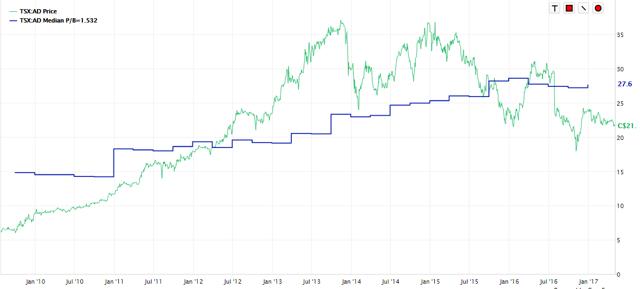 Assuming the company can sustain an average 7% growth over the next 10 years and using the DCF calculator, we get a valuation of over $30, representing a decent margin of safety.

Source: Gurufocus.com
Conclusion
Alaris taps into an area of the North American economy - mid-size private businesses - which is not normally accessible to the retail investor. A lush dividend stream and a good margin of safety makes it an attractive income stock, as part of a diversified portfolio at the present time. Though available on the US OTC exchange, Alaris is listed on the Toronto Stock Exchange, where it has good liquidity. U.S. investors should hold Alaris in tax deferred retirement accounts. U.S. and Canada have a tax treaty, whereby there is no tax withholding on income for securities in a retirement account. For Canadian investors dividend income will qualify for a dividend tax credit if held outside a tax-free or tax deferred account.
Disclosure: I am/we are long ALARF.
I wrote this article myself, and it expresses my own opinions. I am not receiving compensation for it (other than from Seeking Alpha). I have no business relationship with any company whose stock is mentioned in this article.
Additional disclosure: Figures are in Canadian dollars (CAD). CAD is currently trading at around 1.32 to 1 USD.