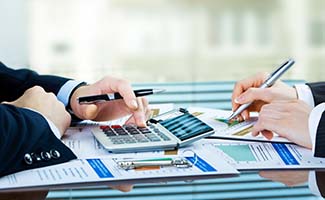 Investment Thesis
Valeant (NYSE: VRX) released positive news ahead of the Q1 2017 earnings. The company announced that they now reduced approximately $3.6 billion of debt from end of Q1 2016. Investors reacted positively to the news and the stock went up about 5%. The current Wall Street consensus is $0.96 EPS and $2.16 billion in revenue. There are many reasons why I believe that Valeant will miss the upcoming Q1 2017 earnings numbers.
Earnings Outlook
Wall Street estimates Valeant to post total revenue of $2.16 billion, which translates to negative year-over-year growth of 9%. The earnings reaction history tells us that the equity price moved up 15 times out of last 30 reported quarters; it has beaten earnings-per-share estimates 58% of the time in its last 12 earnings reports; it fell short of earnings estimates on 4 occasions; and it has met expectations 1 time, according to the report.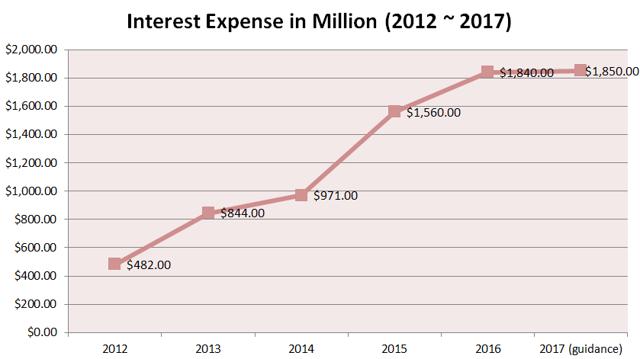 Source: Created by Author (data obtained from earnings report)
Here are the reasons why I think that the Q1 2017 earnings may not look impressive; it is likely to miss analysts' expectations.
For the week ending March 10th, new derm scripts (NRx) were up 4.5% vs. down 4.7% the prior week. Derm NRx are down 49.8% YoY on a 4-week rolling basis vs. 49.8% the prior week. Xifaxan 550mg TRx was down 1.9% YoY (vs. down 2.5% YoY last week), with TRx up 0.1% WoW vs. up 3.4% last week. We continue to note that Xifaxan is now trending down YoY... but view the WoW TRx improvement (two consecutive weeks) positively and will closely monitor next week's scripts. Valeant expects its dermatology franchise to a witness year-over-year (or YoY) revenue drop of 8%-10% in 2017.
U.S. Dollar Index; Image Source: MarketWatch
During 2016, the segment (B+L & International) was also impacted by the unfavorable impact of foreign currencies of $126 million, a net decrease in product sales revenue from our existing business driven by a decrease in average realized pricing of $98 million and a negative impact from divestitures and discontinuations of $36 million.
Debt Reduction Status
During the 2nd quarter of 2016, Valeant said that they would sell non-core assets to reduce their debt by more than $5 billion within 18 months.

Source: Created by Author (data obtained from earnings report)
On May 1, 2017, the company announced that they now reduced approximately $3.6 billion of debt from end of Q1 2016. However, the company did not provide the current balance of debt. I assume that the current balance should be $27.17 billion (=$30.77 - $3.6), which translates to an 11.7% debt reduction, while the goal is 17% by January 2018. CBC News is quoted saying that "after spending the past year cutting US$3.6 billion from its US$32 billion debt, Papa said the meeting marks the first day of a new era for Valeant." "I believe we can turn this around," he later told reporters. Based on the CBC news report, the debt balance should be around $28.4 billion (=$32 - $3.6). At this time, however, we are not completely clear on the debt balance. It would be better to wait for the earnings report. CBC News further states the following:
Still, Papa warned it's not a simple process and he expects a couple of years will be required to repair the business and improve its financial results. He said he remains committed to cutting Valeant's debt by US$5 billion through non-core asset sales and operational results by February. The company is targeting up to $8 billion worth of asset sales by that date. It has delivered US$2.7 billion so far.
According to the report, reducing debt is one of Valeant's biggest challenges, but Papa said he would like to get it down to between $15 billion and $20 billion over the next several years. Though the company does not have a clear-cut plan on bringing down the debt to $15-$20 billion. "Several years" is not a proper plan as there is more to be done in terms of debt reduction. I still think that the company's progress in debt reduction is very slow.
Technicals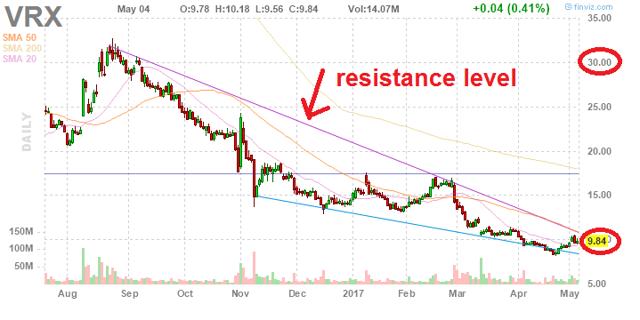 Source: Finviz (notation was added by author)
As we can see from the above chart, the stock has been trading in a downward direction. Even with the positive news (debt reduction announcement), the stock is still trading below the resistance level (didn't break the resistance level). According to the bar chart, the short-term indicators suggest 40% buy (weak buy) and long-term indicators suggest 67% sell (strong sell).
Conclusion
I thought the company would give an update on the debt reduction status at earnings result. I am surprised with the company's decision to release it before the earnings. As for the positives, the company is working towards reducing its massive debt load, but the progress is slow. From the assets sales, the company's yearly revenue could easily decrease by more than $2 billion per year. Based on declining revenue growth, impact of foreign currencies, lack of pricing power, slow progress in debt reduction and higher interest expense, I expect the company to post disappointing earnings. If you are seriously considering buying or shorting VRX before the earnings, I recommend you insure your positions with options. A good example was Advanced Micro Devices (NASDAQ:AMD). AMD dropped 24% due to negative reaction to the earnings.
Author's note: Get my articles as soon as they are published by clicking the big orange "Follow" button at the top of this page.
Disclosure: I/we have no positions in any stocks mentioned, and no plans to initiate any positions within the next 72 hours.
I wrote this article myself, and it expresses my own opinions. I am not receiving compensation for it (other than from Seeking Alpha). I have no business relationship with any company whose stock is mentioned in this article.