Update 10/8/2017: Corrected an inaccurate claim that STAG was not rated by credit agencies.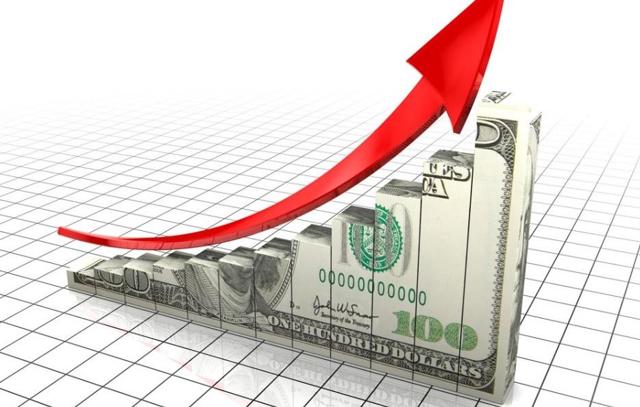 STAG Industrial (NYSE:STAG) has long been one of my favorite high-yield REITs, thanks to its incredible long-term growth potential. Better yet? STAG is one of the few monthly paying dividend stocks worth owning, thanks to its highly secure payout.
Let's take a closer look at the company's latest results to see just why this little known but fast growing gem deserves a spot in your diversified dividend growth portfolio.
Best of all, learn why, despite the market's historically overvalued levels, STAG is actually trading at an attractive valuation that makes it worth opening a position right now.
Growth Engine Continues To Fire On All Cylinders
Sources: Earnings Release, Gurufocus
| | | | |
| --- | --- | --- | --- |
| Metric | Q1 2016 | Q1 2017 | YoY Change |
| Revenue | $60.9 million | $69.5 million | 14.1% |
| AFFO | $28.6 million | $35.7 million | 24.8% |
| Shares Outstanding | 71.9 million | 86.2 million | 19.9 |
| AFFO/Share | $0.398 | $0.414 | 4.1% |
| Dividend | $0.348 | $0.354 | 1.7% |
| AFFO Payout Ratio | 87.5% | 85.5% | -2.3% |
STAG Industrial, due to its small size and aggressive acquisition strategy, continues to be one of the fastest growing REITs in the industrial sector.


Source: STAG Industrial Earnings Presentation
In the last quarter, the company completed $95.7 million in net acquisitions (its highest ever) at a highly attractive capitalization or cap rate of 8.2%.
Sources: Earnings Releases, Gurufocus, Fastgraphs, Earnings Supplement
| | |
| --- | --- |
| Cost Of Equity | 6.23% |
| Cost Of Debt | 3.68% |
| Weighted Average Cost Of Capital | 4.98% |
That's very good news for shareholders, because it means that, even if STAG were to fund 100% of its portfolio growth with equity (selling new shares), it would still be accretive to adjusted funds from operation or AFFO/share.
However, because STAG generally funds growth via 49%/51% debt/equity mix, this means that its AFFO/share (its equivalent of free cash flow and what funds the dividend) is likely to continue rising steadily over time.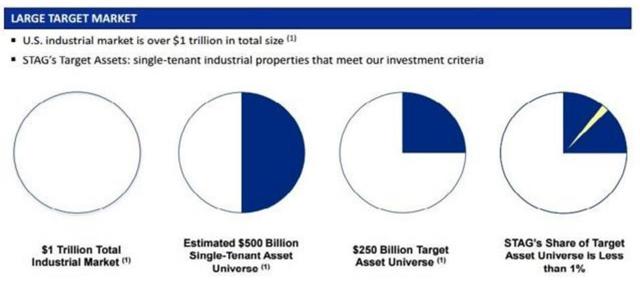 That's because the industrial REIT industry is both massive and highly fragmented. And since STAG has negligible market share that means that management has plenty of room to roll up the secondary warehouse market, which is growing 25% faster than primary industrial markets, offers higher cap rates, yet still has similar or superior occupancy and rental growth characteristics.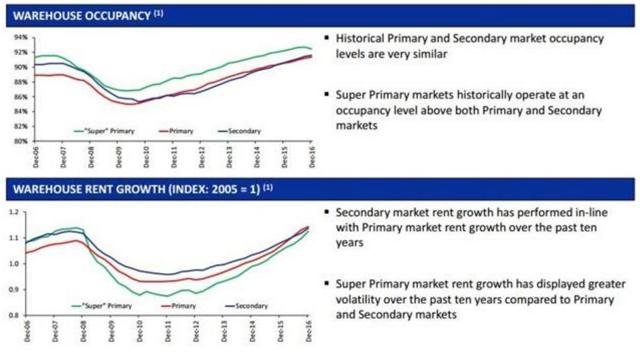 Best of all? STAG's current liquidity (cash and available borrowing capacity) stands at $383 million, almost enough to fund an entire year's worth of growth without any equity raises.

And with a growth pipeline of over $2.1 billion, up 24% in the past year, including about $225 million in Q2 of 2017, STAG is well on its way of meeting or even beating its full-year acquisition guidance of $550 to $600 million at a cap rate of 7.5% to 8%.
In fact, assuming management continues acquiring properties with a 50/50 mix of debt and equity, then the current pipeline alone (never mind its future growth) represents three years of growth potential that could increase annual AFFO by $177 million.
That would translate to a 145% increase in AFFO/share and translate into excellent dividend growth prospects.
Strengthening Balance Sheet Sets Up STAG For Solid Growth Even In Rising Rate Environment
Sources: Earnings Supplement, Morningstar, Fastgraphs
| | | | |
| --- | --- | --- | --- |
| REIT | Debt/EBITDA | EBITDA/Interest | Debt/Capital |
| STAG Industrial | 5.40 | 4.90 | 49% |
| Industry Average | 3.98 | NA | 47% |
All REITs generally have high debt levels due to the capital intensive nature of the business model, as well as the fact that legally they are required to payout 90% of profits as dividends.
And while STAG's current leverage ratio is a bit higher than its industry peers, that's due to the young and small nature of the REIT.
In fact, the reason that management is currently issuing so much equity is to help de-lever the balance sheet, thus increasing its financial flexibility.
That means focusing on keeping the credit rating (BBB) strong and potentially getting an upgrade to BBB+ which will be a major asset in a rising rate environment.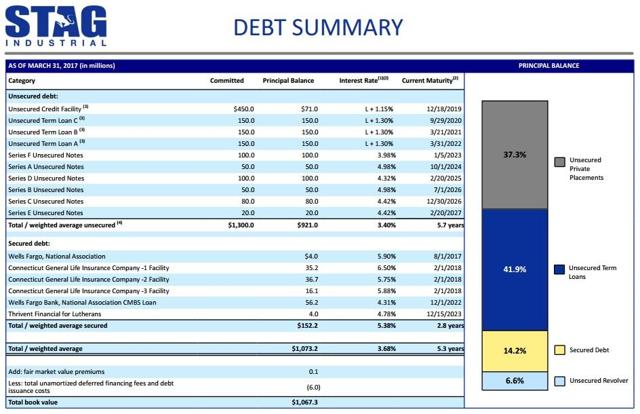 And speaking of rising rates, all of STAG's debt is either fixed, or the equivalent to fixed, because management uses credit swaps to lock in its floating rate credit facilities.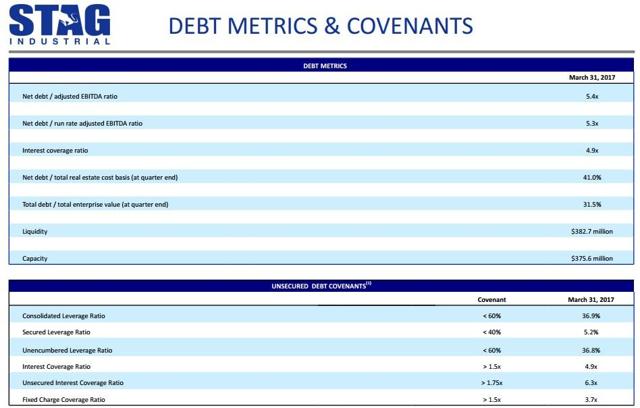 More importantly for dividend investors is the fact that STAG is well under its debt covenants, with very little secured debt. This means that should the share price fall, it would still be able to borrow cheaply and continue growing its property portfolio and AFFO stream, even if its cost of equity rises above 7.5% to 8.0%.
Of course, as I'll explain in a moment, STAG is currently enjoying plenty of access to cheap equity, which means that the company is focusing on refinancing its higher cost debt, including $88 million of 6% notes it plans to refinance in August. That will further lower its average cost of debt and thus its weighted average cost of capital. That in turn, along with increasing economies of scale, will make future acquisitions even more accretive to AFFO/share.
Dividend Profile Keeps Improving
Sources: Earning Releases, Gurufocus, Fastgraphs, FactSet Research, Multpl.com, Moneychimp.com
| | | | | |
| --- | --- | --- | --- | --- |
| REIT | Yield | TTM AFFO Payout Ratio | 10 Year Projected Dividend Growth | 10 Year Potential Annual Total Return |
| STAG Industrial | 5.4% | 93.3% | 4% to 6% | 9.4% to 11.4% |
| S&P 500 | 1.9% | 39.5% | 5.9% | 9.1% |
As a dividend growth investor, I appreciate both STAG's generous current payout, as well as its monthly dividend schedule because it helps maximize the compounding effect of dividend reinvestment.
However, what really makes this stock so attractive is its solid, long-term growth potential.
Because while the trailing 12-month AFFO payout ratio may seem uncomfortably high, keep in mind that management has chosen a wise strategy of growing the dividend very slowly, about 2% CAGR, while it lowers its payout ratio to increase the payout's security.

That security is also helped by the highly diversified nature of its portfolio and tenant base, which includes 324 properties in 37 states, rented out to 279 tenants across a wide variety of industries.
In addition, STAG is working on extending its cash flow stability by signing longer-term leases. For example, in the past quarter, the REIT's acquisitions for properties with weighted average remaining leases of 6.2 years, about 50% above its current portfolio average of 4.4 years.
Given the stable and fast growing nature of its cash flow, once the payout ratio falls to 80% to 85% (in the next quarter or two), I fully expect that management will speed up the pace of dividend growth to match its overall AFFO/share growth rate (4% to 6%).
That means that STAG Industrial should be able to generate long-term total returns of around 10.4% CAGR, far better than the stock market's 9.1% CAGR returns since 1871.
Valuation Is Still Attractive Despite The Strong Rally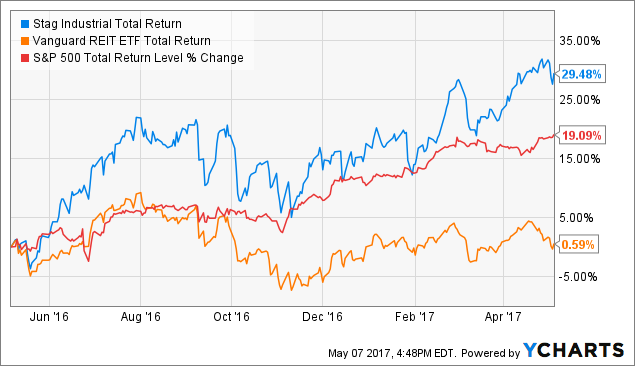 STAG Total Return Price data by YCharts
As you can see, unlike most REITs, STAG has had a fantastic year with market crushing total returns.
Sources: Earnings Releases, Fastgraphs, Gurufocus
| | | | |
| --- | --- | --- | --- |
| P/AFFO | Historical P/AFFO | Yield | Historic Yield |
| 16.1 | 14.1 | 5.4% | 5.8% |
That might make you think shares are now overvalued. And from a short-term perspective, you might be right. After all, both its Price to AFFO and dividend yield are trading at premiums to their historical norms.
Sources: Earnings Releases, Fastgraphs, Gurufocus
| | | | | |
| --- | --- | --- | --- | --- |
| TTM AFFO/Share | 10 Year Projected Growth | Fair Value Estimate | Growth Baked Into Current Share Price | Margin Of Safety |
| $1.63 | 4% (conservative case) | $28.14 | 2.2% | 7% |
| | 5% (likely case) | $29.57 | | 11% |
| | 6% (optimistic case) | $31.57 | | 17% |
However, when we consider the long-term (20 year) view, things look a lot different.
That's because the market is currently pricing STAG as if its AFFO/share is going to grow at a snail's pace. However, given its strong access to both low cost debt and moderately priced equity, as well as that enormous growth pipeline, I'm confident that STAG will be able to grow two to three times faster.
In other words, due to the market's mispricing of its long-term growth potential, I estimate that STAG is currently 11% undervalued.
Which means that, for those who like the stock but don't yet own it, today is a great time to open a position. And if you already own STAG, as I do?
In that case, it would take a mere 4% dip to $25.13 for shares to be trading at the 15+% margin of safety that I generally recommend to add to one's position.
Risks To Keep In Mind
While I'm a big fan of STAG, nonetheless, there are several risks to be aware of.

First, is the fact that the REIT has struggled with maintaining management's target of 70% retention rates.
That's important because the industrial sector generally has short- to medium-term (4-6 year) lease terms, which means that tenant turnover can be far higher than in other REIT sectors.
Now, in a growing economy and a healthy industrial market, as we have now, lower retention rates aren't necessarily a bad thing. That's because STAG is able to grow rent for new customers much quicker than for existing ones; 13.4% in the last quarter.
BUT when the next recession does hit, and demand for warehouses falls, this could cause STAG's operating occupancy to fall from its current 95.7% to potentially as low as 85%. That's were industry occupancy rates fell to during the Great Recession.
That would mean less pricing power, lower rents, and potentially falling AFFO. That in turn would push up the payout ratio and limit the growth potential of the dividend.
Next there's the elephant in the room, rising interest rates. Now, the good news is that industrial REITs are generally less sensitive to rising rates due to shorter rental lease terms. This means that they can re-price their leases more frequently than longer lease REITs and are less sensitive to inflation.


Source: Hoya Realty Capital Management
For example, for each 1% increase in 10-Year Treasury yields, investors can expect STAG's yield to rise by 0.49%. This means that should the Fed make good on its plan to raise the fed funds rate to 3% by 2020 (and 10-Year Treasury yields follow suit), then STAG could end up falling to around $21.5 and yield 6.5%.
While that would make for an excellent long-term buying opportunity, if your time horizon is short, such as a retiree who sells 4% of your portfolio to fund your expenses, then such a potential decline is a risk to keep in mind.
In addition, such an increase in STAG's yield would mean its cost of equity would rise to 7.6%. That would put it perilously close to falling into a liquidity trap, in which it wouldn't be able to fund accretive growth without leveraging equity sales with more expensive debt.
In other words, STAG is currently in the sweet spot for fast growing REITs. That means a yield of 4% to 6%, high enough to offer a generous current income, but low enough that it can continue growing even if it chose to use equity capital alone (and further deleverage the balance sheet).
Rising rates, if they cause investor demand for STAG's new shares to decline, could push it out of that ideal range and limit its overall dividend growth potential.
Bottom Line: STAG Industrial Remains On Track To Become A True Dividend Growth Legend Of Tomorrow
Don't get me wrong, STAG Industrial isn't yet a SWAN (Sleep Well At Night) REIT; however, it's well on its way to achieving such a status.
With one of the longest growth runaways in all of REITdom, a generous, secure, and potentially fast growing dividend, STAG represents an excellent long-term dividend stock, especially at today's attractive valuation.
Disclosure: I am/we are long STAG.
I wrote this article myself, and it expresses my own opinions. I am not receiving compensation for it (other than from Seeking Alpha). I have no business relationship with any company whose stock is mentioned in this article.