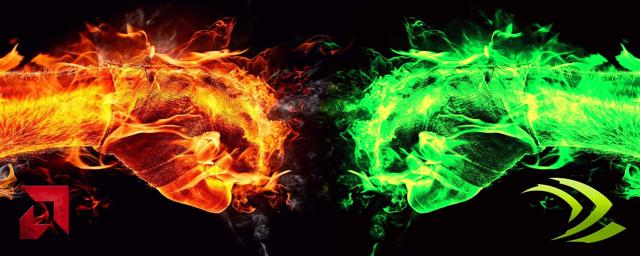 Nvidia (NASDAQ:NVDA) is reporting first quarter earnings on May 9, 2017. The results will probably be a disappointment and lead to downside in the stock.
The market has failed to price possible headwinds suggested in Advanced Micro Devices' (NASDAQ:AMD) first quarter result - the guidance of which suggests industry weakness in CPU and GPU. On top of this, NVDA is simply overvalued, and too much growth is priced in.
AMD's First Quarter is an Omen of Weakness
On the surface, Advanced Micro Devices' first quarter wasn't so bad. The company posted 18% YoY revenue growth and a small increase in gross margins due to the lopsided growth profile in revenue segments.
The higher margins were due to strong gaming segment growth, which came in strong with 29% YoY growth.
However, despite the solid growth, AMD's stock tanked after reporting its first quarter, and many investors believe this was an overreaction. However, this is not the case. The problem with AMD is its weak guidance for Q2 and the full year of 2017.
AMD is releasing both the Vega graphics card and the Naples CPU in the second quarter, but the company only projects YoY revenue growth of 12% over last year. Investors must ask why?
This extraordinarily weak outlook seems to suggest overall industry weakness that will hurt all the companies in the sector, including NVDA. It could also suggest margin straining competition between AMD and NVDA along with other players in the field.
AMD's weak guidance calls to mind remarks made by Citron Research earlier in the year. Citron gave NVDA a price target of only $90 citing concerns about margin erosion and competition in CPU and GPU.
In terms of valuation, NVDA looks priced for perfection, especially when compared with AMD. Without a doubt, NVDA deserves a higher revenue multiple than AMD. But how much is too much? With a market cap of 9.65x sales, NVDA's top line is valued at a staggering quadruple AMD's.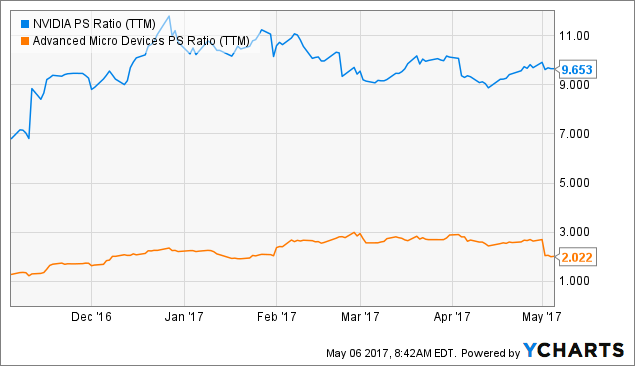 NVDA PS Ratio (TTM) data by YCharts
Much of this disparity is due to NVDA's stronger gross margins. But how long will NVDA enjoy this advantage? If the outlook expressed in Citron's remarks come to fruition, NVDA could find itself losing the main source of its high valuation.
Note: This comparison is not intended to suggest that AMD is undervalued compared to NVDA.
Conclusion
AMD's first quarter guidance is extremely conservative in light of the company's strong releases in CPU and GPU planned from 2017. Investors shouldn't assume that this is weakness is necessarily a company-specific challenge for AMD.
AMD's weak guidance could be the result of industry-wide challenges or the sort of margin-eroding competition predicted in Citron's remarks earlier in the year.
The market hasn't priced in the possibility of industry weakness into NVDA's stock price. And if such weakness is revealed in the company's first quarter earnings, the result would be significant downside in the stock price. NVDA is a good short opportunity.
Disclosure: I/we have no positions in any stocks mentioned, and no plans to initiate any positions within the next 72 hours.
I wrote this article myself, and it expresses my own opinions. I am not receiving compensation for it (other than from Seeking Alpha). I have no business relationship with any company whose stock is mentioned in this article.