Yesterday "Always Dreaming" won the 143rd Kentucky Derby, pulling away from Lookin at Lee.
According to Yahoo Sports, "race officials confirmed the win for Always Dreaming minutes after he crossed the finish line first at Churchill Downs. The win gives trainer Todd Pletcher his second Derby win." Always Dreaming overtook early favorite Classic Empire as the betting choice on Saturday morning, briefly sharing that status with Irish War Cry before holding on entering the gate.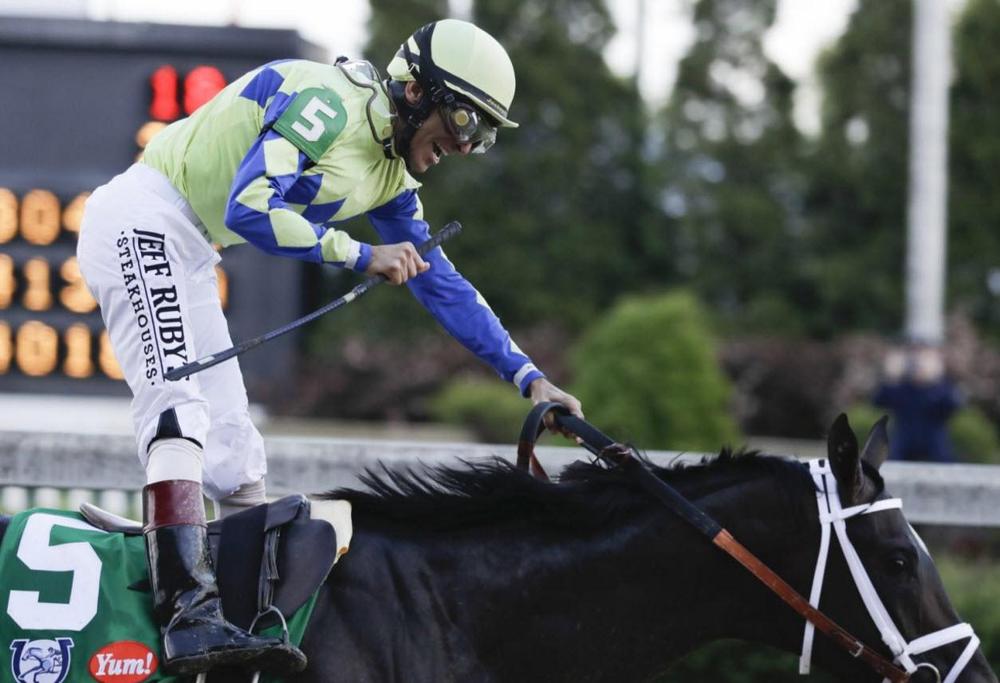 I didn't bet on the Kentucky Derby this past weekend, but I did bet on STAG Industrial (STAG). As you may recall, I placed a bet on the Boston-based Industrial REIT back in February 2016 and have been more than pleased with the results – shares are up almost 50% (since my article on February 29, 2016):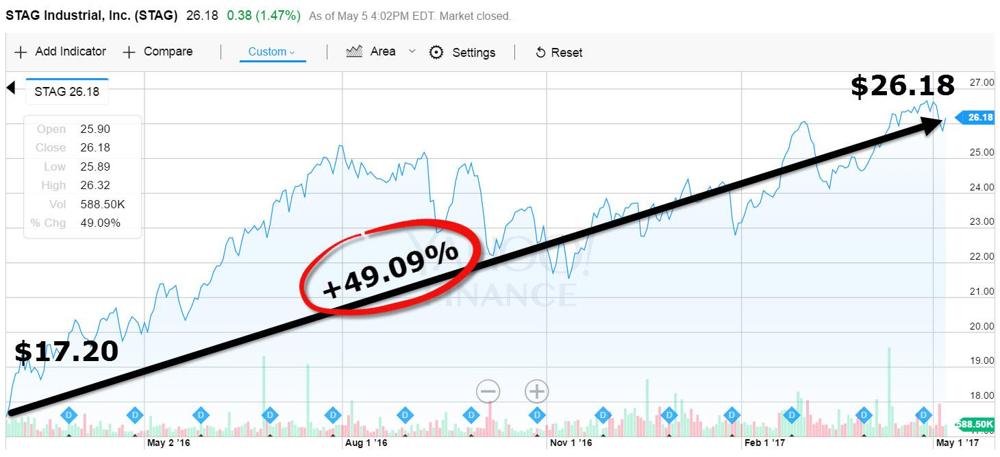 But wait, I'm not here to wave the victory flag for STAG, I'm here for the long haul. The purpose for this article is to recap Q1-17 earnings and to provide readers with my thoughts for the balance of 2017. It's not time to break out the champagne, maybe just a quick toast to "sleeping well at night."
STAG is a Keeper
Back in April 2017, I wrote that "STAG is a Keeper" and I explained that the company "is well positioned to grow earnings and dividends, while continuing to improve its financial muscle. The payout ratio is continuing to improve, and I believe that investors should consider a position in STAG at this time, there's more room to run!"
STAG is getting closer to $30.00 per share (high was $26.95 in January 2015) – up 3.9% since my article around 40 days ago: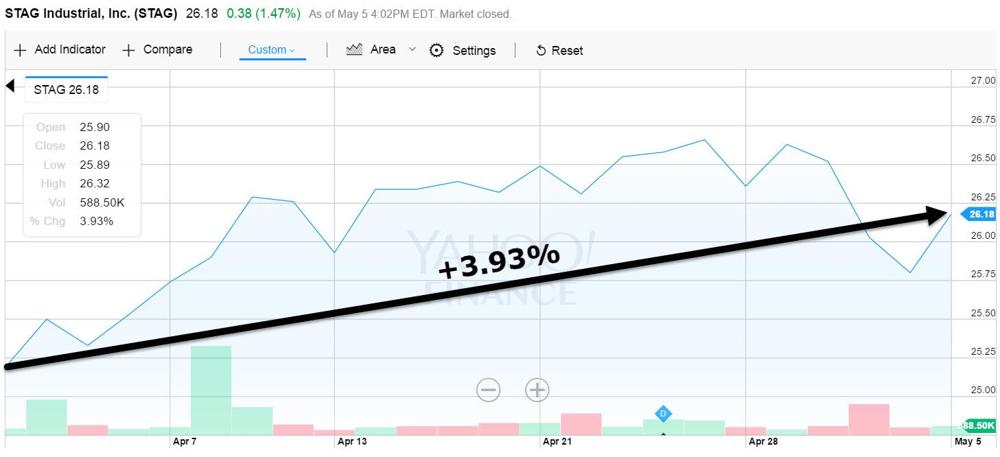 STAG Industrial is an Industrial REIT that went public in 2011 (the predecessor was STAG Capital Partners that formed in 2004), and since that time, the company has grown from 105 buildings to 324 buildings in 37 states, with approximately 63 million rentable square feet.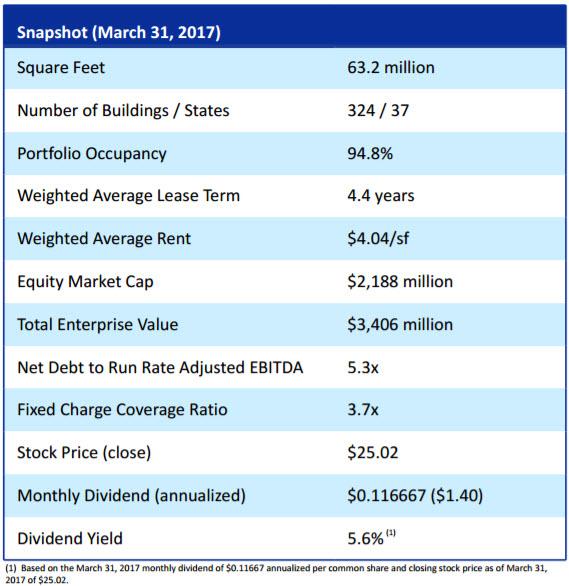 STAG's portfolio consists of 254 warehouse/distribution buildings, 53 light manufacturing buildings and 16 flex/office buildings.

STAG has grown rapidly since the IPO. The company's stated goal of acquisitions is 25% annual portfolio growth, and it stated that its pipeline of potential acquisitions exceeds $1.9 billion. The portfolio has grown by 386% since the IPO: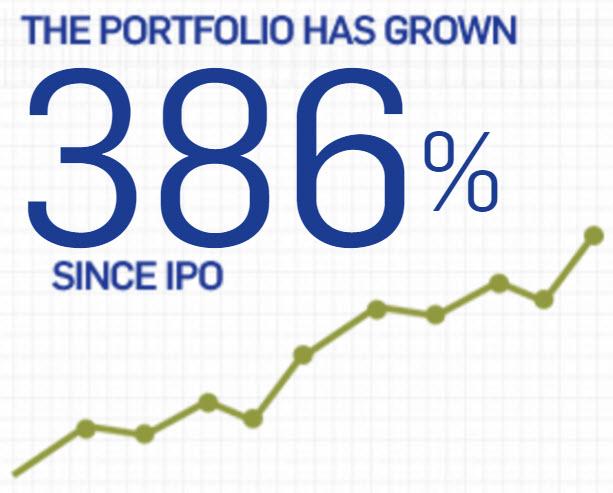 STAG has found that primary (24.4%) and secondary markets (64.3%) have similar occupancy and rent growth experiences. Furthermore, secondary industrial property markets generally provide less rent volatility and equivalent occupancy compared to primary industrial property markets.

As illustrated below, historical primary and secondary market occupancy levels are very similar. "Super" primary markets historically operate at an occupancy level above primary and secondary markets: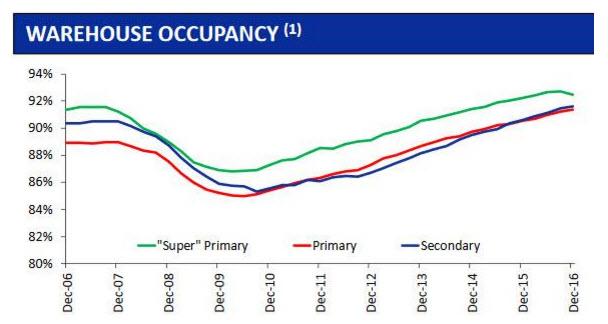 Secondary market rent growth has performed in line with primary market rent growth over the past ten years. Also, super primary market rent growth has displayed greater volatility compared to primary and secondary markets.
STAG intentionally invests in secondary markets due to the rationale that it enjoys low capital expenditures and lower tenant improvement costs (relative to other property types). Also, STAG's tenants tend to stay longer, since moving costs and business interruption costs are expensive relative to relocating a "critical function" facility.
The strategy is clearly working, as the chart illustrated below: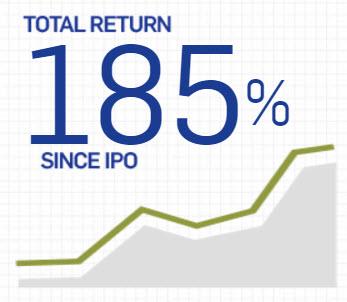 The Balance Sheet
STAG has continued to maintain a very strong and flexible balance sheet. In Q1-17, the company raised $69 million of gross proceeds from the ATM and raised an additional $135 million subsequent to quarter end.
At quarter end, STAG's available liquidity was $383 million, and the net debt to run rate EBITDA was 5.3x and the fixed charge coverage ratio was 3.7x.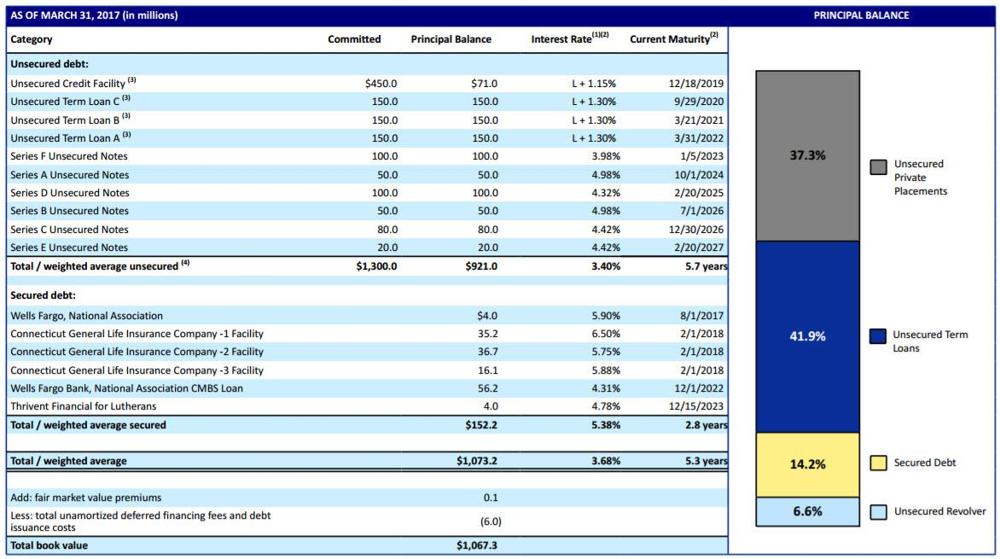 At quarter end, STAG had approximately $1.1 billion of debt outstanding with a weighted average maturity of 5.3 years and a weighted average interest rate of 3.7%. All of the company's debt is either fixed rate or has been swapped to fixed rate, except for the revolver. STAG is likely to refinance its $88 million of legacy secured debt (bears weighted average interest rate of 6%) in August 2017.

STAG continues to demonstrate discipline in all phases of its business including acquisitions, asset management and balance sheet management. In Q1-17, STAG acquired 7 buildings for $99.8 million.

In Q1-17 STAG sold one building for $4.1 million:

The Latest Earnings Results
STAG's primary focus is on the bottom line core FFO, and during Q1, the company grew core FFO by 27% compared to the first quarter of 2016. On a diluted per share basis, core FFO was $0.41, an increase of 5.1% compared to last year.
This represents STAG's highest first quarter core FFO per share in the company's history.
The growth in per share metrics coupled with growth and long-term cash flow remains a primary focus for STAG and is a central consideration in the decision-making processes.
On May 1, STAG's Board of Directors approved a dividend increase to $1.41 per share annually.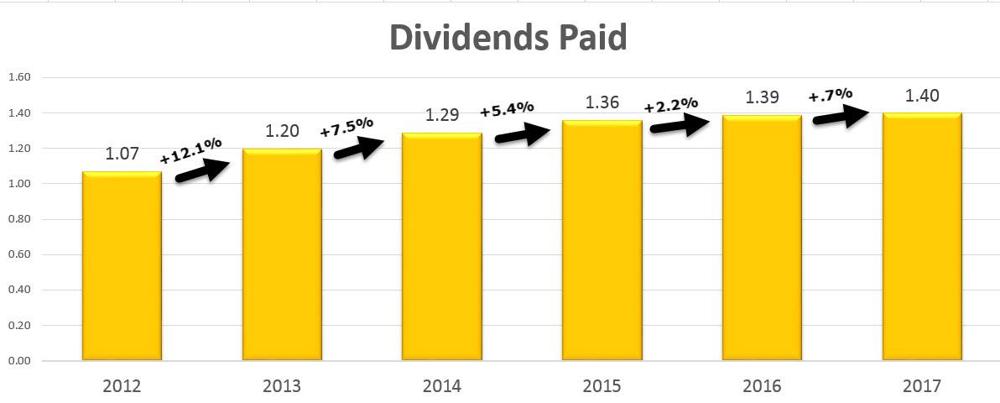 As you can see (above), STAG has slowed down its dividend growth, instead focusing to reduce its payout ratio:

STAG is already paying out a healthy dividend yield of 5.3% (more on that below), so there's really no need for the company to juice the dividend.
STAG is looking to keep its leverage in the lower band of 5x to 5.5x, the lower end of 5x to 6x debt to EBITDA. I like the discipline I'm seeing on both sides of the capital stack.
STAG's occupancy for the operating portfolio stands at 95.8% with an average lease term of 4.4 years. Cash NOI for the quarter grew by 14% from the prior year.
STAG's tenant retention for the first quarter was 51%, lower than the long-term expectations of ~70%. The retention leases resulted in cash and GAAP rent increases of 13% and 24%, respectively. As Ben Butcher, CEO of STAG, explains:
High retention is generally a good thing for operating results but not always. If we were to add back to be no downtime leasing, i.e. where the building is already leased prior to the current tenants departure in the quarter, retention would have been 82%. The new leases for these incremental buildings had a cash roll up of 22.5%. For the full year 2017, we continue to expect retention to be in between 65% and 70%.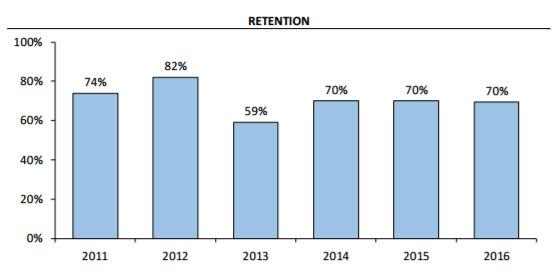 It Feels Like I'm 'Always Dreaming'
As noted above, STAG shares have increased by almost 50% since my article on February 2016, and the company has been a top performer year to date:

As noted above, STAG announced a modest dividend increase (.90%), but the payout ratio is falling. Here's the current yield compared with the peer group:
Here's how the P/FFO compares with the peer group:

The Bottom Line: STAG continues to execute on "all cylinders" and it appears that the company will continue to generate steady and predictable FFO/share growth. Although the dividend growth has slowed down, I believe that the company is maintaining sound discipline, and ultimately the company should be rewarded with a credit upgrade and lower cost of capital.
STAG is continuing to source quality acquisitions and as the company continues to grow, it will become a more defensive REIT (increased diversification). I'm maintaining a BUY and here is my forecasted total return roadmap (source: FAST Graphs):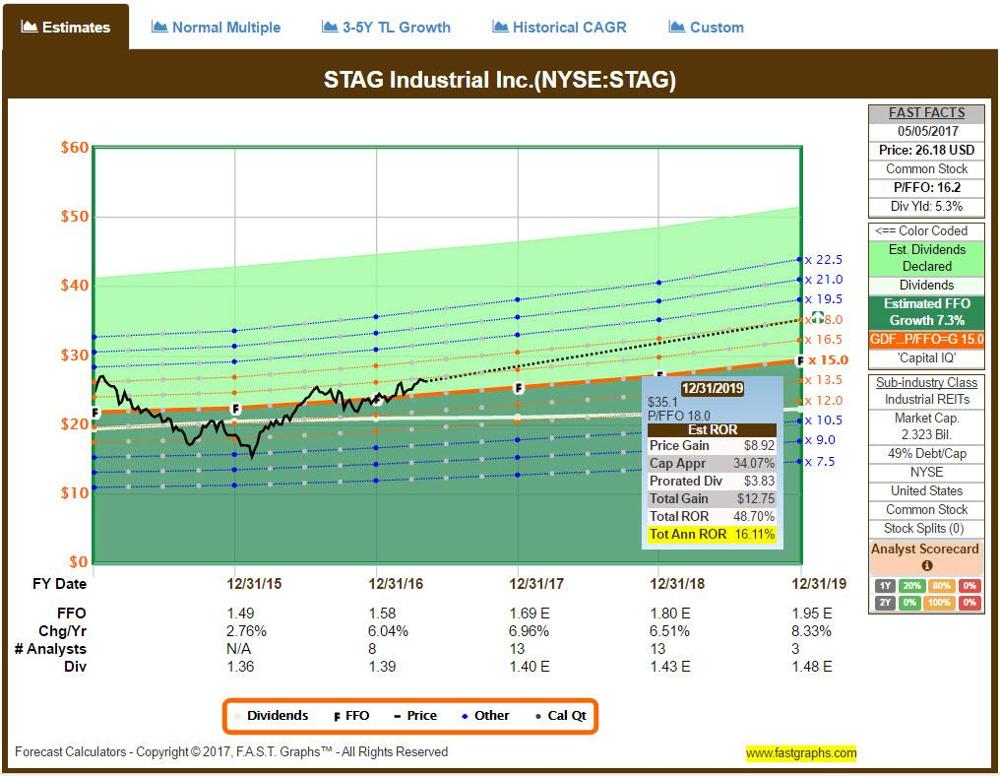 To get a first look at my upcoming article – The Evolution of My Durable Income Portfolio – CLICK HERE. I also include all of my Rhino REIT Ratings in my marketplace product, REIT Beat.
Author Note: Brad Thomas is a Wall Street writer, and that means he is not always right with his predictions or recommendations. That also applies to his grammar. Please excuse any typos, and be assured that he will do his best to correct any errors, if they are overlooked.
Finally, this article is free, and the sole purpose for writing it is to assist with research, while also providing a forum for second-level thinking. If you have not followed him, please take five seconds and click his name above (top of the page).
Source: FAST Graphs and STAG Q1-17 Supplemental.
Disclosure: I am/we are long APTS, ARI, BRX, BXMT, CCI, CCP, CHCT, CLDT, CONE, CORR, CUBE, DLR, DOC, EXR, FPI, GMRE, GPT, HASI, HTA, KIM, LADR, LTC, LXP, O, OHI, PEB, PK, QTS, ROIC, SKT, SNR, SPG, STAG, STOR, TCO, UBA, VER, WPC,.
I wrote this article myself, and it expresses my own opinions. I am not receiving compensation for it (other than from Seeking Alpha). I have no business relationship with any company whose stock is mentioned in this article.